Peso, Real Lead Declines in Emerging Currencies After Trump Poll
by
Mexico peso trading is used as proxy for U.S. election results

ABC/Washington Post tracking poll puts Trump ahead of Clinton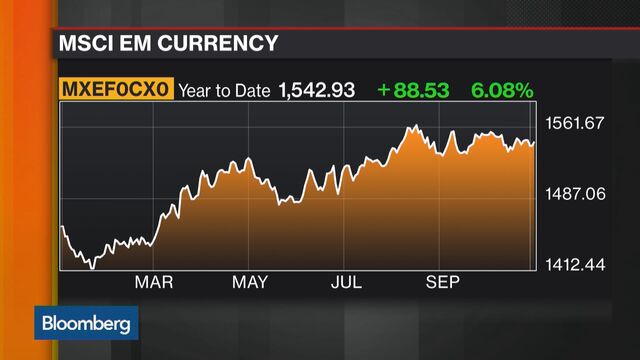 Mexico's peso and Brazil's real led emerging-market currencies lower after a poll showed Donald Trump edging ahead in the presidential race a week before the vote.
The peso sank 1.7 percent and the real reversed earlier gains after an ABC News/Washington Post tracking poll put Trump ahead of Hillary Clinton by one percentage point. Stocks erased their advance that had been triggered by an unexpected jump in China's official factory gauge to a two-year high.

Mexico's currency has become a proxy for investors' perceptions of who will win the White House, sliding to a two-week low on Friday after the Federal Bureau of Investigation said it was re-opening an inquiry into Clinton's use of e-mail. The turnaround in markets on Tuesday signals how vulnerable global assets are to events in the presidential race, developments that will likely be considered as the Federal Reserve starts a two-day policy meeting.
"There is a lingering fear of what will happen if Trump is elected, and this is a fear of the unknown more than anything," Timothy Ghriskey, who helps manage $1.5 billion as chief investment officer at Solaris Asset Management LLC, said by phone from New York.
The MSCI Emerging Markets Currency Index dropped 0.2 percent, while the MSCI Emerging Markets Index slipped 0.3 percent, after climbing 0.4 percent.
Currencies
The Mexican peso has tended to weaken on evidence Republican presidential nominee Trump's support is increasing. The Brazilian real lost 1.2 percent. South Africa's rand slid 1 percent after rallying 2.7 percent Monday on the withdrawal of fraud charges against Finance Minister Pravin Gordhan.
The tracking poll released today showed Trump has 46 percent support nationwide among likely voters, compared with Clinton's 45 percent. The survey was conducted Oct. 27-30, with a margin of error of plus or minus 3 percentage points.
Stocks
Stocks in Brazil lost the most since September amid concern that a victory for Republican candidate Donald Trump could hurt exporters. The U.S. is Brazil's second-biggest trading partner, and Trump has said he'd work to protect American workers threatened by imports. Equities in Mexico and Argentina lost at least 1.4 percent. The PX Index in Prague dropped 1.4 percent as utility CEZ AS fell 2.6 percent, the most since August 18. Markets in Hungary and Poland are shut today for holidays.
Emerging equities rallied for five months, the longest winning streak since August 2014, as signs China's economy is stabilizing bolstered the outlook for countries from South Korea to South Africa that count Asia's largest nation as their biggest trading partner. China's official factory gauge rose to the highest since July 2014, led by new orders, suggesting the economy's stabilization continued into the fourth quarter.
Bonds

Mexican and Brazilian bonds declined. The yield on Mexico's 10-year notes rose nine basis points to 6.37 percent, the highest since December. The yield on comparable Brazilian debt advanced 13 basis points to 11.56 percent, the highest in almost a month.
The premium investors demand to own emerging-market sovereign bonds over Treasuries widened 3 basis point to 344, according to JPMorgan Chase & Co. indexes. Emerging-market borrowers raised $73.2 billion in bonds in international markets in October, the busiest month in more than two years, led by Saudi Arabia's $17.5 billion debut deal.
Before it's here, it's on the Bloomberg Terminal.
LEARN MORE