Electronic Arts Beats Estimates as FIFA, Mobile Sales Climb
By
Soccer video game is standout in company's core sports field

Executives see long run for Titanfall after a slow start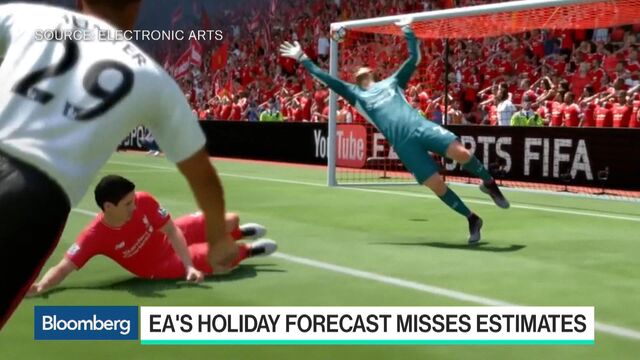 Electronic Arts Inc., maker of FIFA 17 and other video games, posted second-quarter results that beat analysts' estimates on the strength of the company's popular sports titles.
Profit came to 53 cents a share, excluding some items, beating the 43-cent average of analysts' estimates and sending the shares higher in late trading. The company credited the performance of its popular FIFA soccer title, along with year-over-year growth in mobile play, according to a statement Tuesday.
The company forecast third-quarter results that were below analysts' estimates, but issued a full-year profit projection that was higher than Wall Street had expected.

"We remain impressed with the company's current game slate, and suspect the potential for meaningful upside relative to financial expectations," Mike Hickey, an analyst at Benchmark Co., wrote in a research note.
The results underscored the strength of the company's sports games and successful transition to digital play from packaged games purchased in stores. Sales of FIFA, Madden NFL and Hockey Ultimate Team were up 15 percent in the trailing 12 months, Electronic Arts said. Online purchases by consumers accounted for 63 percent of quarterly revenue.
Adjusted revenue for the quarter ended Sept. 30 totaled $1.1 billion, beating the $1.09 billion average of analysts' estimates. The results included changes in deferred revenue that added $200 million to sales. Revenue was $1.15 billion on that basis a year earlier.
This quarter, the company projects profit of about $2.25 a share, excluding items, compared with analysts' estimates of $2.35. The company sees adjusted revenue of $2.04 billion, compared with Wall Street projections of $2.08 billion.
For the year ending in March, profit will be about $3.68 a share, excluding items, compared with analysts' estimates of $3.65. Adjusted revenue will be $4.93 billion, compared with estimates of $4.94 billion.


Electronic Arts rose 4.3 percent to $81.15 in early trading Wednesday. The stock had advanced 13 percent this year through Tuesday's close.
The company is also counting on strong holiday sales for two shooter titles that just came out, Titanfall 2 and Battlefield 1. Shares of Electronic Arts dropped the most in almost nine months on Oct. 28 after an analyst at Cowen & Co. said Titanfall 2 sales fell short of forecasts.
"The recent release of Titanfall 2 has potentially disappointed, although with a strong quality score into the holiday sales season, we remain optimistic for the game's success," Benchmark's Hickey said.
On a conference call Tuesday, executives said they expect Titanfall to enjoy a long run of strong sales. They also said a Battlefield 1 trailer and player stories have attracted 100 million views on YouTube. The company plans to develop e-sports competitions for Battlefield, creating contests where fans can watch games played online or attend matches in which players battle in person.
Before it's here, it's on the Bloomberg Terminal.
LEARN MORE