business
Duterte's Talked the Peso to Its Lowest Level in Seven Years
By
Duterte's Talked the Peso to Its Lowest Level in Seven Years
By
Credit Suisse says higher risk premium, volatility warranted

Export slump, outlook for overseas remittances weigh on peso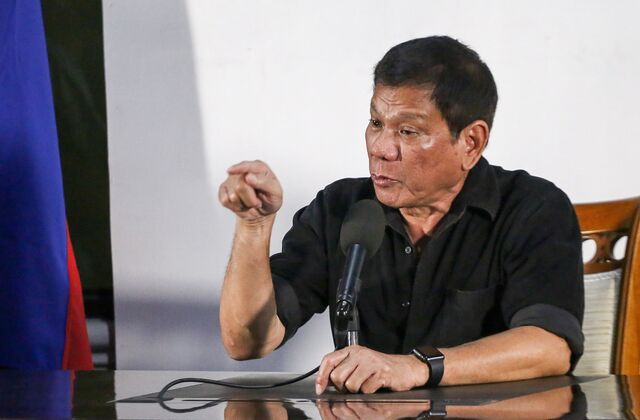 The last time the Philippine peso neared 50 to the dollar, the global financial system was melting down and the central bank raised interest rates to defend it. This time, it has been driven by the president cursing his trading partners and his finance chief accepting the declines.
Credit Suisse Group AG and Rabobank Groep predict the currency will weaken past 50 per dollar next year, a level last seen in November 2008. Pioneer Investment Management Ltd. doesn't see the peso as a long-term, strategic investment. The currency fell to a seven-year low of 48.618 in October, and was Asia's worst performer in the third quarter, when it fell 3 percent.

Global funds have pulled more than $600 million from Philippine stocks since inflows this year peaked in August as Rodrigo Duterte cursed while talking about President Barack Obama and announced a "separation" from the U.S. during an official visit to China. Concerns that his outbursts may jeopardize investments in the nation's more than $20 billion business outsourcing industry have forced his administration's top officials to assure companies their interests will be protected as the leader builds new global alliances.
"Economic impact is difficult to gauge at this stage and may only be seen longer term, but the uncertainty on his foreign policy could deter foreign investment," said Trang Thuy Le, a macro strategist in Hong Kong at Credit Suisse. "For now, we think it warrants a higher degree of risk premium and volatility to be priced in the Philippine peso."
QuickTake Philippines' Firebrand
A gauge of swings in the peso climbed to a two-year high of 7.3 percent on Oct. 12 after Duterte said he may travel to Russia after official visits to China and Japan. One-month implied volatility was at 6.1 percent on Wednesday, compared with a 12-month low of 4.4 percent in August.
The Philippine currency was little changed from Friday at 48.43 per dollar as of 9:13 a.m. in Manila. Local markets were shut Monday and Tuesday for holidays. The peso has weakened from a seven-month high of 45.85 on June 9, before Duterte started his six-year term.
Peso Forecasts
Credit Suisse predicts the currency will drop to 50.3 by March, while Rabobank expects that level to be reached by June. The forecasts compare with the median estimate of 48.2 by mid-2017 in a Bloomberg survey of strategists. Rabobank's projection mainly reflects its expectations of a weaker Chinese yuan and is yet to factor in political tensions with the U.S., according to Michael Every, its head of financial markets research for Asia Pacific in Hong Kong.
"What would concern me is an abrupt drop," Finance Secretary Carlos Dominguez said in an Oct. 26 interview in Tokyo. "The rate of change is the most important. If it is orderly, if it is rational, it is OK."
Remittances Impact
American companies account for more than 70 percent of the business-process outsourcing industry's revenue, which is estimated at $22.9 billion this year, according to IT & Business Process Association of the Philippines. The industry is set to become a key foreign-exchange earner amid fluctuations in the amount of money remitted by overseas workers, which makes up about 10 percent of the country's gross domestic product. Exports have fallen for 17 straight months.
While American companies will continue operating in the Philippines unless official sanctions are imposed, the peso may slide further should the president continue to surprise markets with his "unorthodox rhetoric," according to Stuart Allsopp, head of country risk and financial markets strategy in Singapore at BMI Research, a unit of Fitch Group.
Pioneer Investment sees declines in the peso as offering a potential short-term buying opportunity as Duterte's efforts to boost spending may augur well for Southeast Asia's fastest-growing major economy, said Hakan Aksoy, a fund manager in London at the firm, which oversees $249 billion globally. GDP expanded 7 percent in the second quarter, the quickest pace in two years.
Even so, the peso could retest the 2008-low and become more volatile as Duterte's violent anti-drug campaign faces international criticism and the country's external finances deteriorate, according to Loomis, Sayles & Co., which manages $245 billion. Remittances fell in five of the past 13 months, official data show, and the central bank estimates the current-account surplus will narrow to $3 billion in 2017 from $5.8 billion this year due to rising imports.
"Uncertainty in Philippine political landscape is the catalyst, but not the sole reason" for the peso's weakness, said Celeste Tay, a senior sovereign analyst in Singapore at Loomis. "Current-account surplus is thinning and remittance trend is arguably negative."
— With assistance by Ditas B Lopez, and Ian C Sayson
(
Updates implied volatility and peso levels in fifth and sixth paragraphs.
)