CME to Start London Gold Contract in Challenge to ICE, LME
By
Gold, silver spot contracts to list on Comex in January

ICE to start contracts in February, LME in first half of 2017
CME Group Inc. will start London gold and silver contracts in January to offer a spread between spot prices and benchmark U.S. futures, competing with similar planned contracts from Intercontinental Exchange Inc. and the London Metal Exchange.
CME's new contracts will be listed on Comex in New York and begin trading on Jan. 9, pending a regulatory review, the world's largest futures exchange told reporters at a briefing in London on Tuesday. The spread will be based on the new spot contracts and active Comex futures, it said.
Exchanges are fighting for a share of London's $5 trillion-a-year gold market as scrutiny from regulators triggers a shake up of the city's over-the-counter trading. ICE said last month it will start a new contract for London and use it to clear its daily auction for the metal. Separately, the LME, World Gold Council and several banks plan to introduce centrally cleared gold and silver contracts in the first half of next year.
"There is a risk that liquidity is split too thin," David Govett, head of precious metals trading at Marex Spectron Group Ltd. in London, said by phone. "With three exchanges, that will just be multiplied."
The London Bullion Market Association is also trying to modernize London's OTC transactions that have been largely unchanged for much of the last century. Last month, it said it picked startups Boat Services Ltd. and Autilla Inc. to create a trade-reporting platform to help increase transparency. In places like New York, precious-metals trading takes place on an exchange.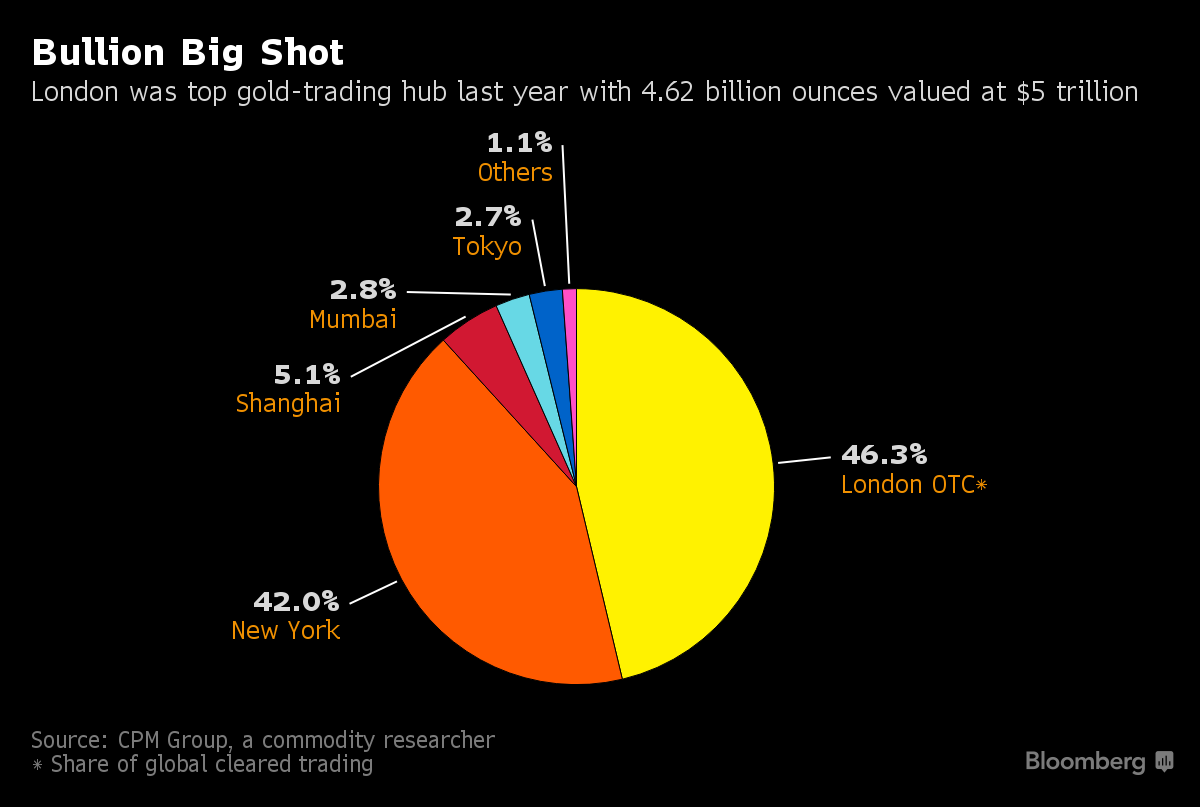 For a timeline of how London's gold market has evolved since 1676, click here.
"Everyone's out there trying to pitch their own solutions," Derek Sammann, CME's global head of commodities and options products, said at the briefing. "Nobody likes umpteen different liquidity pools," so it's likely that trading will become concentrated on one exchange, he said.
CME's new spot contracts will be for two-day delivery of unallocated metal. The contracts will be for 100 ounces of gold and 5,000 ounces of silver.
"The spot spread has the potential to create an even stronger link between the world's two largest pools of precious metals liquidity," Miguel Vias, CME's head of precious metals, said in an accompanying statement.
Before it's here, it's on the Bloomberg Terminal.
LEARN MORE