China Factory Gauge Jumps to Two-Year High, Services Strengthen
Bloomberg News
Manufacturing PMI rose to 51.2 in October, exceeding forecasts

Services also advanced, increasing to highest since December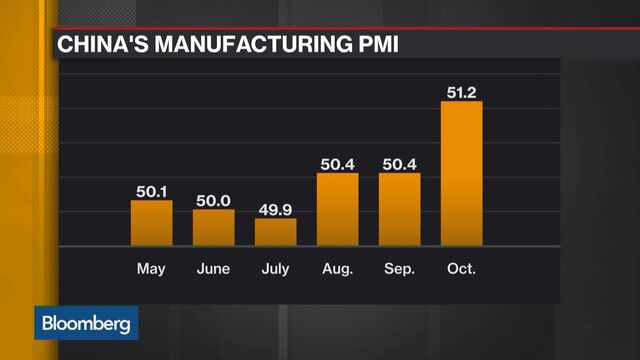 China's official factory gauge rose to the highest since July 2014, led by new orders, suggesting the economy's stabilization continued into the fourth quarter as robust consumption underpins demand.
Key Points
Manufacturing purchasing managers index rose to 51.2 in October, the National Bureau of Statistics said Tuesday, from 50.4 in the prior two months
PMI beat all economist forecasts in a Bloomberg survey, with a median estimate of 50.3
Non-manufacturing PMI rose to 54 from 53.7 in September

Separate PMI reading from Caixin Media and Markit Economics rose to 51.2, also beating estimates and climbing to a two-year high
Numbers higher than 50 indicate improving conditions
Big Picture
With the economy stabilizing this year and factory-gate prices rising for the first time since 2012, policy makers are acting to curb risks from soaring home prices, elevated corporate debt and shadow banking products. Fresh signs of strength may also keep the central bank on hold after keeping the main rate at a record low for a year. Still, manufacturers are being squeezed between rising wage and material costs and anemic global demand.

Economist Takeaways
"We expect economic activity to pick up further in October thanks to the booming real estate sector and infrastructure projects," Shen Jianguang, chief Asia economist at Mizuho Securities Asia Ltd. in Hong Kong, wrote in a note. "As the government has announced cooling measures to tame the overheated housing market, in addition to the return of inflationary pressure, we expect monetary policy tightening may slowly take place."
"The unexpected rise in the manufacturing PMI and continued strength in the non-manufacturing PMI tell us that the Chinese economy is doing OK at the start of the December quarter," said Shane Oliver, head of investment strategy at AMP Capital Investors in Sydney. "It means less pressure for further policy stimulus for now."
"China's economy is heading into the fourth quarter with increased momentum" while the services reading suggests a continued robust pace of expansion in that sector, Fielding Chen and Tom Orlik, economists at Bloomberg Intelligence, wrote in a report. "Steady growth momentum and robust PMI data mean the government can continue to shift its focus toward controlling credit risks and curbing housing prices."
"It's a very strong reading," Ding Shuang, head of Greater China economic research at Standard Chartered and a former economist at the International Monetary Fund, said in a Bloomberg Television interview. "Both current and forward-looking economic indicators bode well for growth in the fourth quarter."
"The manufacturing reading is robust and is a bit of a surprise to us," said Iris Pang, senior economist for Greater China at Natixis SA in Hong Kong. "Materials prices jumped a lot, which has contributed to the surge. Since PMI and PPI are co-related, the PPI will very likely be in positive territory."
The Details
Asian stocks advanced and New Zealand's dollar strengthened after the data
New orders rose to 52.8 from 50.9, the official factory measure showed

The steel industry PMI rose to 50.7 from 49.5, and January contracts on the metal advanced to a two-year high on the Shanghai Futures Exchange
The NBS said in a statement that production rebounded and market demand recovered, while the boost from the new economy, improvement in the old drivers, and rising material prices all helped lift PMI
China has posted three straight quarters of 6.7 percent growth, keeping the expansion on track to meet the government's objective
— With assistance by Xiaoqing Pi, Miao Han, Yinan Zhao, Kevin Hamlin, and Cynthia Li
Before it's here, it's on the Bloomberg Terminal.
LEARN MORE