business
China Eastern to Take First Delivery of Home Built Passenger Jet
Bloomberg News
Planemaker COMAC says airline has committed to 20 planes

Negotiations to start within a year of aircraft's test flight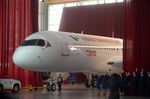 China Eastern Airlines Corp. will be the first customer to take delivery of the home made C919 single-aisle passenger jet as a state-owned planemaker markets the aircraft whose maiden test flight has been delayed at least twice since 2014.
Commercial Aircraft Corp. of China Ltd. said it signed an agreement with the Shanghai-based carrier to start negotiations to firm up orders for five of the 168-seat planes within a year of its first test flight, the planemaker locally known as COMAC, said in a statement issued at the Zhuhai Air Show. Wu Guanghui, the chief designer of COMAC, said Monday that the test flight could be conducted later this year or early 2017.
Besides China Eastern, the planemaker also won commitments from a slew of leasing companies, including 36 from Citic Financial Leasing and 20 from SPDB Financial Leasing, according to the statement. Including Tuesday's agreements, COMAC has orders and commitments from 23 customers for about 570 aircraft, the company said.
The passenger jet project, kicked off in 2008, is part of China's ambitious plan to vault in rankings to the likes of Japan and Germany in manufacturing, and transform its $10.9 trillion economy from a maker of sneakers, apparels and toys. President Xi Jinping, in a vision document unveiled last year, identified aerospace among sectors that could help accelerate modernization and eventually challenge Airbus Group SE and Boeing Co.
For an article on China's aviation ambitions, click here
Japan's Mitsubishi Aircraft Corp., a unit of Mitsubishi Heavy Industries Ltd., has also turned to a local airline for its MRJ regional jets -- ANA Holdings Inc.
In 2010, China Eastern had signed commitments for 20 C919 aircraft.
CFM International, an equal engine-making joint venture between General Electric Co. and Safran SA, said Tuesday in Zhuhai that it is building the LEAP-1C engines for the second C919 aircraft.
COMAC would be a future player in the market for narrowbody jets and the market is big enough for competing makers, Darren Hulst, Boeing's managing director of marketing for Northeast Asia, said at the Zhuhai Air Show. Francois Caudron, head of marketing at Airbus, said the French planemaker welcomes competition.
Apart from the C919, COMAC is also pushing sales of its Advanced Regional Jet ARJ21. Longhao Air signed a commitment to purchase an unspecified number of the smaller 90-seat jets, while a local lessor has agreed to buy 20 with a pledge for more, COMAC said in the statement.

Guangzhou-based Longhao Airlines, a cargo carrier that got approval from regulators earlier this year, is in the midst of building a passenger business, according to a statement distributed in Zhuhai.
COMAC said it will convert some ARJ21 aircraft into cargo planes for Longhao Airlines, and cooperate with the carrier in areas including purchase and maintenance as well as pilot training.
The ARJ21 has 413 orders and commitments from 19 buyers, according to COMAC.
COMAC forecasts China needs new aircraft worth 6 trillion yuan ($886 billion) in the next 20 years, and the nation will see delivery of 6,865 planes by 2035. Airbus separately said Tuesday that the country needs 6,000 new planes, both passenger and cargo, valued at $945 billion as passenger traffic rises an average 6.8 percent over the next two decades.
— With assistance by Dong Lyu, Lena Lee, and Kyunghee Park
(
Updates with engines in seventh paragraph.
)
Before it's here, it's on the Bloomberg Terminal.
LEARN MORE