Kuroda's Magical Thinking on 2% Inflation Target Gets Real
by and
Bank flags risks as it again downgrades inflation outlook

New forecast sees 2% inflation target hit after Kuroda's term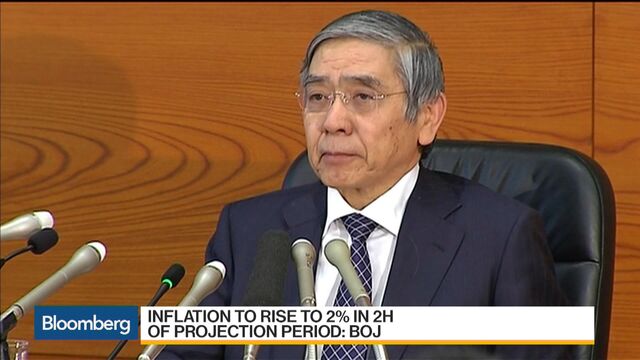 You could say Peter Pan is growing up.
Japan's most determined central bank governor in the modern era, Haruhiko Kuroda, once described the task of fostering inflation as somewhat like Peter Pan's efforts to fly -- the moment you doubt yourself, you can no longer do it.
On Tuesday, the Bank of Japan's inflation outlook came hurtling back toward Earth.
Kuroda and his fellow board members, who in 2013 forecast reaching their 2 percent target for consumer-price gains within a couple years, are now projecting this happening as late as spring of 2019.
 
This puts the goal beyond Kuroda's term as governor, which ends in April 2018. It also means fulfilling the pledge to overshoot that target looks even more distant.
On the one hand, the revisions narrow the gaps between the BOJ's and private economists' inflation forecasts -- differences that had cost Kuroda market credibility. But the new outlook also acknowledges just how hard the task is that remains.
Former board member Sayuri Shirai called the BOJ's changes "quite a leap."
"My impression is that the BOJ's views have become quite objective and realistic finally," said Shirai, who last voted on policy in March before her term on the board ended. "Mr. Kuroda will maintain the status quo" with monetary policy as long as the yen doesn't climb, say past 100 per dollar, or economic data deteriorate, she said in a Bloomberg TV interview.

The BOJ's policy statement held a gloomy tone, saying that risks to both growth and inflation were "skewed to the downside."
It all reinforces the impression left after the September board meeting that Kuroda has positioned the BOJ for the long haul -- beyond the end of his term in April 2018 -- and isn't preparing further bold stimulus measures. Instead, investors may need to be on watch for more policy tweaks, unless an external shock forces the BOJ to take bolder action such as cut to the negative rate.
"The BOJ has shifted to a strategy that can prolong the quantitative and qualitative easing," said Yuichi Kodama, chief economist at Meiji Yasuda Life Insurance Co. in Tokyo. "The BOJ has no choice but to hang on and be patient" until the strategy takes effect, he said.
Click here for a detailed account of Tuesday's policy statement.
For now, a bottoming out in this year's strengthening in the yen's exchange rate helps give space to the BOJ to forgo any acceleration in monetary easing. The yen was at 104 per dollar as of 10:15 a.m. in Tokyo, compared with its June high of 99.02.
To be sure, Kuroda isn't backing away from his inflation pledge. "No, that's not the case at all," he told reporters. He has repeatedly stated that he won't shy away from adding additional stimulus if needed and blames lackluster price pressures on external factors such as lower oil prices and slower global growth.
With the days of the BOJ shocking markets likely over, the focus is turning again to the government and whether Prime Minister Shinzo Abe will unveil another round of fiscal stimulus. The government has approved a second supplementary budget that includes a 28 trillion yen economic stimulus package.
"The onus of policy stimulus is on the fiscal side" now, said Kathy Matsui, chief Japan strategist at Goldman Sachs Group Inc. in Tokyo. "It's difficult to imagine that they can cut rates much further negative," she said. That's all the more true if Abe calls an election next year as some have speculated -- the negative policy rate has proven unpopular.
Government Spending
Planned government spending should be enough to help boost growth past 1 percent next year, some economists predict. Beyond that, according to Matsui, wages and consumption are the keys. The hope: with unemployment at a two-decade low, pay rises will accelerate and spur spending.
Koichi Hamada, an economic adviser to Abe and one of the architects of his economic strategy, is among those advocating for more fiscal stimulus to offset any undesirable effects of monetary policy. With negative rates and quantitative easing losing their effectiveness, he said, the BOJ is "at the end of the road."
Despite the cuts announced on Tuesday, the BOJ's inflation forecasts remain too high and will need further adjustments, said Izuru Kato, president of Totan Research Co., a brokerage-linked think tank in Tokyo. Meanwhile, it is running out of tools to hit its target, he said.
"He's trying to be realistic -- gradually," Kato said of Kuroda. "He's also giving up on boosting people's expectations forcibly. Their overshooting commitment means they will keep going in a long, steady way."
Before it's here, it's on the Bloomberg Terminal.
LEARN MORE