Yellen Imitates Greenspan in Reversal of Mid-1990s Rookie Role
By
High-pressure economy back then saw joblessness below 4%

Yellen seen probing to determine how low unemployment can fall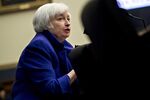 When Janet Yellen was a rookie policy maker in September 1996, she and fellow Federal Reserve Governor Laurence Meyer visited Alan Greenspan's office to make a pitch for higher interest rates. With unemployment near 5 percent, they were worried about inflation kicking up if joblessness dropped much lower.
Then Fed Chairman Greenspan listened to their concerns, but left rates unchanged until the following year. Unemployment eventually fell to a 30-year low of 3.8 percent in 2000 and inflation never really took off.

Now Yellen finds herself reprising Greenspan's role as some of her fellow officials push for higher interest rates. Again, joblessness is around 5 percent, near the level many economists reckon is equivalent to full employment.
But like Greenspan, the current Fed chair is resisting pressure to lift benchmark borrowing costs, opting instead to give the economy room to run. The Federal Open Market Committee is widely expected to hold policy steady for a seventh straight time at its two-day meeting starting Tuesday.
"She saw back then what a high-pressure economy can do," said former Fed Vice Chairman Alan Blinder, who served at the central bank with Yellen from 1994 to 1996 and later co-wrote a book with her entitled "The Fabulous Decade: Macroeconomic Lessons From the 1990s."
Willing to Explore
That's not to say Yellen is prepared to allow unemployment to fall below 4 percent. What it does suggest is that she is willing to explore how low joblessness can decline, while watching wages and particularly inflation for signs that they're accelerating too quickly.
"You probe and then you look around," said former Fed Governor Meyer, who now heads his own consulting company called LH Meyer Inc. "The only danger is that these things move so slowly that by the time you find out whether what you did was prudent, it's too late."
Meyer expects the Fed to raise rates when it meets in December after Americans elect a new president next week. Policy will stay supportive of the economy after that because benchmark borrowing costs will remain low, he said.
Click here for an in-depth analysis of the Fed's upcoming decisions.
Central bankers have penciled in a rate hike in 2016 and an additional two quarter percentage-point increases for next year, according to the median of projections they released in September. That would put the rate at 1.1 percent by the end of 2017, compared with a high of 5.25 percent in 2007 during the last expansion.
'High-pressure' Economy
Yellen raised the possibility of running a "high-pressure" economy in an Oct. 14 speech in Boston. The aim: to fix some of the economic damage done during the 2007-2009 recession by encouraging disaffected Americans to rejoin the labor force and cautious companies to boost investment.
"You could be talking about millions of people" who are capable of working but aren't, said Kip Wright, senior vice president of Manpower North America, part of the ManpowerGroup Inc.
The FOMC seems to have bought into the strategy, up to a point. Policy makers see joblessness falling to 4.5 percent by the end of 2018, according to the projections they published in September. That's slightly below their median estimate of 4.8 percent for full employment, which is also known as the natural rate that doesn't fan inflation.
At their last meeting in September, officials debated whether to go further than that, according to minutes of the gathering. Some saw benefits in doing so, noting that inflation was running below the Fed's goal of 2 percent and that the economy was growing only modestly.
They also posited that the natural rate of unemployment "could be lower than previously thought." In a speech in March, Yellen said it was more likely to be appreciably below 4.8 percent than above, given the restrained rise in wages.

Other policy makers saw risks in allowing unemployment to slip "well below" the natural rate, according to the minutes. In the past that has often led to high inflation, which forced the Fed to jack up interest rates, triggering a recession.
The U.S. 10-year breakeven inflation rate, which denotes the difference between yields on nominal and inflation-adjusted U.S. Treasury yields, rose Friday to 1.74 percent, marking the highest level since July 2015. That's still below the average of 2.01 percent in data going back to 1998.
'Enormous Benefits'
Yellen "sees both sides" of the argument, but is much more sympathetic to letting the jobless rate drop further, Meyer said.
"There are enormous benefits to running a very tight labor market," said Alice Rivlin, who was vice chair at the Fed from 1996 to 1999 and is now at the Brookings Institution.
Just look at the late 1990s. Wages rose at an annual clip of 3.8 percent, the unemployment rate among black people tumbled, and labor force participation increased to a record as more Americans looked for, and found, work.
In their book on the decade, Princeton University professor Blinder and Yellen identified a number of reasons why inflation didn't spike in response to the super-hot jobs market. They include some forces also at work now, to one extent or another: low oil prices and a strong dollar.
Robust Productivity
The one big factor that's missing is robust productivity growth, according to former Fed official David Stockton. Over the last five years, productivity has risen at an annual rate of just 0.5 percent. That compares with almost 3 percent from 1996 through 2000, which enabled companies to pay their workers more and maintain high profits without having to raise prices too much.
While the Fed's strategy of gunning the economy in the late 1990s didn't generate excessive inflation, it may have spawned a stock market bubble that eventually burst and helped cause a recession. That experience could lead Yellen and her colleagues to be more wary now.
"One lesson she may have drawn from the 1990s was that one really needs to be pretty humble to know exactly where the limits" to the economy are, said Stockton, now at the Peterson Institute for International Economics.
"She seems to be willing to position monetary policy to test those limits, but she's not going to put all her chips on a bet there's a lot of slack left in the economy."
Before it's here, it's on the Bloomberg Terminal.
LEARN MORE