U.S. ELECTION WRAP: Indiana Senate Race Tied as Trump Gains: Poll
A new poll shows the Senate race in Indiana in a dead heat as Trump widens his lead over Clinton in wake of last week's bombshell FBI news.  Will Clinton's e-mail headache hurt Democrats' chances to regain the Senate?
By and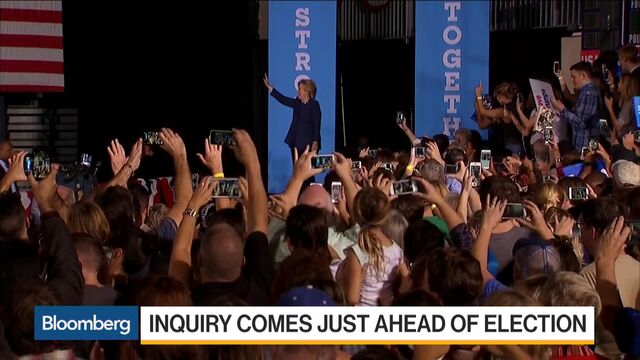 Democrats can no longer bank on Indiana as an easy win in their push to regain a majority in the U.S. Senate, according to a new Monmouth University Poll.
Republican candidate Rep. Todd Young has caught up with former Democratic Sen. Evan Bayh, with the two candidates tied at 45%; Young and Bayh are competing to succeed retiring GOP Sen. Dan Coats
The dead heat comes as GOP presidential nominee Donald Trump has almost tripled his lead over Democratic rival Hillary Clinton in the Hoosier State, at 50% vs 39%, the Oct. 27-30 survey found. Two weeks ago, Trump had a 4-point lead, 45% to 41%, in same survey
"Renewed strength at the top of the ticket is providing a crucial assist for Young," said Patrick Murray, director of the independent Monmouth University Polling Institute, in a statement

Of likely voters interviewed after news broke on Friday about the FBI looking at new e-mails during Clinton's time as secretary of state, 85% said it had no effect on their vote, 4% said it caused them to change their mind about which candidate to support, 9% were unaware of the development

"Earlier this month it looked like Clinton could potentially make a play for Indiana, but that opportunity has faded," Murray said

"While the e-mail news does not play a decisive role in the presidential contest, a couple of points on the margins could be having a critical impact on tight down-ballot races:" Murray

Separately, Joe Losco, head of the Bowen Center for Public Affairs at Ball State University, said he thinks the FBI's revival of the Clinton case will help Trump

It will "probably enhance turnout on the Republican side and maybe depress some turnout on the Democratic side," Losco told Bloomberg News in a phone interview

The news could hurt Bayh, he said
Earlier this month, a WISH-TV/Ball State Hoosier Survey showed Bayh with a 6-point lead over Young, 49% to 43%, with 6% undecided; the same poll on Oct. 21 said Trump was leading Clinton by 6 points, 43%-37%, with Libertarian Gary Johnson at 9% and 7% undecided

INDIANA IN FOCUS
Overall, the Hoosier State looks "pretty safe" for Trump, Losco said

Indiana is still leaning toward Bayh, "but the impact of the Hillary revelation and the continued bombardment of ads by Todd Young certainly make it less than a sure thing," he said

Republicans are working to depict Bayh as a self-interested, high-powered corporate lobbyist who can't be trusted to work for ordinary residents of Indiana
CNN on Monday published a report on Bayh's internal 2009 Senate schedule, detailing his ties with donors and lobbyists
Still, Bayh had support of 11% of Indiana Republicans in the most recent WISH-TV/Ball State poll

"There are a lot of business Republican types in Indiana who are not happy with Trump's view on trade," Losco said. "They may not vote at top of ticket, but may come out and vote in the Senate race"

CLINTON INVESTIGATION
DOJ officials told House and Senate lawmakers Monday that the department will "continue to work closely with the FBI" on the Clinton e-mail probe

The Justice Dept and FBI will "dedicate all necessary resources and take appropriate steps as expeditiously as possible"
The three-paragraph letter didn't get into further specifics related to investigation

The FBI bombshell about Clinton has accelerated a trend of Republicans moving toward Trump, though early data suggested Democrats in key states are unmoved, a sign that Clinton is holding together a coalition that has kept her in the lead for most of the presidential race; see Bloomberg story here
Meanwhile, Clinton's allies are escalating criticism of FBI Director Comey in a bid to stem political damage
Former Republican U.S. Attorney General Alberto Gonzales called Comey's actions an "error in judgment" and said he's "somewhat perplexed about what the director was trying to accomplish here," CNN reported

Gonzales, who served in George W. Bush's administration, said Comey wouldn't have been misleading voters by withholding the news until after Election Day
Former Attorney General Eric Holder, who served under President Obama, also criticized Comey in a Washington Post op-ed
Comey made a "mistake," Holder wrote

Harry Reid, the Senate's top Democrat, said Comey may have violated the Hatch Act, a statute that bars government officials from using their position to influence an election
Senate Judiciary Committee Chairman Chuck Grassley, R-Iowa, defended Comey's decision to reveal the FBI's revived Clinton probe, though said it's not fair to do so without context

In letter to the FBI chief, Grassley said without more information, the disclosure is not fair to Congress, the public or Clinton

The White House doesn't believe Comey is "secretly strategizing to benefit one candidate or one political party," Obama spokesman Josh Earnest told reporters Monday

"He's in a tough spot, and he's the one in a position to defend his actions in the face of significant criticism": Earnest

CNBC, citing an unidentified ex-FBI official, reported that Comey previously argued that it was too close to Nov. 8 to say Russia interfered with the U.S. election

POLLS/FORECASTS
In the wake of the FBI surprise regarding Clinton, Bloomberg's Margaret Talev said to keep an eye on battleground states including North Carolina, Florida, Arizona and perhaps Ohio

"The real question isn't: Is the race tightening?" Talev told Bloomberg TV. "It is: How much is the race tightening?"

Clinton has slipped in the ratings but retains a "clear edge" in race, according to Sabato's Crystal Ball, at the University of Virginia
New Emerson College polls in five battlegrounds show a narrowing presidential race, with Clinton leading Trump in four states, by margins that range from 6 points to 1 point

Wisconsin: 48%-42%
N.C.: 48%-45%
Nevada: 44%-42%
Florida: 46%-45%

Ohio is a dead heat, with each candidate at 45%
NBC News/SurveyMonkey Weekly Election Tracking Poll found Clinton's 6-point lead over Trump virtually unchanged since last week
Wall Street analysts now see lower odds of Democrats sweeping the Senate, even as Clinton is still seen as winning the election

Citigroup has Clinton's chance of victory at 75%, down from 81%
'Black Swan' risks, including scandals and information warfare, are "extraordinarily high": Citi Research
The potential for more Black Swan events, or unforeseeable twists, make life more complicated for forecasters: Citi

RealClearPolitics poll average has Clinton leading a four-way presidential race by 2.8 points
A Politico/Morning Consult poll found that the FBI news has had little impact on the presidential race

Clinton leads Trump 46% to 43% in a two-way race; 42% to 39% in a four-way race

FiveThirtyEight's prediction model has Clinton with a 74% chance of becoming the next U.S. president vs Trump's 26%, if the election were held today

ADVERTISING
Clinton campaign has made a new version of Lyndon B. Johnson's 1964 "Daisy" TV ad, in which a flower petal-picking girl was juxtaposed with images of nuclear obliteration to caution against a Goldwater presidency

The 2016 version, which seeks to convey that Trump would pose a danger to U.S. security, includes a testimonial from Monique Luiz, the actress in the original ad

ENDORSEMENTS
Billionaire venture investor Peter Thiel bolstered his backing for Trump, saying the U.S. needs a political outsider to fix its systemic problems

"What Trump represents isn't crazy and it isn't going away," Thiel said Monday at the National Press Club in Washington
Expensive wars, spiraling student debt and trade imbalances are among the challenges for the country that haven't been solved by mainstream politicians, said Thiel, a Facebook board member who co-founded PayPal and Palantir Technologies
"We are voting for Trump because we judge the leadership of our country has failed": Thiel

ON THE TRAIL
Clinton, in Ohio, said the FBI "by all means" should look at newly discovered e-mails

The Democratic nominee said she's confident the bureau will reach same conclusion as in July when it determined there was no reason to bring charges
There is no case,'' Clinton said

Clinton also said Trump should immediately disclose ties to the Kremlin and Russian citizens

The call follows Reid's accusation that FBI's Comey held back "explosive" information about Trump's Russian connections

Clinton's longtime aide, Huma Abedin, hasn't been seen on the campaign trail since news hit that the new e-mails found by the FBI came from a laptop belonging to her estranged husband, former Rep. Anthony Weiner, USA Today reported

CNN reporter said Clinton campaign wants to avoid Abedin being bombarded by reporters' questions and taking attention away from Clinton in the final days of race
Trump in Grand Rapids, Michigan, continued to seize on Clinton's FBI woes, saying Comey's action took "guts"; the GOP nominee also thanked Weiner

Trump vowed to fight for Michigan workers laid off by auto parts supplier Delphi Corp. and to cancel billions of dollars in UN spending related to climate change
During the speech, former Indiana University basketball coach Bobby Knight joined Trump at the microphone
There would be no "bulls--t" in a Trump administration: Knight

Trump and his running mate, Mike Pence, are set to hold a joint appearance Tuesday in Philadelphia, where they plan to make their case against Obamacare, according to campaign aides

ETC.

CONGRESSIONAL ELECTIONS
SENATE RACES (Republicans hold 54-46 majority)
FL: Floridians for a Strong Middle Class, a super-PAC backing Democratic Rep. Patrick Murphy, released TV ad attacking Republican Marco Rubio's Senate attendance record and his positions on Social Security and education policy

Narrator says of Rubio "It's bad when he misses work; it's worse when he shows up"
Super-PAC's top donors include Murphy's father and Republican billionaire Mike Fernandez, who opposes Trump and backed former Florida Gov. Jeb Bush over Rubio for the Republican presidential nomination
IL: Human Rights Campaign revoked its endorsement of Republican Sen. Mark Kirk, whose "comments about his opponent's heritage were deeply offensive and racist," HRC president Chad Griffin said in Medium post

HRC endorsed Democratic Rep. Tammy Duckworth, "who has been a strong LGBTQ ally" in the House
KY: Republican Sen. Rand Paul's campaign released TV ad linking Democratic Lexington mayor Jim Gray to Clinton

Paul's ad comes after Gray released TV ad with footage of Trump criticizing Paul during Republican presidential contest
Nonpartisan political analysts rate Paul as safe for re-election, though ad is sign Paul isn't taking second term for granted after winning 56%-44% in 2010 and losing bid for party's nomination for president
Paul and Gray will debate tonight at 8pm eastern time on Kentucky Educational Television
NV: SEIU's political arm released Spanish-language TV ad saying Trump and Republican Rep. Joe Heck support "politicas peligroas," or "dangerous policies," while urging vote for Clinton and Democratic ex-Attorney General Catherine Cortez Masto

Silver State PAC, a super-PAC backing Heck, released TV ad of female ob-gyn saying "I can assure you Dr. Joe Heck is dedicated to women's health care"
Ad responds to spots by Cortez Masto and allied groups attacking Heck's votes against federal funding for Planned Parenthood
Heck was an osteopathic emergency surgeon prior to serving in Congress
Super-PAC is funded by American College of Surgeons Professional Association and the National Emergency Medicine Political Action Committee
WI: Senate Majority PAC, a Democratic super-PAC, and environmental-oriented LCV Victory Fund released TV ad saying Republican Sen. Ron Johnson "works for Wall Street, not us"

Ad says Johnson "voted to protect corporate tax loopholes for companies shipping Wisconsin jobs overseas"; it cites five votes, including a Democratic amendment in March 2015 that called for eliminating ''tax benefits for corporations that ship jobs or profits overseas"
The groups back ex-Sen. Russ Feingold, who lost his seat to Johnson in 2010 election; Feingold favored to win rematch, though Senate Majority PAC's late intervention suggests race is close
HOUSE RACES (Republicans hold 246-186 majority)
FL-18: Republican Brian Mast's campaign released TV ad featuring his wife, who called him "a fighter" who "wants to continue serving his country" after losing both of his legs and a finger during military service in Afghanistan

Democrat Randy Perkins in TV ad said he has run his disaster-relief business "with integrity, we treat people fairly, and we do the job right"; Washington ''can use someone in solving real problems for real people"
Mast and Perkins are seeking to succeed Murphy in a slightly Republican-leaning district that includes Martin and St. Lucie counties and part of Palm Beach County
IA-03: Democrat Jim Mowrer endorsed in Des Moines Register editorial, which said he's "well versed on national issues and he's less much inclined to fence-straddle than" Republican Rep. David Young

Des Moines Register editorial endorsed Young in 2014, when he was first elected to competitive district that includes Iowa's capital and Council Bluffs
Young's campaign released TV ad linking Mowrer to Minority Leader Nancy Pelosi and saying he supports a "big-government agenda"
IN-09: Democratic Congressional Campaign Committee released TV ad referring to Republican businessman Trey Hollingsworth as "Tennessee Trey" and a "32-year-old multimillionaire"

Ad depicts Hollingsworth as district-shopper propped up by his father, who's financed a super-PAC promoting his son and attacking Democrat Shelli Yoder; actor playing Hollingsworth is shown throwing darts at U.S. map, looking for district in which to run
Winner will succeed Senate candidate Young, who isn't seeking re-election in Republican-leaning district connecting suburbs of Indianapolis and Louisville
KS-03: Republican Rep. Kevin Yoder's campaign released TV ad saying Democrat Jay Sidie didn't vote in numerous elections and "refused to vote against" Republican Gov. Sam Brownback when he was on ballot

Though Yoder and Brownback are of same party, Brownback is among the nation's most unpopular governors after his tax-cut plan reduced state revenues
Democratic ads have repeatedly linked Yoder to Brownback and Trump in metropolitan Kansas City district where Clinton may beat Trump
NE-02: Speaker Paul Ryan "fired up the Republican ground troops" at Omaha campaign visit yesterday for Republican Don Bacon, Omaha World-Herald reported

Bacon, a retired Air Force brigadier general, seeking to unseat Democratic Rep. Brad Ashford
NJ-05: Republican Rep. Scott Garrett and Democrat Josh Gottheimer debated this morning on WRNJ radio

Garrett referred to Gottheimer as "another tax and spend liberal" who's benefiting from millions of dollars in attack ads by Democratic groups; "I want to send less of your money to Washington," Garrett said
Gottheimer, a former Bill Clinton speechwriter, said Garrett has "bigoted record" and "people have a right to know if their congressman is a bigot"; Gottheimer referred to alleged anti-gay comments Garrett made last year about his party recruiting gay candidates
Garrett said any candidate has a right to run for office and he supports the Republican platform and ''Republican values'' including ''traditional marriage"
Garrett attacked Obama's foreign policy and said Gottheimer didn't oppose Iran nuclear deal for months; Gottheimer said "I bucked my party very early on" to oppose deal
NV-03, NV-04: Ryan campaigned for Republicans Danny Tarkanian and Rep. Cresent Hardy Oct. 29 "in the hopes of protecting two congressional seats that Republicans are in jeopardy of losing," Las Vegas Sun reported

in NV-03, which includes Henderson and part of Las Vegas, Tarkanian and Democrat Jacky Rosen are seeking to succeed Heck
In NV-04, which includes North Las Vegas and is more Democratic leaning, Hardy at risk of losing re-election bid to Democratic state Sen. Ruben Kihuen
Kihuen said in statement Ryan is "trying desperately to protect his Tea Party majority" and Hardy "has been one of his most loyal foot soldiers in Washington"
NY-22: National Republican Congressional Committee TV ad attacks Democrat Kim Myers for having business operations in China, saying she "exploited the rigged system" and "we need jobs here, but Kim Myers chose China"

Myers, a Broome County legislator whose family founded Dick's Sporting Goods chain, has said the company created thousands of jobs in N.Y. and never outsourced a U.S. job
Myers running against Republican Assemblywoman Claudia Tenney and independent investor Martin Babinec for competitive Utica-to-Binghamton district of Republican Rep. Richard Hanna, who's retiring
NY-24: Republican Rep. John Katko and Democratic challenger Colleen Deacon met this afternoon with Syracuse Media Group editorial board, Syracuse Post-Standard reported

Katko seeking second term in Syracuse-based district that leans Democratic
Before it's here, it's on the Bloomberg Terminal.
LEARN MORE