Peter Thiel Defends Trump, Says U.S. Needs an Outsider
by
Billionaire tech investor says both candidates are 'imperfect'

Thiel was surprised by backlash to his support of GOP nominee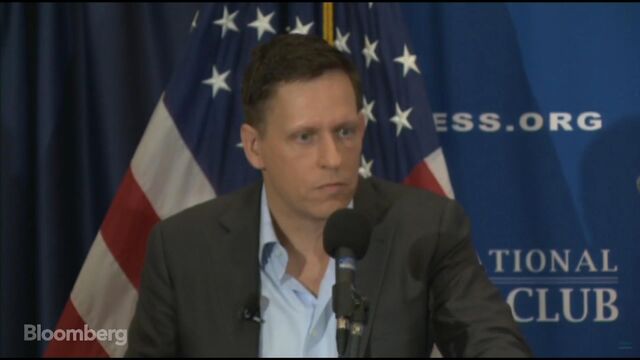 Peter Thiel is standing by Donald Trump, saying the Republican presidential candidate "gets the big things right" and that the nation needs a political outsider to fix its systemic problems.
The billionaire venture capitalist and Facebook Inc. board member defended his support of Trump onstage at the National Press Club in Washington. Thiel said Trump's vulgar comments about women, which have hurt his poll numbers, were "offensive and inappropriate" but that voters should look past the candidate's personal faults. He said both Trump and Democratic nominee Hillary Clinton are "imperfect people."
"I don't think the voters pull a lever in order to endorse a candidate's flaws," Thiel said. "What Trump represents isn't crazy, and it's not going away."
Thiel, a co-founder of PayPal and Palantir Technologies Inc., has long had a reputation as a contrarian within Silicon Valley. He's funded such unusual causes as a program that pays college students to drop out, an initiative to create floating cities at sea, life-extension development and lawsuits against Gawker.
As criticism of Trump increased this election season, so too did Thiel's support for the candidate. After becoming a delegate in May and speaking on Trump's behalf at the Republican National Convention, Thiel pledged to donate $1.25 million to Trump's campaign just days after a videotape surfaced of him making lewd comments about women. Thiel said he donated because he was asked to and that he didn't think too deeply about it because he didn't believe money was playing a major role in this election.
The backlash from Thiel's tech peers has been relentless, with several groups saying they won't do business with him or anyone affiliated with him. Thiel said some people have quietly agreed with him but are keeping their political views private. He said there's been no meaningful impact on his business or the ones he supports but that he was surprised by people's intolerance and intensity toward his political contribution.
"This didn't feel contrarian to me," he said. "This is the first time I've done something that's actually conventional."
At Monday's event, Thiel was asked about another one of his unconventional bets: the financing of lawsuits against Gawker. He backed Hulk Hogan's case involving the publication of a sex tape, which won a $140 million verdict for the former pro wrestler. The online publication was shut down after Univision Holdings Inc. acquired its parent company in August. Thiel said Gawker behaved like a "sociopathic bully" but was left unchecked because challenging the website in court was too expensive for most people.
"If you are middle class, if you are upper middle class, if you're a single-digit millionaire like Hulk Hogan, you have no effective access to our legal system," Thiel said. "It costs too much. And that was the modus operandi of Gawker in large part: Go after people who had no chance of fighting back."
Thiel has no shortage of critiques about the American justice or political systems. He complained about inefficient spending on defense, health care, student debt and trade. He said conventional politicians are selling false optimism about the U.S.'s direction. He painted Clinton as a defender of the status quo and a warmonger, whose proposal to establish a no-fly zone in Syria would risk a nuclear conflict with Russia -- a well-worn talking point from the Trump campaign. He said Trump's main opposition comes from "some of the country's most fortunate, socially prominent people" living on the coasts, not from the middle class.
"It shouldn't be surprising to see people vote for Bernie Sanders or for Donald Trump, who is the only outsider left in the race," Thiel said. "It's not a lack of judgement that leads Americans to vote for Trump. We are voting for Trump because we judge the leadership of our country has failed."
Despite his impassioned views on politics, Thiel demurred about whether he'd become more active in Washington. He maintains a "somewhat schizophrenic view of politics," he said.
"It's a horrible business. It's incredibly destructive. A lot of it's like trench warfare on the Western Front, where there's crazy amounts of carnage, and nothing ever changes. That's one part of my schizophrenic view," Thiel said. "The other part is that it's really important. There are some problems that can't be solved outside of this political arena. The way I deal with my schizophrenia is that I occasionally get involved but don't want to make it a full-time thing."
Before it's here, it's on the Bloomberg Terminal.
LEARN MORE