The Selloff in U.S. Treasuries Might Be Germany's Fault
The selloff in the bund market has an outsize role in driving benchmark Treasuries higher, argue TD Securities Inc. analysts.
by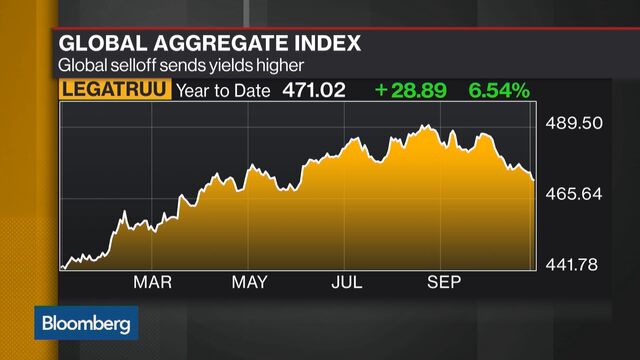 When German bond markets sneeze, U.S. Treasuries catch a cold.
That's the conclusion drawn by analysts at TD Securities Inc. as global bonds march towards their worst streak of monthly losses since 2010.
There's a distinct rhythm to the selloff, according to the Canadian investment bank.
Rising yields on benchmark bunds, and to a lesser-extent gilts, have driven the jump in long-dated Treasuries this month, strategists at TD Securities argue.
They cite rising rate-market correlations, elevated selling of Treasuries during European trading hours, and market fears the ECB might moderate its monetary accommodation as factors that suggest international forces largely account for the rise in benchmark 10-year yields, which flirted with a five-month high of 1.88 percent on Friday.

"We believe that much of the recent rise in U.S. rates has been driven by bunds and gilts," analysts at TD Securities, led by Priya Misra, wrote in a report on Friday.
Rising U.S. Treasuries have been accompanied by an uptick in market-implied inflation expectations, combined with fears that investors are saddled with outsize duration risks. But tightening Treasury-bund spreads since September 30, in fact, throw into sharp relief the external drivers for the rout in the U.S. rate market, the strategists note.
"Our analysis shows that since 2010, greater than a one-standard deviation increases in 10-year Treasury yields tend to result in a widening in Treasury-bund and Treasury-gilt spreads. However, this latest move has actually resulted in a tightening of US-Germany and U.K. spreads," which suggests global rate-markets are dancing to a similar beat, the analysts write. 

They note that recent spread movements are reminiscent of the 'bund tantrum' last spring, adding this market dynamic "underscores that the selloff has been led by global yields and did not originate due to domestic U.S. pressures."

In addition, selling of U.S. Treasuries has come thick and fast during European trading hours, accounting for 7 basis points of the selloff in the 10-year note, they calculate, underscoring their view that traders in U.S. rates markets are taking their cues from the bund market.

Meanwhile, the rise in the U.S. term premium in recent weeks — the extra compensation investors demand to hold longer-dated notes relative to shorter-dated obligations — reflects a global "repricing of central bank buying" in the wake of suggestions the ECB's asset-purchase scheme might be less ambitious than markets expected, the analysts conclude. "Previous taper tantrums have similarly seen a large re-pricing of term premium" in the U.S., reflecting the stubborn correlation of rate markets in Germany and the U.S., the strategists conclude. 
There is no shortage of reasons to justify a steeper yield in the U.S. and Europe, aside from valuation concerns.  
The Citigroup Surprise Index, which measures how official data comes in relative to market expectations, has jumped in Europe since mid-September, underscoring better-than-forecast expansion in a bevy of manufacturing and services indicators. Market-implied inflation expectations have also staged a revival over the past month, while Brent crude prices have rallied as much as 15 percent since their August low. In addition, markets are raising their bets to price in a second Fed rate hike by December 2017, a notable uptick in hawkish market expectations since June. 
But whether U.S. rate markets will continue to dance to the German beat hinges on convergence between Fed and ECB policies — a prospect traders deem unlikely in light of the diverging outlook for price and labor-market pressures in the U.S. relative to the euro-area. 
Before it's here, it's on the Bloomberg Terminal.
LEARN MORE