Rajoy Masters the Art of Inaction to Win Back Power in Spain
by
Premier begins second term after surviving 10-month deadlock

Minority government will have 137 lawmakers out of 350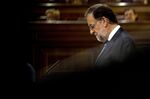 Five days before December's election in Spain, as candidates criss-crossed the country, the embattled government started up a high-speed rail link between Zamora and Olmedo in the north of the Castilian plain.
The economics of spending 750 million euros ($820 million) to run a state-of-the-art train between towns with no real industry and less than 70,000 inhabitants combined may have been questionable. But for Mariano Rajoy, fighting to cling to his job as prime minister, the politics proved to be spot on.
Fortifying his core vote in aging, conservative backwaters like Zamora with cheap money from the European Central Bank gave Rajoy a firewall against the rivals clamoring to oust him as younger, urban voters revolted against economic turmoil and widespread corruption. Despite historic losses, he held on to just enough seats to stop the other parties from pushing him out and, 10 months and another election later, clinched a second term in office with a vote in parliament on Saturday.
For the conservative leader, the Zamora rail link was a natural extension of the political habits of a lifetime -- keep down when the flack is flying, don't rock the boat, and lavish your base with government largesse. Through the two election campaigns, he insisted his greatest achievement in government was resolving not to do something: seek a sovereign bailout.
"Rajoy has made the art of inaction into a way to exercise power," Ivan Redondo, a political consultant who has advised candidates from both main parties, said in an interview. "This is an elderly society, in which towns prevail over big cities, and the transition from a dictatorship was not so many years ago. So a change of regime is very far from appealing for lots of people."
Rajoy swore an oath to serve as Spanish prime minister in a ceremony in Madrid's Zarzuela Palace on Monday in the presence of King Felipe VI. "I swear to loyally fulfill the obligations as president of the government with loyalty to the king," Rajoy said, standing at a table carrying copies of the bible, the constitution and a crucifix.
Franco Establishment
Rajoy was born in 1955, during the dictatorship of General Francisco Franco, and started his political career in 1981 in the legislature of his home region of Galicia in northwestern Spain. A member of the national parliament since 1986, he is the oldest prime minister since Spain returned to democracy in the 1970s, successfully resisting a changing of the guard that began with the abdication of King Juan Carlos in 2014. Since then, Rajoy has seen a generation of political and business leaders step aside and two new parties -- anti-establishment Podemos and pro-market Ciudadanos -- emerge to challenge the status quo.
Yet it was the political veteran who strengthened his position in June's repeat election as the only party leader to increase his number of seats. From that point, the opposition to Rajoy's return was slowly worn down, with a little help from the old guard.
When 44-year-old Socialist leader Pedro Sanchez tried to maintain his veto on Rajoy, he faced a barrage of coordinated attacks from party grandees such as former Prime Minister Felipe Gonzalez, 74, and the Prisa media group, led by 71-year-old Juan Luis Cebrian. Sanchez resigned this month following an internal revolt that left the party in disarray.
"Hats off to Mr. Rajoy," Joan Baldovi, a lawmaker of Compromis, a Valencia-based opposition party, said in parliament Thursday. "The impassive Galician, without moving a muscle and barely doing anything, is about to become prime minister thanks to the Socialists."
Bailouts and Soccer
Rajoy's resilience should not come as news to his opponents.
After taking the reins of the People's Party in 2004, he shrugged off two election defeats before taking office in 2011. He then saw unemployment spiral to 27 percent, suffered waves of corruption allegations against his party colleagues, and sought a euro-area bailout to fix the banking system.
The bank bailout in June 2012 was another good example of the Rajoy approach. While Economy Minister Luis de Guindos fronted up to journalists to explain why the country needed as much as 100 billion euros of aid, Rajoy flew to Gdansk in Poland to watch Spain's all-conquering soccer team in the European Championships.
Asked about it later, he would skip over the bank bailout entirely, focusing instead on the period during that fall when he'd "resisted" international pressure to seek a full sovereign rescue.
"Sometimes the best decision is not making any decision," he reflected in 2013. "That's also a decision."
Dominoes and Trains
Throughout, the core of Rajoy's support has been the gray vote.
Spaniards over 65 years old account for a third of the electorate and 35 percent of them support Rajoy's PP. The Socialists have 24 percent while the two new parties have less than 10 percent between them, according to a survey by the state-owned pollster CIS released in September.
That's why he made time for a game of dominoes in a retirement home in Olmedo amid the rush of his election campaign last December.
"Spaniards need safety, certainty and someone they can trust," he told the pensioners, and the assembled reporters. "This government never froze pensions in the past four years, and will never do it in future."
Then he reminded them of the high-speed train he'd just built.
Before it's here, it's on the Bloomberg Terminal.
LEARN MORE