Prosecutors Detain Park's Friend at Heart of Korea Scandal
By
Prosecutors say Choi Soon-sil held under emergency detention

Choi may see charges of embezzlement, violation of fx law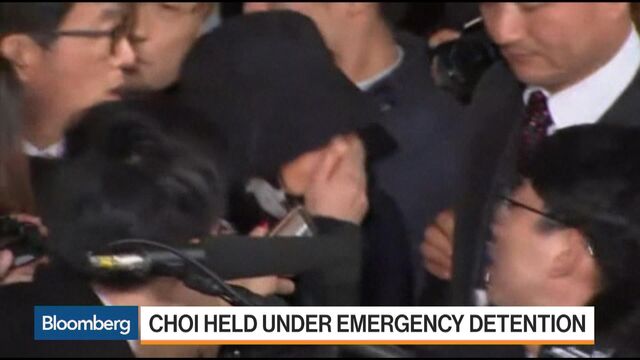 The woman at the center of an influence-peddling scandal involving South Korean President Park Geun-hye was formally detained as prosecutors planned to question her for a second day.
Park's long-time friend Choi Soon-sil was placed under "emergency arrest" around midnight after initial questioning led prosecutors to conclude that she could run away or destroy evidence, said Roh Seung-kwon, a spokesman at the Seoul Central District Prosecutors' Office by phone. Choi will be questioned again on Tuesday, he said, adding that she has denied wrongdoing. Roh declined to mention what charges she may be facing.
"She has a home in Seoul but doesn't stay there, which raises the risk of escape," Roh said. Korean laws stipulate that prosecutors must seek an arrest warrant from a court within 48 hours of detention.
The scandal has sparked street protests in South Korea as frustration grows over Park's leadership at a time of sputtering economic growth and high-profile struggles at companies like Samsung Electronics Co. and Hanjin Shipping Co. Park has replaced senior advisers and faces calls from her own party to agree to a coalition government.
For an explainer of the scandal, click here
South Korea's benchmark stock index -- one of the world's worst performers over the past month -- fell again on Tuesday. The won has led declines against the dollar among Asia's most-traded currencies over the past five days.
Prosecutors raided Park's office over the weekend to investigate allegations that Choi -- a private citizen who opposition lawmakers have linked to a religious cult -- wielded influence on state affairs over an extended period. Park's opponents allege that Choi helped make budget and staff decisions in addition to cajoling a business lobby group to raise money for two foundations she controls.
Investigators also confiscated documents from eight banks to secure information on financial transactions related to Choi, Yonhap reported on Tuesday, citing unidentified people.
The Industrial Bank of Korea said by e-mail that prosecutors came to its headquarters with a search warrant late Monday and asked for financial transactions of "some individuals" linked to the scandal rather than physically search its offices. Kookmin Bank couldn't immediately comment, and other banks, including Woori Bank, KEB Hana Bank and Standard Chartered Bank Korea, couldn't immediately be reached for comment.
For an explainer on the next presidential election, click here
Park made an apology in a nationally televised address last week in which she said she consulted Choi on "certain documents."
On Monday, Choi turned herself in to face questioning about her role in the affair. Dressed in black, she sobbed and appeared to nearly collapse while giving remarks that were inaudible on live television. Yonhap said she apologized to the public.
Choi's lawyer, Lee Kyung-jae, told reporters Monday that the investigation is at an early stage. 
The two main opposition parties have stopped short of calling for Park's resignation, which would trigger a presidential election in 60 days. A Gallup Korea poll in October showed the former leaders of both parties trailing United Nations Secretary-General Ban Ki-moon, who hasn't confirmed either his candidacy or which party he'd join.
Before it's here, it's on the Bloomberg Terminal.
LEARN MORE