May Renews Support for Carney as Decision on BOE Future Nears
by and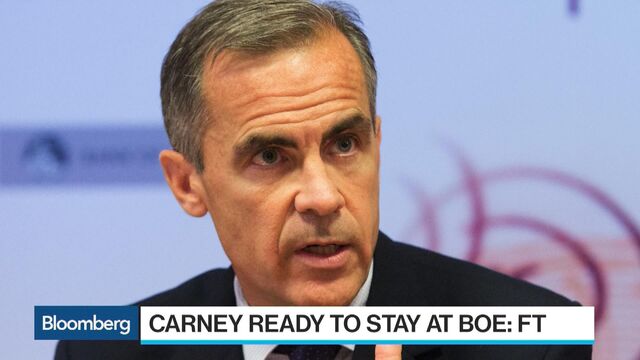 U.K. Prime Minister Theresa May has publicly thrown her support behind Mark Carney, adding her voice to the debate as he prepares to decide how long to remain Bank of England governor.
"The prime minister has been clear in her support for the governor and the work that he is doing," May's spokeswoman Helen Bower told reporters in London on Monday. "Clearly it is a decision for him" and he's "absolutely" the best man for the job.
Carney has given himself until the end of the year to decide whether to serve a full eight-year term until 2021 or leave in 2018, as he planned when taking the job. As speculation on his future mounts, the governor may make an announcement at his next public appearance on Nov. 3, when he will hold a press conference to explain the BOE's latest policy decision.
Bower also said May "would be supportive" of Carney staying in the role longer than five years. The backing follows multiple newspaper reports in recent days, some of which said he will leave in 2018 and some that he's leaning toward a longer term.
The 51-year-old has said personal reasons will determine his choice. But any decision may be linked to Brexit after a turbulent year that saw him become embroiled in the bitter European Union referendum campaign, and he has even faced calls to resign. Carney's most recent comments on the issue were on Oct. 25, when he said it's a privilege to have the job.
"Like everyone, I have personal circumstances which I have to manage," Carney said during testimony in Parliament. "This is a role that requires total attention, devotion and I intend to give it for as long as I can."
Follow @Brexit for the latest news, and sign up to our Brexit Bulletin for a daily roundup.
Before it's here, it's on the Bloomberg Terminal.
LEARN MORE