business
Lebanon Parliament Elects Hezbollah Ally Aoun as President
By and
Vote will be boost for Iran, shows declining Saudi influence

Election may attract investors put off by political paralysis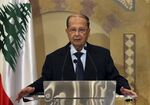 Lebanon's parliament on Monday elected octogenarian Michel Aoun, an ally of the militant Hezbollah group, as the country's president, ending a two-year political impasse that crippled state institutions and deepened rifts among rival factions.
Aoun won support from 83 lawmakers in the 127-member chamber to become Lebanon's 13th president, fulfilling a decades-old dream that has shaped his political career. He will serve a six-year term. Aoun's supporters danced, cheered and hugged each other as they waved his Free Patriotic Movement party's orange flag.
The Shiite Hezbollah's championship of Aoun, a Maronite Christian, had encountered fierce resistance from a coalition of parties backed by Saudi Arabia. His election would be a victory for Hezbollah's patron, Iran, and a reflection of the decline of Saudi influence in Lebanon, said Rosanna Bou Monsef, a political commentator for the An-Nahar daily.
"It shatters Saudi Arabia's image due to Aoun's ties to Iran and Syria," Bou Monsef said. Rivals Saudi Arabia and Iran vie for influence across the region and have been on opposite ends of the sectarian conflicts that have roiled the Middle East since 2011. Lebanon has been without a president since Michel Suleiman's term term ended in May 2014.
'Resistance Axis'
Syria's pro-government Al-Watan newspaper hailed Aoun's expected election as a victory for Syria and its allies in Lebanon. "The resistance axis has won," the newspaper said on its front page.
Lebanon's location and its complex communal makeup have put it near the center of major Middle Eastern conflicts. Hezbollah, considered a terrorist organization by the U.S., was founded in 1982 to fight Israel's occupation of southern Lebanon. Most recently, the civil war in Syria, in which Hezbollah is backing the forces of President Bashar al-Assad, sent more than a million refugees spilling across Lebanon's border, exacerbating political, economic and social frictions.
The Lebanese parliament met 45 times before Monday's session to try to elect a president but divisions among the country's political players, which deepened following the start of the war next door in Syria in 2011, prevented a vote. The leadership vacuum gave rise more than a year ago to violent street protests touched off by a dispute over garbage disposal.
In a speech earlier this month, former Prime Minister Saad Hariri, a Saudi ally, said he endorsed Aoun as a last resort to end the power vacuum and the possible eruption of violence. Aoun is expected to name Hariri as prime minister after consultations with parliamentary blocs.
"Lebanon is an island of relative security and stability in a sea of destruction and blood that is engulfing the whole region," Hariri said in his Oct. 20 speech. "This cannot continue by chance or prayers but by our clear will and our solid determination to preserve peace."
Investment-Positive
Ayham Kamel, Middle East and North Africa director at Eurasia Group, said a comprehensive agreement among the key political parties in Lebanon is a "very positive message for investors."
"We're moving to a much more coherent state where policy begins to move on a lot of issues," he said by phone from London.
About two hours before the session began, the share price of Solidere, Lebanon's largest property developer founded by Hariri's father, were up 1 percent at 11:23 a.m. in Beirut after rising as much as 4.2 percent.
Division of Powers
The accord that brokered the end of Lebanon's 1975-1990 civil war divided political powers among the country's three main religious groups. Under the sectarian system, the president has to be Maronite Christian, the prime minister a Sunni Muslim and the parliament speaker a Shiite.
The vote on Aoun, 81, the founder of the Free Patriotic Movement, comes amid tensions between Saudi Arabia and Hariri over his economic interests in the kingdom.
Hariri's Riyadh-based construction company Saudi Oger Ltd. reportedly faces the prospect of a multibillion dollar debt restructuring to stave off collapse after the Saudi government cut spending and delayed payments to contractors to help cope with a plunge in oil prices. Thousands of its laborers have been left stranded in camps without pay. Hariri said in an Oct. 28 interview with LBCI TV that all unpaid staff in Lebanon and abroad will be paid.
Foreign direct investment in Lebanon dropped as the political impasse deepened. According to the United Nations Conference on Trade & Development, it fell to $2.34 billion in 2015 from $2.7 billion in 2013, the last full year in which a president was in office.
Changed Alliances
Central Bank Governor Riad Salameh, who has been urging political stability, said in an interview in September that he expected growth to range between 1.5 to 2 percent this year, maintaining the 2015 pace.
In earlier days, Aoun was a fierce opponent of Syria, leading Lebanon's army against Syrian and rival Christian forces during the last part of his country's 1975-1990 civil war, and heading one of Lebanon's interim governments toward its end. He fled Lebanon after failing to defeat Syrian troops and took sanctuary in Paris in 1991.
He returned to Lebanon in 2005 following the withdrawal of the Syrian military from Lebanon and the assassination of Rafiq Hariri, Saad Hariri's father. He allied himself with pro-Syrian figures and became Hezbollah's main Christian ally.
"This is a dream come true for the party, which has been waiting for this moment for 28 years," party member Nicolas Sahnaoui, a former telecommunications minister, told Al-Jadeed TV.
(
Updates with Aoun elected president.
)
Before it's here, it's on the Bloomberg Terminal.
LEARN MORE