Five Things You Need to Know to Start Your Day
Get caught up on what's moving markets.
By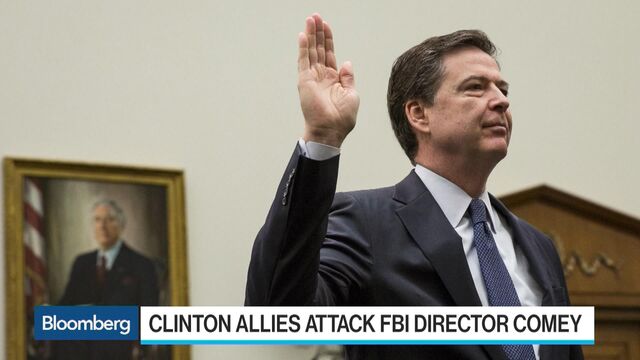 Want to receive this post in your inbox every morning? Sign up here.
Hillary Clinton feels the heat as the e-mail scandal comes back to life, all eyes are on Mark Carney's future, and energy stocks take a beating after OPEC splits emerge. Here are some of the things people in markets are talking about today.
E-mail saga
Hillary Clinton's once commanding lead in the polls is in jeopardy after the FBI announced on Friday that it would revive its probe into her e-mail practices, citing a fresh trove of correspondence said to be relevant to the case. With FBI Director James Comey Comey also coming under fire, an ABC/Washington Post poll finds Trump has gained ground, with Clinton ahead by just one point, compared with a 12-point gap a week earlier. With the FBI obtaining a warrant to search through the emails, Citigroup Inc. says the odds of a Clinton victory have fallen from 81 percent to 75 percent, adding that 'Black Swan' events have the potential to roil global markets. U.S. stock-index futures rose 0.01 percent, bucking losses in Europe. 
Carney conjecture
Bank of England chief Mark Carney faces a torrent of speculation about his future after weekend reports that the governor looks poised to leave his position in 2018 — sticking to his original five-year commitment. However, the Financial Times reports that the Governor will serve a full term through 2021, citing friends close to the matter, pushing back against fervent Brexit supporters who have called for his resignation. Carney could put an end to speculation about his future as early as Thursday when the central bank holds a press conference to detail its latest policy decision. The pound barely budged in morning trading at $1.22.
OPEC failure
Oil fell after talks among producing nations in Vienna stalled over how to implement a deal to cut supply, with Iran and Iraq blamed for the deadlock. Talks will resume again in late November, with Oman and Russia stating they will only abide by a supply cut once OPEC has secured an agreement. Oil futures in New York fell as much as 1.1 percent after tumbling 2.1 percent at the end of last week, with Brent crude for December settlement trading at $49.57 a barrel. 
Stocks drop
Energy shares and the Russian ruble tumbled after the OPEC news, with a gauge of energy stocks on the MSCI All-Country World Index slipping to one-month lows. In Europe, the Stoxx 600 Index was also dragged down by energy stocks, dropping 0.45 percent lower, The South African rand strengthened after fraud charges against Finance Minister Pravin Gordhan were dropped. The yield on 10-year U.S. Treasuries barely budged at 1.84 percent, after kissing a five-month high of 1.88 percent on Friday, amid a global bond rout. U.S. futures are modestly higher.
Spain stability
Over the weekend, Spanish Prime Minister Mariano Rajoy secured a second-round confidence vote in parliament, paving the way to form a minority government after a 10-month political impasse. Rajoy faces a delicate balancing act in his second term as he battles to address Spain's budget deficit and high unemployment rate amid a fractious parliament. 
What we've been reading 
This is what's caught our eye over the last 24 hours.
Before it's here, it's on the Bloomberg Terminal.
LEARN MORE