Business
Dutch Court Set to Open Hate-Crime Trial of Politician Wilders
Corina Ruhe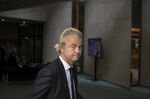 A Dutch court on Monday will open the trial of politician Geert Wilders for inciting hate, putting a spotlight on the controversial leader of the Freedom Party months before general elections.
Wilders has been charged for comments he made in March 2014, when he asked a crowd in The Hague if they wanted "more or fewer Moroccans" in the city. The crowd responded by chanting "Fewer! Fewer! Fewer!" after which Wilders said: "I'll take care of that." More than 6,400 complaints were filed after he made the remarks.
While Wilders has enjoyed a surge in popularity with voters, the politician has been shunned by colleagues from rival political parties. Most have ruled out forming a governing coalition with him after the March 2017 elections, though Prime Minister Mark Rutte has said he would consider it if Wilders retracts the comments. So far, Wilders has declined to do so.
The Freedom Party would win the second-most seats in the 150-seat Dutch parliament if elections were held now, an Ipsos poll on Thursday showed. Wilders has gained in popularity amid the wave of populism sweeping Europe with calls to have the Netherlands exit the EU and shut its borders to Muslim immigrants.
The anti-Islam politician -- who said Friday he won't attend the trial -- could face a maximum of two years in prison if convicted, though such sentences are rare, according to the Dutch public prosecutor. Likelier penalties could be community service or a fine, it said. A verdict is expected in December.
The Supreme Court of the Netherlands ruled in 2014 that politicians must take responsibility for what they say while exercising their freedom of speech in public and that the context of what they say is relevant too. That ruling gives the court a clear path to find its judgment, Wim Voermans, a professor in constitutional law at Leiden University, said in an interview.