Citi: FBI Probe Could Have a 'Meaningful Impact' on the Election
It isn't over till ... you know.
By , , and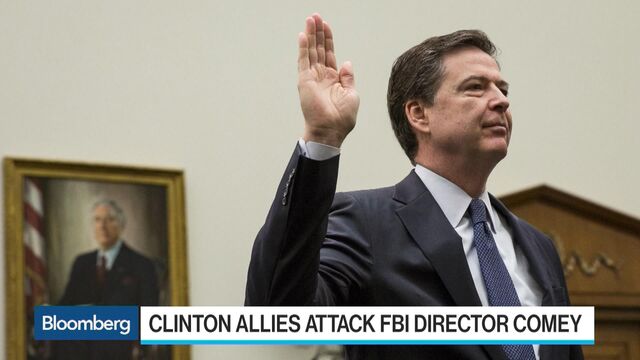 One of these candidates will soon be singing a swan song.
Now, who?
Political reporters had their hands full Friday afternoon when news broke that FBI Director James Comey was reopening an investigation into Hillary Clinton's use of private email while secretary of state. Prediction markets quickly saw the odds of a Clinton win drop, and while Citigroup Inc. isn't lenghtening its own odds of a Clinton victory, that's just because it's been including what the team calls "black swan events," or unforeseeable twists, in their analysis for some time.
Citi's "75 percent probability of a Clinton victory remains unchanged due to our longstanding caution over the risks of Black Swans, but these developments have added a significant obstacle to the Clinton campaign, and are likely to further dent voter confidence," the team, led by Senior Global Political Analyst Tina Fordham, write. "In our view, these developments do constitute an 'October Surprise' that could have a meaningful impact on the race." They add that the potential for more events like these are high.
Others on Wall Street don't think the investigation will prove meaningful. Evercore Partners Inc. analyst Terry Haines said that since the Clinton email issue isn't new, it is already "baked in" to voters' perception of her. 
Citi also argued that Clinton supporters weren't going to vote for Trump instead, but rather that the number of people heading to the ballot box would bear the brunt of the impact. 
"The most concrete impact of the FBI announcement will likely be upon turnout; potentially depressing turnout of Clinton voters, less enthusiastic about voting to start with, and 'downticket' voting in Congressional races, where Clinton's boost in the national polls had looked likely to propel more Democrats to victory in Congress," the Citi analysts conclude. 
Before it's here, it's on the Bloomberg Terminal.
LEARN MORE