Carney to Stay at BOE Until June 2019 to Help Address Brexit
by
Governor will stay at BOE one year longer than planned

Aims to help secure 'orderly transition' out of European Union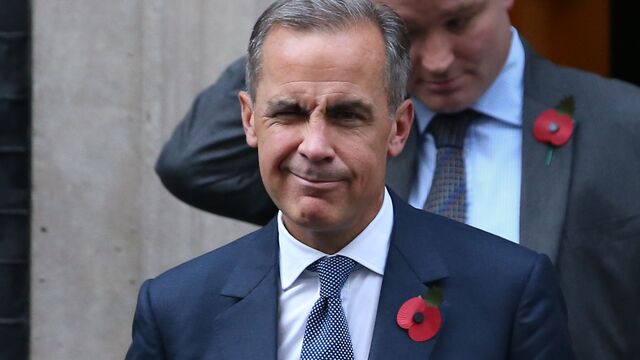 Bank of England Governor Mark Carney will extend his time in office by a year to 2019 to guide the economy through Britain's split from the European Union.
Choosing a middle path between leaving in 2018 as planned or remaining until 2021 as entitled, Carney said in a letter to Chancellor of the Exchequer Philip Hammond that by staying until June 2019, he will help with an "orderly transition to the U.K.'s new relationship with Europe."
The decision ends months of speculation about the 51-year-old Canadian's future that raged as he led the charge to safeguard financial markets and the economy following June's referendum. By providing continuity at the central bank, it's likely to soothe investor concerns over the uncertainties that still lie ahead as the U.K. negotiates its break with the EU, which is scheduled to occur shortly before he steps down.
Still, Prime Minister Theresa May will have to search for a new governor just as the talks are reaching their climax and find one skilled enough to manage the post-Brexit economy. Carney's decision to stay put is also likely to irk those Conservative lawmakers who accused him of showing political bias during the referendum campaign and then of overreacting to the result and underestimating the economy's resilience.
'Effective Leadership'
Hammond welcomed Carney's decision, praising him for his "highly effective leadership of the bank through a crucial period for the British economy." Carney met May for talks earlier in the day and her spokeswoman, Helen Bower, called him "absolutely" the best person for the job following a weekend of conflicting newspaper reports.
"Carney is a respected central banker," said Chris Chapman, a London-based trader at Manulife Asset Management. "Overall I'd say that him staying with the BOE until 2019 would be seen as a positive for the country. But again, near term there are so many other factors weighing on the pound."
The pound, 2016's worst-performing major currency, stayed higher after the announcement. It's fallen about 18 percent since the June 23 vote.
Carney will now have the task of protecting the economy and ensuring financial stability as the government negotiates the U.K.'s divorce from the EU. Those talks are set to begin by the end of March and last for two years, meaning Carney's original plan to leave in 2018 would have robbed the three-century-old BOE of leadership at a delicate point.
Economic Strength
The economy's weathering of the Brexit vote wrong-footed Carney, who said in March that choosing to quit the EU would be "the biggest domestic risk to financial stability," and counseled in May that it could trigger a recession. Yet gross domestic product grew 0.5 percent in the third quarter, beating economists' estimates.
The relative strength led those who campaigned for Brexit to criticize the independent central banker. Former Chancellor Nigel Lawson called him a "doom-monger" who has "behaved disgracefully." Tory lawmaker Jacob Rees-Mogg said he had "undermined the perception of impartiality" of the BOE, although he said today Carney was right to clear up uncertainty over his future.
There was also criticism from former Foreign Secretary William Hague and former Justice Secretary Michael Gove, plus a speech by May at the Conservative Party conference in which she decried the "bad side effects" of low interest rates. Her office later clarified the remarks and May backed Carney to stay in office.
At a time when his peers in other economies are also finding their independence challenged, Carney pushed back against political interference, saying that while the government sets the BOE's objectives, the central bank acts freely.
Slowdown Forecast
Carney's economic concerns may still be proved justified. Manufacturing shrank in the third quarter and banks are warning they may soon shift jobs overseas to ensure continued access to the EU. Economists surveyed by Bloomberg predict GDP growth will slow to less than 1 percent next year.
The pound's slump to a three-decade low against the dollar complicates the picture. While the devaluation provides some support for exports, it puts pressure on inflation via import prices. Inflation is already the fastest in two years and is on course to breach the BOE's 2 percent target in 2017.
That makes it difficult for the BOE to add more monetary stimulus, and economists predict the Monetary Policy Committee will hold fire this week.
Action Man
Carney also has plenty of supporters. He drew praise from business and investors for his initial response as the referendum result was digested -- a day he later called the worst of his career.
As Prime Minister David Cameron prepared to resign on June 24, Carney issued an early-morning statement, pledging to provide an extra 250 billion pounds for the financial system. Just over a month later, he and his colleagues cut their benchmark rate for the first time in more than seven years to a record-low 0.25 percent and revived quantitative easing.
Those actions were in keeping with a track record of policy aggression by Carney, who has said his childhood nickname was "Carnage."
He was running the Bank of Canada when then-Chancellor of the Exchequer George Osborne wooed him across the Atlantic to replace Mervyn King from July 2013, making him the first person to run two major central banks. Osborne declared Carney "simply the best" after persuading him to take the job.
Controversial Start
On arriving in the U.K., he became arguably the most powerful central banker in the world, managing both monetary policy and the stability of the financial system. He hired consultants to help overhaul the BOE's structure and conducted more media interviews than his predecessors.
He also flirted with controversy right from the start, including attracting criticism for landing a compensation package of more than $1 million, including housing costs. An assessment that Scotland wouldn't be able to enjoy a currency union with the rest of the U.K. if it voted for independence drew criticism north of the border before a 2014 referendum.
There was also inconsistency over his outlook for rates, which prompted one Labour Party lawmaker to call him an "unreliable boyfriend." An early initiative known as forward guidance aimed at giving clarity over how long borrowing costs would stay low was largely abandoned after unemployment fell faster than forecast.
While the standard term for a BOE governor is eight years, Carney originally cited the education of his daughters, his term as chair of the Financial Stability Board and the "punishing" nature of running a central bank as factors underpinning his preference for a shorter stint.
Last week, he told lawmakers that "personal circumstances" would be the ultimate determinant, rather than any concern over politics.
Nevertheless, he's often been linked to political roles, and was once reportedly interested in becoming prime minister of Canada, a job now held by Justin Trudeau. His home country is set to hold a 2019 election.
If Carney wants another high-profile job, the position of managing director of the International Monetary Fund may become available in mid-2021.
Before it's here, it's on the Bloomberg Terminal.
LEARN MORE