business
Carney's Future at BOE Overshadows U.K. Rate Decision
By and
Governor could decide this week on length of term at BOE

FT reports he will stay for full eight years until 2021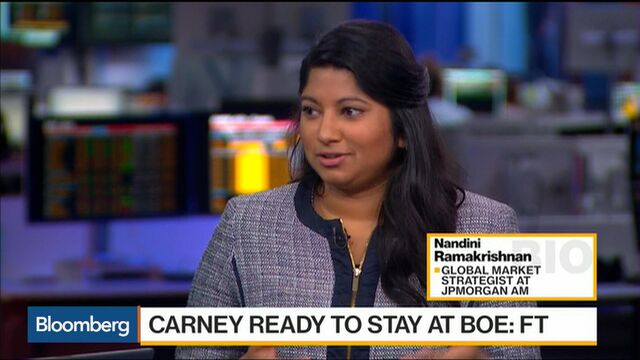 Mark Carney's policy decision is playing second fiddle to speculation about his tenure.
The Bank of England governor may be about to announce how long he will stay in the role, a choice that has ramifications for the stewardship of the economy at a time of unprecedented change. While economists expect him to keep interest rates unchanged on Nov. 3, an announcement on his future -- ending the mystery as to whether he'll serve a full eight-year term or leave early as planned when he took the job -- could overshadow that.
Follow @Brexit for the latest news, and sign up to our Brexit Bulletin for a daily roundup.
Carney, 51, has said personal reasons will determine his choice. It comes at the end of a turbulent year that saw the Canadian central banker become embroiled in the bitter European Union referendum campaign, accused of political bias by some lawmakers and facing calls to resign. Even U.K. Prime Minister Theresa May said the BOE's policy has "bad side effects," a comment some interpreted as infringing on the central bank's independence.
"If he were to step back after five years he would say that it's for personal reasons, and there's prima facie no reason to disbelieve that," Moritz Kraemer, S&P's global chief ratings officer, said in an interview on Bloomberg Television Monday. "But at the same time there's been some controversy" about the bank's autonomy.
Government Backing
May threw her support behind Carney on Monday, adding her voice to the debate on his position. Her spokeswoman Helen Bower told reporters that he's "absolutely" the best man for the job and she wants him to stay on. Business Secretary Greg Clark backed the governor on Sunday to stay in the job, while Chancellor of the Exchequer Philip Hammond has previously voiced support.
Others haven't been so complimentary. Daniel Hannan, a member of the U.K. Conservative Party and an anti-EU campaigner, told BBC radio on Monday that if Carney does stay, "it's important to comport yourself as a quiet and discrete public servant who errs on the side of saying too little."
Over the weekend, some newspapers reported that Carney was preparing to leave in 2018 -- sticking to the five years in the role agreed when he was appointed -- while the FT said he'll serve a full term through 2021. The BOE declined to comment, saying only that he would declare his intentions by a self-imposed deadline of year-end. 
Carney could make an announcement about his term on Thursday, when he will hold a press conference to explain the BOE's latest policy decision. He was also due to meet May on Monday, according to the prime minister's office, though the meeting was scheduled before the latest speculation on the governor's future. 
The publication of the bank's Inflation Report will come against the backdrop of third-quarter growth surpassing estimates and the pound dropping to a 30-year low. With the latter fueling import costs, the governor said last week that there are limits to officials' willingness to look through an overshoot of inflation above their 2 percent target. That's a marked divergence from language used earlier in October and indicates no policy change is imminent.

Consumer-price growth reached 1 percent in September, the fastest since 2014, and could climb to as high as 3 percent next year, according to some forecasters.
Another reason for no shift in policy this week will be the BOE's new quarterly projections for growth and inflation. With both likely to be raised compared with August, that would present a tricky communication challenge were the MPC to cut interest rates again from a record-low 0.25 percent.
Even if the BOE doesn't cut this week, that may only mark a postponement rather than a cancellation. Most economists anticipate that expansion will weaken next year, which could mean central bank loosening in early 2017.
"It's not going to be as bad or as painful as the stagflation of the 1970s, but it is stagflation," former BOE policy maker Adam Posen said in a Bloomberg Television interview on Oct. 28. "It's a negative supply shock combined with very low productivity which means inflation goes up, growth goes down."
— With assistance by Jill Ward, John Ainger, and Robert Hutton
(
Updates with May-Carney meeting in eighth paragraph.
)
Before it's here, it's on the Bloomberg Terminal.
LEARN MORE