Saudi Stocks Extend Winning Streak as Cash Crunch Concern Eases
By
Tadawul gains for 8th day, led by National Commercial Bank

Qatar's QE Index posts biggest drop in more than a month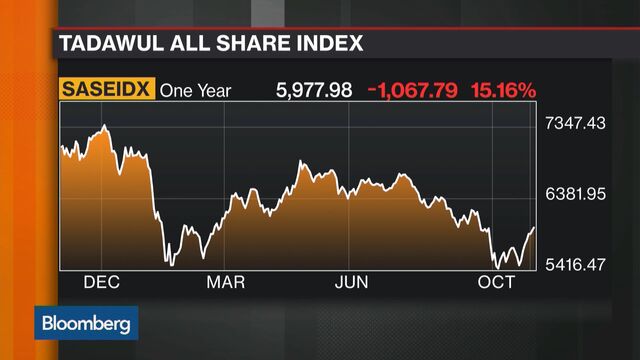 Saudi Arabian stocks rose the most among Gulf equities, extending their longest winning streak in more than two years on investor optimism the outlook for the kingdom's banks is improving.
Three of the five biggest contributors to an increase in the Tadawul All Share Index were lenders, as the main gauge added 0.7 percent at the close in Riyadh. The measure has increased 9.5 percent in eight days, the longest string of gains since 2014, as Saudi Arabia sold the largest international sovereign bond in emerging-market history and said it would boost payments to contractors.
"What we are seeing now is a recovery in banking stocks as a whole, which is supporting the improvement in sentiment," said Aqib Mehboob, an equities analyst at Saudi Fransi Capital in Riyadh. "The sector had been beaten down a lot on liquidity concerns and a potential rise in defaults from contractors. The bond sale adds liquidity to the local market, and the payment to contractors helps improve expectations regarding increases in non-performing loans."
The amount banks charge to lend each other in the largest Arab economy dropped on Sunday by the most in more than seven years, a sign that government measures to alleviate a cash shortage are working. The rate had climbed to the highest since January 2009 as the government withdrew deposits and increased borrowing amid the plunge in oil prices that sent the country's budget deficit to the widest since 1992.
The Saudi Arabian Monetary Agency, as the central bank is known, said on Oct. 27 it's introducing 90-day repurchase agreements starting this week to "enhance the domestic monetary conditions."
All but two of the Tadawul All Share Bank Index's 12 members advanced. National Commercial bank rose 7.9 percent, Al Rajhi Bank climbed 0.9 percent and Samba Financial Group increased 3 percent.
Qatar Drops
Qatar's QE Index closed 2.2 percent lower, led by Ezdan Holding Group and Industries Qatar, which each fell 2.5 percent. Qatari Investors Group QSC slipped 10 percent, the biggest decline since December 2014, after advancing 21 percent in two days last week. Its 14-day relative strength index was at 82 on Oct. 27, above the level that indicates the shares may have risen too fast.
"We see Qatar's index being pressured by some specific names in a day of negative mood," said Ibrahim Masood, a money manager at Aventicum Capital Management Qatar in Doha. "Qatari Investors Group, a company that is held mostly onshore, is now readjusting after increasing dramatically last week."
Kuwait's SE Price Index declined 0.1 percent and Oman's MSM 30 Index retreated 0.2 percent. Abu Dhabi's ADX General Index lost 0.1 percent and Dubai's DFM General Index climbed 0.1 percent. Bahrain's Bourse All Share Index ended 0.3 percent higher.
The Bloomberg GCC 200 Index, which is composed of the largest and most liquid companies in the six-nation Gulf Cooperation Council, fell 0.5 percent. The gauge's moving averages formed two so-called death crosses this month, a sign to some analysts declines may be in store.
Egypt's EGX 30 Index advanced 0.2 percent at the close in Cairo, led by ElSewedy Electric Co.'s 1.5 percent gain and Ezz Steel's 3.1 percent increase.
Israeli Stocks
The TA-25 Index fell 1.2 percent to 1,406.49 at the close in Tel Aviv, the lowest level since July 6 and the third straight session of losses. The benchmark gauge's 14-day relative-strength index retreated to 34, close to the 30 threshold that signals to some investors it might have fallen too fast.
Shares in dual-listed Perrigo Co. and Teva Pharmaceutical Industries Ltd. led the decline, tracking losses in the U.S. last week. The two companies make up about 19 percent of Israel's benchmark index.
"The drop in pharma stocks in the U.S. last week is dragging the Israeli index down," Saar Golan, a Tel Aviv-based trader at Bank of Jerusalem Ltd., said by phone. "We could see more selloffs in the next two weeks until the U.S. election, as the latest events over the weekend mean more uncertainty about the outcome which is a negative for the stock market."
Israel Chemicals Ltd. slipped 2.8 percent to 13.60 shekels, the lowest level since May 2005. The manufacturer of chemical fertilizers was lowered to BBB- from BBB at S&P Global Ratings last week. The yield on Israel's benchmark government bond due October 2026 fell one basis point to 1.85 percent from a five-month high reached last week.
— With assistance by Sharon Wrobel
Before it's here, it's on the Bloomberg Terminal.
LEARN MORE