Saudi Bank Squeeze Eases as Saibor Tumbles the Most Since 2009
By and
Three-month Saibor declined 2.2 basis points on Sunday

Kingdom boosts liquidity with bond sale, repos, cash injection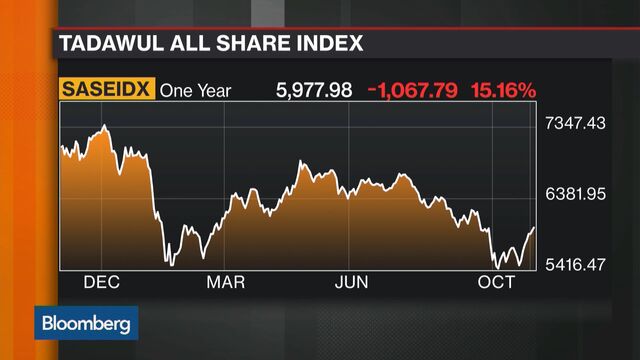 The worst cash squeeze at Saudi Arabian banks since the financial crisis is easing.
A key interest rate used to price loans in the kingdom dropped on Sunday by the most in more than seven years, a sign that government measures to alleviate a liquidity shortage are working. The three-month Saudi Interbank Offered Rate declined 2.2 basis points, after retreating last week for the first time since July.

The drop in lending costs comes after the kingdom, the world's top oil exporter, this month conducted the biggest ever bond sale from an emerging market, cut weekly domestic debt issuance and pledged to inject billions of riyals into the banking sector. The nation's interbank rate had risen to a seven-year high as the government withdrew deposits and sold more than $60 billion worth of local bonds since the start of 2015 to cope with falling crude prices and a ballooning budget deficit.
"We believe a large share of the $17.5 billion of international deposits recently raised by the kingdom has made its way to the bank-deposit book," said Chiradeep Ghosh, a banking analyst at Securities & Investment Co. in Bahrain. Taken alongside other steps by the central bank, "interest rates should decline further after the surge in the last 12 months," he said. U.S. interest rate increases will remain a headwind, he said.
Repo Agreements
The Saudi Arabian Monetary Agency, as the central bank is known, introduced 90-day repurchase agreements and cut its weekly debt issuance to 3 billion riyals ($800 million) from 9 billion riyals starting Sunday to "enhance the domestic monetary conditions," according to a statement last week.
The regulator announced last month an injection of about 20 billion riyals for banks via deposits from state-run companies and introduced seven-day and 28-day repurchase agreements, in addition to the existing overnight operation.
Saibor, as the rate is known, slipped to 2.36 percent on Sunday. National Commercial Bank made the biggest cut to its submission, the data show, with a reduction of 15 basis points. The Jeddah-based lender's shares soared 30 percent in the eight days through Sunday in Riyadh, the longest sequence of gains since they started trading in November 2014.
Before it's here, it's on the Bloomberg Terminal.
LEARN MORE