Novo Nordisk's Share Implosion Sends Shock Waves Through Denmark
by
Selloff in Novo stock equivalent to 7% of Denmark's GDP

Novo had been "lighthouse" that drew investors to Denmark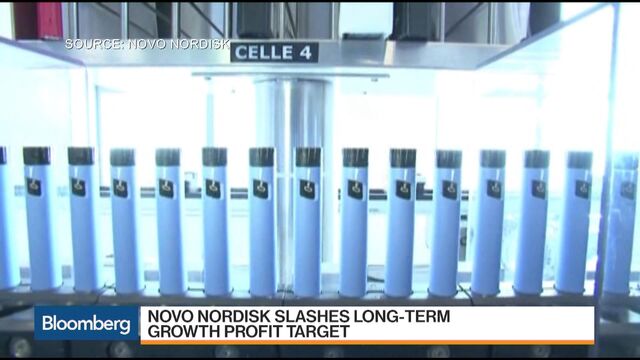 As Novo Nordisk A/S plunged on Friday, there was more at stake than just the fortunes of the shareholders in the world's biggest maker of insulin.
Denmark's biggest company by market capitalization lost more than $20 billion of its value at one point, marking its worst selloff in 14 years. The shock drove Denmark's all-share index down as much as 5.2 percent, setting it up to underperform most global indexes this year.
"This huge move can make Denmark's shares look bad as the Danish indexes are going to suffer," Jacob Pedersen, chief of equity analysis at Sydbank A/S, said in a phone interview. "Over many years, the Danish stock market has been driven by Novo," he said. The company "has acted as a lighthouse leading foreign investors into the Danish market and opening their eyes to other Danish quality stocks."

At its most extreme point, Friday's share plunge wiped the equivalent to about 7.2 percent of Denmark's GDP in 2015 off Novo's market value. The selloff followed its announcement it was slashing a long-term target for profit growth in half in response to price pressure in the U.S., its largest market. Novo had already cut its outlook three months earlier, shaving 10 percent off its market value in a single day.
For a story about Novo's profit warning, click here.
In the 10 years through 2015, Novo shares returned investors more than 1,200 percent compared with a 66 percent return in the Stoxx Europe 600 Index. Novo's ascent was so dramatic that it prompted the Nasdaq OMX Copenhagen stock exchange to change its benchmark index in 2013 for the sole purpose of reducing the company's weight.
"There are other Danish companies that have delivered good results but in terms of value and moving the Danish stock indexes, no company comes close to Novo," Pedersen said.
Danish pension fund ATP, which had 1.93 billion kroner ($283 million) in Novo shares at the end of June, is one of the biggest investors in Denmark's stock market.
"As the clear No. 1 listed company, Novo Nordisk has had great importance for the Danish stock market," Claus Berner Moller, vice president of equities at ATP, said in an e-mailed reply to questions. "But having said that, we've had very many good company stories in Denmark with very high share price gains."
At its peak in August 2015, Novo was worth 1.07 trillion kroner. Back then, that exceeded the combined market capitalization of the other nine companies in Denmark's top 10, including A.P. Moller-Maersk A/S, Carlsberg A/S, Danske Bank A/S and Vestas Wind Systems A/S. After Friday's losses, Novo is now worth about 40 percent less than it was at its high point.
"The drop could, in principle, spread to other Danish shares, but that's definitely not our main scenario," Sydbank's Pedersen said.
Before it's here, it's on the Bloomberg Terminal.
LEARN MORE