South Korea Prosecutors Raid President's Office Over Scandal
by
Action came hours after President Park told top aides to quit

Park submitted letter to prosecutors disapproving of search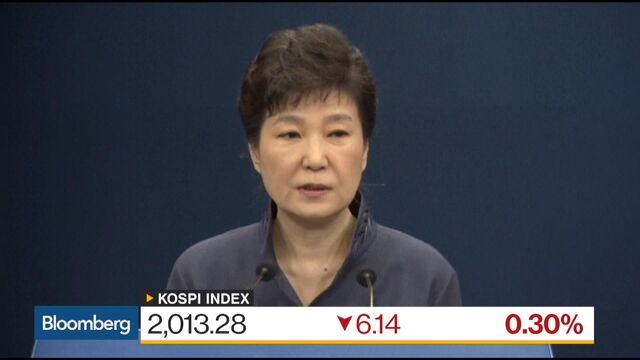 South Korean prosecutors raided President Park Geun-hye's presidential compound on Saturday, widening their investigation into an influence-peddling scandal that is threatening her grip on power.
The search was disrupted before its completion after Park's office submitted a letter of disapproval, the Seoul Central District Prosecutors' Office said in a text message. Earlier, it said that investigators searched the offices of two presidential secretaries at 2 p.m. in Seoul and planned to conclude the procedure by Sunday if possible.
The president's resistance is "unacceptable," prosecutors said in the text message. They vowed to execute the search warrant, without elaborating.

The unusual move came hours after the presidential office said Park told her 10 chief advisers to resign over a scandal that has sent her approval ratings to all-time lows. Park had apologized Tuesday in a nationally televised address over consulting her friend Choi Soon-sil -- who opposition lawmakers have linked to a religious cult -- on "some documents" for a certain period of time after she took office in 2013.
Those comments fanned suspicions that Choi, a private citizen, may have had significant influence over Park throughout her presidency.
Thousands of protesters gathered on Seoul's skyscraper-filled streets on Saturday night shouting: "Park must step down." Many of them held candles or held placards criticizing Park. Rallies were planned in other major cities, including Busan and Daegu.
"We gave her power and she gave it to a friend," Kim Jung Hyun, a 22-year-old college student, said while distributing leaflets showing Choi controlling Park like a puppet. "Now we want it back."
South Korea's three biggest political parties will meet on Monday to discuss the scandal, according to Yonhap News. The two opposition parties said Saturday the resignations of chief advisers aren't enough and that Park should also replace the cabinet.
In a poll released earlier this week, more than 40 percent of respondents said Park should resign or be impeached to take responsibility for the scandal.
Resignation Risk
Still, it's unlikely that Park's opponents will push for her to step down because there's no guarantee they would win an election that would have to be held within 60 days, said Choi Chang-ryul, a political commentator and professor of liberal arts at Yong In University.
"Ideally, she could appoint a politically-neutral prime minister and let him choose cabinet members, while she keeps her grip on security and foreign affairs only," Choi said.
The raid on Saturday was the first time the Blue House has been searched since prosecutors unsuccessfully tried to enter the presidential complex in 2012 under President Lee Myung-bak over a corruption scandal involving his retirement home.
The offices investigated included those of An Chong-bum, Park's chief adviser on policy coordination. Opposition lawmakers accuse him of pressuring a business lobby group into donating tens of millions of dollars to foundations controlled by Choi. An denied the allegations at a parliamentary hearing.
For a Q&A on the latest scandal rocking South Korea, click here.
Park's apology on Tuesday came after Cable TV JTBC reported a day earlier that Choi edited some of Park's speeches, including one made in Germany in 2014 to outline steps toward the eventual unification of the Korean peninsula. JTBC cited files in a computer that it said belonged to Choi.
Choi said in an interview with South Korea's Segye Ilbo this week that she edited Park's speeches "out of faith" and denied she had owned the computer. Efforts to reach her have been unsuccessful.
Before it's here, it's on the Bloomberg Terminal.
LEARN MORE