Republican Senate Hopefuls Seize on Clinton FBI Opportunity
By
Republicans jump on news in battle to maintain majority

Higher Republican voter turnout for Trump could be big boost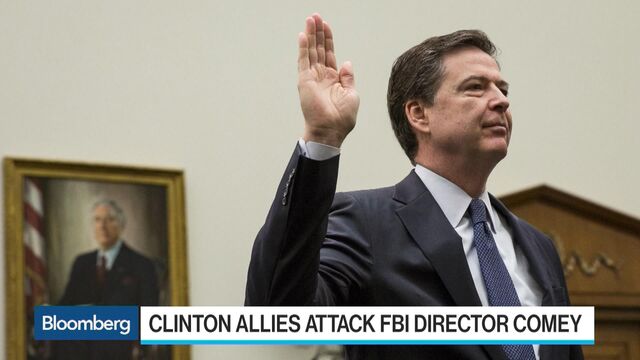 Control of the U.S. Senate may swing on FBI Director James Comey's surprise renewal of an investigation into Hillary Clinton's use of a private e-mail server, a potential game-changing repercussion that goes beyond revitalizing Donald Trump's prospects.
Democrats are battling in almost a dozen close races to pick up enough seats to take over the chamber that Republicans now govern with a four-seat majority, while Republicans argue they should be kept in control there as a check on Clinton should the Democrat be elected president.

"I don't think the question is if this changes the complexion of the Senate. It's how much?" said Joshua Huder, a senior fellow at the Government Affairs Institute at Georgetown University in Washington.
Comey wrote to lawmakers that the FBI is looking into e-mails that appeared pertinent to the previously closed investigation of Clinton's server while secretary of state. Investigators found new messages through a separate probe of Clinton aide Huma Abedin's estranged husband, former Representative Anthony Weiner, who allegedly sent illicit messages to a minor. The inquiry gave it access to a computer believed to have been used by both Weiner and Abedin, said a U.S. official who asked not to be identified discussing a pending investigation.
Republican Lifeline
The news was being grabbed as a kind of lifeline by some Republicans, as four Senate races for now-Republican-held seats are each separated by less than 3 percentage points in RealClearPolitics poll averages. Those contests are in New Hampshire, Missouri, Pennsylvania and North Carolina. Democrats would need to win two of those seats plus three more -- such as Republican-held seats in Wisconsin, Illinois and Indiana where Democrats have been favored to win -- and defend retiring Senate Minority Leader Harry Reid's Nevada seat to take outright control of the chamber.
Whether Comey's letter to lawmakers Friday ends up helping such down-ballot Republicans, or hurting Democrats, some independent political analysts say several Senate races are too close for it to not have an effect.
Thomas Mann, a congressional expert at the Brookings Institution in Washington, predicted that while Clinton may not be denied a victory, Comey has "unleashed a tiger" on Senate and other down-ballot races with his move just 11 days before the last day to vote, and "that may be his legacy."
The news also may sway some U.S. House races. But Republicans there are seen as less likely to lose their hold on the chamber, regardless. The Cook Political Report on Thursday suggested that Republicans' 30-seat majority could shrink by 10 to 20 seats.
Clinton Ties
In the all-out battle for Senate control, Comey's remarks -- which sparked Democratic condemnation for their vagueness and proximity to the election -- were being treated like manna by Republican candidates who have been wrestling with their own uncomfortable relationships with their party's presidential nominee, Trump.
For instance, Senator Kelly Ayotte of New Hampshire and Representative Joe Heck of Nevada had declared they couldn't support Trump after a 2005 video surfaced this month of him bragging about groping women. They have charged their Democratic opponents, Maggie Hassan and Catherine Cortez Masto, to show independence from the almost-as-unpopular Clinton.
The independence-from-Clinton card has also been Senator Pat Toomey's go-to-move in Pennsylvania. The one-term senator has been dogged by his status as an undecided voter who has neither endorsed nor repudiated Trump. 
On Friday, Ayotte and others quickly seized on the Comey letter. Ayotte in a statement said her Democratic opponent, Governor Maggie Hassan, "has repeatedly dismissed Hillary Clinton's private e-mail server as merely a 'mistake,' and she has repeatedly dodged questions about her misconduct."
Changed Conversation
"Clinton knowingly jeopardized our national security, and in light of today's news Governor Hassan needs to answer for her inability to call her out even on her most egregious national security failures," Ayotte said. North Carolina Senator Richard Burr and Missouri Senator Roy Blunt were among those who also put out statements.
Republicans in down-ballot races that are close "can wave in the air the Comey letter and push their opponent for not being clear on where they stand or being wishy-washy," said Republican strategist Doug Heye. "The ability to change that conversation and not wake up tomorrow morning and not have every question be about Donald Trump" is a tremendous boon to Republican candidates.
Some experts, such as Indiana University political scientist Marjorie Hershey, said the strongest impact of the FBI action might be on undecided voters in the presidential race. The share of voters who haven't made up their minds is shrinking but still high compared with recent elections, according to election forecaster FiveThirtyEight.
Others, like Huder, said the thing to watch is whether the FBI's decision depresses turnout for Democrats in early-voting states such as Nevada -- where Democrats have seen strong early results -- or motivates the Republican base.
Unpredictable Course
"It's super tricky," said New York-based Republican strategist Susan Del Percio of predictions about how voters will take the FBI story into account, noting individual state dynamics will also play a role.
"Heck saw a drop in the polls with Trump supporters after he distanced himself from Trump -- so if Trump supporters are now more motivated, they may only come out for Trump," she said of the Nevada race. Of North Carolina, she said, "Burr, also in a dead heat in the polls, has continued to support Trump and he may be rewarded for it with an increase in turnout."
Del Percio added that a boost in Trump's turnout from the FBI announcement may also be enough for Ayotte to slide in. But at the end of the day, she said, turnout impacting Senate races will still mostly fall on the candidate's own identity and get-out-the vote operations.
Indiana University's Hershey said that no matter the FBI's impact on Senate control, two other things are already clear.
"First, it seems to have had the miraculous effect of strengthening Mr. Trump's confidence in the American election process," she said. "And second, there appears to be no end to the damage Anthony Weiner is capable of inflicting."
— With assistance by Steven T. Dennis, Tom Schoenberg, and Chris Strohm
Before it's here, it's on the Bloomberg Terminal.
LEARN MORE