Comey Said to Act on Clinton E-Mails Over Lynch's Objections
By , , and
FBI director said to move contrary to DOJ policy on elections

Clinton, top aides ratchet up attacks on investigation letter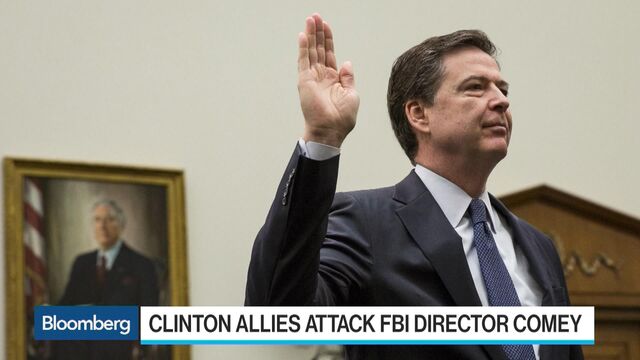 Hillary Clinton and her aides intensified criticism of James Comey as word emerged that the FBI director defied U.S. Attorney General Loretta Lynch by informing lawmakers of newly discovered e-mails that may relate to its investigation of the Democratic presidential nominee.
The Justice Department urged Comey to abide by department policy not to do anything significant with a major investigation so close to an election if by doing so it could swing the results, according to a U.S. official familiar with the matter.
Comey proceeded -- writing to lawmakers about a fresh trove of e-mails that may involve Clinton -- despite those objections and general policy, said the official, who asked not to be identified discussing internal matters. It's not clear at this point what next steps, if any, the Justice Department might take.
Campaigning in Florida, Clinton demanded answers from Comey: "It's pretty strange to put something like that out with such little information right before an election. In fact, it's not just strange. It's unprecedented. And it is deeply troubling."
Earlier, top Clinton aides demanded that Comey explain his actions, taken 11 days before a bitterly contested election between Clinton and Republican Donald Trump to succeed President Barack Obama.
'Maximum Political Damage'
"Twenty-four hours after that letter was sent, we have no explanation why,"John Podesta, Clinton's campaign chairman, said on a press call held to discuss Comey's actions. "No-one can separate what is true or is not because Comey has not been forthcoming with the facts." Podesta suggested that the "new" e-mail trove might be entirely duplicates of notes already reviewed and that "by providing selective information" Comey "has allowed partisans to distort and exaggerate to inflict maximum political damage."
Comey's letter, quickly made public by lawmakers, comes as the race for the White House is tightening. Although Clinton holds a lead in several opinion polls, the latest by ABC News/Washington Post -- compiled before the new e-mail revelations -- showed the Democrat up by just two points as more Republicans say they'll turn out for Trump.
"We don't ordinarily tell Congress about ongoing investigations, but here I feel an obligation to do so given that I testified repeatedly in recent months that our investigation was completed," Comey said Friday in an internal memo to the FBI staff.
Striking a Balance
"I also think it would be misleading to the American people were we not to supplement the record. At the same time, however, given that we don't know the significance of this newly discovered collection of e-mails, I don't want to create a misleading impression. In trying to strike that balance, in a brief letter and in the middle of an election season, there is significant risk of being misunderstood, but I wanted you to hear directly from me about it."
Comey "owes the public the full story or else he shouldn't have cracked open this door in the first place," said Clinton campaign manager Robby Mook.
The congressional black and Hispanic caucuses and Democratic mayors also organized conference calls Saturday calling on Comey to release more information.
The Republican National Committee said Clinton has "only herself to blame" for the latest e-mail controversy.
"The Clinton campaign was happy to praise Director Comey when it was politically convenient, but now that the FBI has found thousands of new e-mails pertinent to their investigation, they're attacking him and mischaracterizing his letter to Congress," RNC spokesman Michael Short said in an e-mail.
Trump campaign manager Kellyanne Conway said she was "astonished" at the "attack" on Comey. "This is their usual attack line but the press call they had suggests they are full octane shooting the messenger," Conway said in a statement.
Shared Computer
Comey acted after investigators unearthed thousands of e-mails during a separate probe of longtime Clinton aide Huma Abedin's now-estranged husband, former Representative Anthony Weiner. The bureau is investigating illicit messages that Weiner allegedly sent to a 15-year-old girl in North Carolina.
That inquiry gave it access to a laptop computer believed to have been used by both Weiner and Abedin, according a second U.S. official who asked not to be identified discussing a pending investigation. Now the FBI is looking into whether Abedin's e-mails are work-related and whether they contain classified information. Even then, the question will be whether the messages duplicate those already turned over by Clinton or unearthed by the FBI in its earlier probe, as Podesta suggested.
The campaign "of course stands behind her," Podesta said of Abedin. "As far as we know everything that we had" of Clinton's and the broader team was turned over and reviewed already as part of the FBI's inquiry that wrapped up this summer.
Thousands of E-Mails
While the exact volume of e-mails being reviewed isn't known, it could exceed 10,000, the U.S. official said. It's also unknown whether any of the e-mails involved exchanges with Clinton or whether they were duplicates of those she turned over or the FBI found in its earlier investigation.
Clinton took Friday's news "like a champ" and is in a positive frame of mind because she expected something surprising to happen before the election and that it would not be smooth sailing into Election Day, a campaign aide said. "We can't let this election in the last 10 days be about the noise and distractions," she told a loyal crowd in Florida.
Podesta declined to say whether Comey should be retained as FBI director if Clinton wins.
— With assistance by Kevin Cirilli, and Mark Niquette
Before it's here, it's on the Bloomberg Terminal.
LEARN MORE