BOE's Carney May Decide on Future in Coming Days, Times Says
By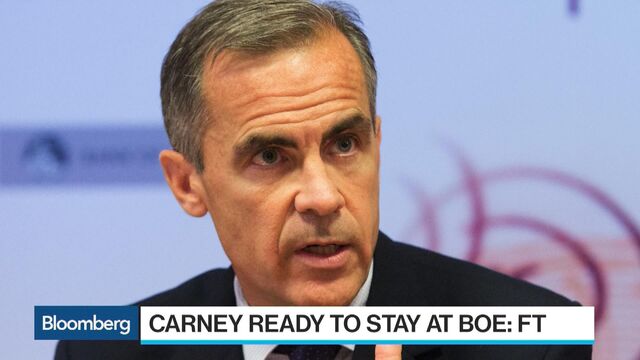 Bank of England Governor Mark Carney's self-imposed deadline for declaring whether he will stay in office beyond 2018 is fast approaching, with British newspapers saying he could decide to step down as soon as next week.
The 51-year old Canadian may announce his decision "within days," the Times and Mail Online reported on Saturday. A decision could come at his next scheduled public appearance on Thursday, when the BOE announces its policy decision and the governor holds a press conference in London.

The U.K. central bank declined to comment when contacted by Bloomberg on Saturday, referring to a previous statement that Carney would make his decision public by the end of this year.
Carney has been criticized for his negative outlook on the consequences the June 23 vote to leave the European Union could have on the U.K. economy. Prime Minister Theresa May, former Foreign Secretary William Hague and former Justice Secretary Michael Gove have made comments in recent weeks that undermine the central bank's independence.
The governor, who took over at the Bank of England in 2013, signaled during testimony at the House of Lords this week that he may soon leave the post. He may return to his native Canada for family reasons, the newspapers reported.
"Like everyone, I have personal circumstances which I have to manage," Carney said during the testimony. "This is a role that requires total attention, devotion and I intend to give it for as long as I can."
The BOE held an emergency televised press conference a day after the Brexit vote, pledging an extra 250 billion pounds ($304 billion) of support for the financial system. Since then, various economic indicators have shown the U.K. economy remains resilient. Carney's critics have accused him of trying to reverse the referendum's decision through gloomy economic predictions.
The BOE will probably keep all the elements of a stimulus package it unveiled in August unchanged on Thursday as economists surveyed by Bloomberg expect better-than-anticipated growth and faster inflation to provide a recipe for policy inaction.
Before it's here, it's on the Bloomberg Terminal.
LEARN MORE