UBS Misses Bond-Trading Bonanza as Focus on Equities Stings
By
Equities, key revenue source at UBS, falls 16% year-on-year

UBS bond-trading gain lowest among world's biggest banks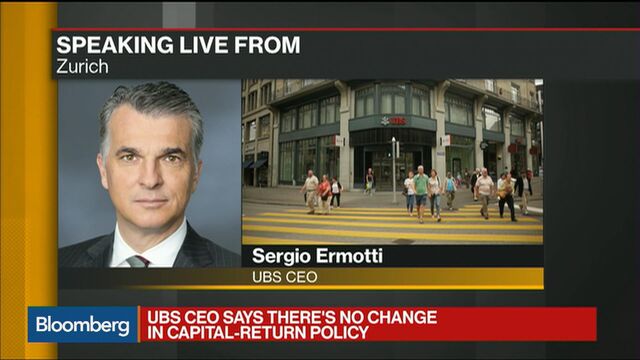 UBS Group AG missed out on a bond-trading bonanza that fueled third-quarter earnings at rivals as a slump in equities revenue sparked a 68 percent drop in pretax profit at the securities business.
Revenue from equities trading fell 16 percent to 797 million Swiss francs ($802 million) from a year earlier, missing the average estimate of four analysts surveyed by Bloomberg News. While bond-trading sales climbed 5 percent to 469 million francs, that was the weakest increase among the world's biggest lenders that have disclosed third-quarter results to date.
While UBS Chief Executive Officer Sergio Ermotti, 56, has shrunk fixed-income operations in the wake of the financial crisis that forced the lender into a bailout, it still relies on stock-trading for about 10 percent of its revenue. A decline in the business adds to challenges for the CEO, who's already deepened cost cuts and scrapped some profitability goals as he grapples with record-low interest rates and tries to boost fees from wealth management.
"You see a fundamental income problem shaping up for UBS," said Chirantan Barua, an analyst at Sanford C. Bernstein Ltd. in London who has an underperform rating on the shares. "The investment bank has underperformed peers."
BNP, Barclays
France's BNP Paribas SA said on Friday it had a 41 percent surge in debt-trading revenue, a day after Barclays Plc and Deutsche Bank AG reported gains in that business that beat analysts' estimates and helped boost third-quarter profit. The five biggest U.S. investment banks saw their combined revenue from debt and currency trading jump 49 percent, data compiled by Bloomberg show.

The decline in equities trading eroded third-quarter earnings at the investment bank, run by Andrea Orcel, with pretax profit declining to 161 million francs from 496 million francs a year ago. Sales from advising clients on mergers and acquisitions and managing share and bond sales fell 25 percent to 532 million francs in that period.
Operating expenses at the unit were little changed at 1.6 billion francs. The investment bank's return on attributed equity, a measure of profitability, fell to 8.5 percent in the third quarter from 27 percent a year earlier, while the cost-to-income ratio, which measures expenses as a proportion of revenue, climbed to 91 percent from 76 percent.
Equities Slump
"What counts is the bottom line and the return on allocated equity of our investment bank and our businesses is very strong," Ermotti told Bloomberg Television on Friday. "It was very strong in 2015 and is very strong today considering market conditions."
The number of full-time employees at the unit fell 7 percent to about 4,900 as Ermotti and Orcel cut almost 400 workers from the payroll.
Analysts had predicted a decline in equities-trading revenue across the industry as clients pull back from wagering on stocks, or cash equities, and equity derivatives, contracts that derive their value from underlying shares. UBS's 16 percent decline in sales reflected "lower revenues in derivatives and cash in all regions," the bank said in a presentation.
While the world's biggest banks posted double-digit increases in bond-trading revenue, equities-trading desks struggled to match the performance. Morgan Stanley, the world's biggest equity-trading firm, increased sales 6 percent for the quarter while Goldman Sachs Group Inc. gained 4 percent. Other lenders, including Citigroup Inc. and Bank of America Corp., posted declines.
Ermotti and Orcel face another challenge in Hong Kong, where regulators may fine and suspend UBS from arranging initial public offerings, the bank said today in the quarterly earnings report. The Securities and Futures Commission plans to take action against the Swiss lender after a probe into its work on IPOs, the report shows.
Such a move could dampen revenue in the Asia-Pacific region, where UBS was the biggest equities-trading firm in the first half and ranked joint sixth by investment banking fees, according to data from Coalition Development Ltd. The bank, which was the top IPO underwriter in Hong Kong as recently as in 2012, slipped to 20th this year, data compiled by Bloomberg show.