U.S. ELECTION WRAP: Clinton FBI Surprise Roils U.S. Election
With just 11 days until Nov. 8, the FBI dropped a bombshell by reviving the Democratic presidential nominee's e-mail server case.
By , , and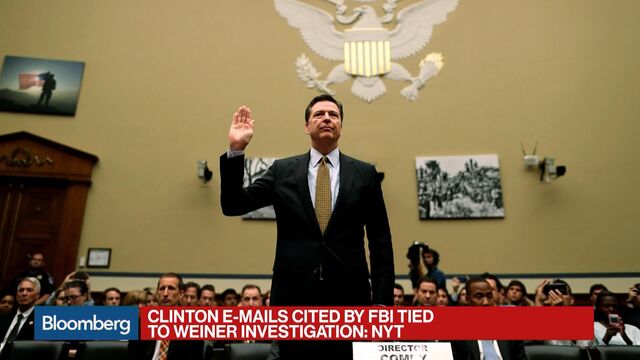 The FBI's re-examination of Hillary Clinton's use of a private e-mail server while secretary of state rocked Washington Friday afternoon and raised a flurry of questions as to what the review might mean for the U.S. presidential race.
The news prompted Republican presidential nominee Donald Trump to rethink his frequent claim that the election is fixed against him

The system "might not be as rigged as I thought," Trump said at a campaign event in New Hampshire

U.S. stocks erased gains as markets again showed they are sensitive to perceptions about Clinton's prospects, and the Mexican peso fell, a reflection of Trump's plan to renegotiate trade pacts with the country and reduce immigration if he becomes president

FBI Director James Comey, in a letter to lawmakers, said the bureau in connection with an "unrelated case" learned of e-mails that "appear to be pertinent" to the Clinton investigation; he couldn't say if the new material would be "significant" or predict how long it would take the FBI to complete its inquiry

Clinton, campaigning in Iowa, joked and smiled without mentioning the FBI matter

She urged people to vote: "We've got to keep our foot on the gas" to beat Trump

CLINTON CAMPAIGN RESPONSE
Clinton campaign chair John Podesta called on the FBI to reveal more information

"FBI Director Comey should immediately provide the American public more information than is contained in the letter he sent to eight Republican committee chairmen"
"Already, we have seen characterizations that the FBI is 'reopening' an investigation but Comey's words do not match that characterization. Director Comey's letter refers to e-mails that have come to light in an unrelated case, but we have no idea what those e-mails are and the director himself notes they may not even be significant": Podesta

REACTIONS
Donald Trump: "This Is Bigger Than Watergate...perhaps, finally, justice will be done"
Republican House Speaker Paul Ryan said Clinton has "nobody but herself to blame" on the matter; he said classified briefings for the Democratic nominee should be suspended "until this matter is fully resolved"
Sen. Tim Kaine, Clinton's running mate, in Florida said he's "got to read more, got to read more" in response to reporters' questions about the FBI query
Rep. Peter King, R-N.Y., on MSNBC: "This is a potential game changer"
President Obama boarded a helicopter en route to campaign event for Clinton in Florida without responding to shouted questions from reporters about the FBI matter

NEVADA
Democratic candidates in Nevada are feeling "motivated" ahead of Election Day as voting trends in the political battleground are putting Republicans in a difficult spot, according to one expert, who spoke before the FBI news about Clinton broke
More than 1 million voters have registered in Clark County, which includes Las Vegas and makes up roughly 77% of Nevada's total population, including ~142k more Democrats than Republicans, according to Nevada government data
"When we see an 100,000 edge, it's usually good news for Democrats," Fred Lokken, a political science professor at Truckee Meadows Community College, said in an interview with Bloomberg 

The 140k advantage is the largest margin in history of Nevada, he said

Democrats are leading in early voting in Nevada
Republicans, including GOP Senate candidate Rep. Joe Heck, face a challenge in trying to counter such trends as the party has "no ground game in the state because Trump doesn't have one," Lokken said

The GOP in Nevada "started to implode about a decade ago," according to Lokken, who identifies himself as non-partisan

Mitt Romney, the 2012 GOP presidential nominee, had to create a ground operation in Nevada by himself four years ago

"That's not happened with Trump," he said

The race to win the Senate seat being vacated by retiring Democrat Harry Reid is one of the closest contests in the country and the outcome could determine which party controls the chamber starting in January

FiveThirtyEight's constantly adjusting prediction model has Democrat Catherine Cortez Masto, a former state attorney general running with the backing of Reid, with a 55% chance of winning vs 45% for Heck, based on polls plus economic factors and historical data
But if only polls are taken into account, then Heck has the advantage with a 53% chance of victory vs 47% for Masto: FiveThirtyEight

NOTE: If elected, Cortez Masto could be the first Hispanic woman to serve in the Senate
New York Times' The Upshot model gives Democrats at 60% chance of gaining control of the Senate

ETC.
"Big League" Not "Bigly": Trump

Trump confirmed one of his favorite catchphrases is "big league" not made-up word "bigly," as some suspected
The GOP nominee told Eternal Word Television Network, a Catholic network, that he has been saying "big league" all along, Politico reported
Members of the billionaire Ricketts family, owner of the Chicago Cubs and head of a pro-Trump super-PAC, told its media buyer to steer clear of running political ads during Cubs' World Series games: Politico

The family decided to cease political fundraising at the Cubs' historic ballpark, Wrigley Field, during the team's playoff run, according to a family spokesman
Liberal groups are drafting lists of acceptable and unacceptable potential Clinton administration appointments; one group, New York-based Roosevelt Institute, sent Clinton's transition team about 150 names, Washington Post reported
Vice President Joe Biden is at the top of an internal short list Clinton's transition team is preparing for her potential choice to be secretary of state, a source familiar with the planning told Politico
As of Friday morning, more than 12.6 million Americans had cast votes through absentee ballots and early voting, CNN reported, citing data available in 37 U.S. states

 

CONGRESSIONAL ELECTIONS
SENATE RACES (Republicans hold 54-46 majority)
FUNDRAISING: Senate Majority PAC, a Democratic super-PAC seeking to overturn the Republican majority, raised $19.3m from Oct. 1-19, according to FEC filing

Senate Majority PAC received $5m from Chicago publisher Fred Eychaner, $2.5m from Renaissance Technologies founder James Simons, and $1m from Alexander Soros, son of George Soros
Senate Leadership Fund, the main super-PAC defending the Republican Senate majority, raised $18m from Oct. 1-19, according to FEC filing
Super-PAC got $11m from One Nation, a conservative 501(c)(4) issue-advocacy group that doesn't disclose donors
FL: Republican Sen. Marco Rubio, looking into the camera in TV ad, said "this election is about the future, and about keeping America the one place in the world where any dream can still come true"

Another Rubio TV ad features his wife, Jeanette Rubio, who praises him for sponsoring 2015 law curbing human trafficking
Floridians For a Strong Middle Class, a super-PAC aiding Democratic Rep. Patrick Murphy, raised $430k from Oct. 1-19, according to FEC filing
Group raised $100k each from hedge fund manager Donald Sussman and Republican billionaire Mike Fernandez, who's aiding Clinton's Fla. campaign and previously backed former Gov. Jeb Bush over Rubio for president
IL: Republican Sen. Mark Kirk "apologized for mocking Democratic U.S. Rep. Tammy Duckworth's immigrant background and her family's history of military service," the Associated Press reported

At debate yesterday, after Duckworth said her family "served this nation in uniform going back to the Revolution," Kirk said he'd "forgotten that your parents came all the way from Thailand to serve George Washington"; Duckworth was born in Thailand
LA: Republican Rep. John Fleming in TV ad said "Donald Trump is right, the system is rigged" against average people hurt by bailouts and bad trade deals that favor large corporations

"I'm running for Senate to demolish the rigged system," said Fleming, one of five candidates jockeying in the Nov. 8 election for two berths in an inevitable runoff Dec. 10
Republican Sen. David Vitter isn't seeking re-election
NC: Republican Sen. Richard Burr has 48% to 47% for Democrat Deborah Ross in Quinnipiac University poll conducted Oct. 20-26 of 702 likely N.C. voters (+/- 3.7 ppts)
PA: Priorities USA Action, the super-PAC aiding Clinton, aired TV ad in Philadelphia market attacking Republican Sen. Pat Toomey's votes against federal funding for Planned Parenthood and says he "refuses to tell us whether he's voting for Donald Trump"

Majority Forward, a Democratic group opposing Toomey and helping challenger Katie McGinty, released TV ad attacking Trump and Toomey for their anti-abortion positions and saying they're "just wrong for the women of Pennsylvania"
A revised Democratic Senatorial Campaign Committee ad attacking Toomey over the loan tactics of a bank he co-founded "is still misleading," according to FactCheck.org
WI: Reform America Fund, a super-PAC backing Republican Sen. Ron Johnson, received $4.1m this month from Wisconsin roofing billionaire Diane Hendricks, according to FEC filing

Democratic ex-Sen. Russ Feingold's campaign released TV ad noting his travel to all 72 counties in the state and emphasizing the importance of Social Security, college affordability, and changing tax laws to curb job outsourcing
HOUSE RACES (Republicans hold 246-186 majority)
FUNDRAISING: Democratic Congressional Campaign Committee had $21.6m cash-on-hand after raising $10.2m and spending $34.1m during the first 19 days of Oct., according to FEC filing

National Republican Congressional Committee had $26.5m cash-on-hand after raising $8.3m and spending $28.4m during first 19 days of Oct., according to FEC filing
CA-10: Republican Rep. Jeff Denham campaigned in Modesto yesterday with Speaker Paul Ryan, who called Denham a "work horse" and a "doer," KCRA reported

A DCCC TV ad claiming Denham "helped broker" deal for Trump's Washington hotel "greatly exaggerates" his role and is "false," according to PolitiFact California
Denham opposed by Democrat Michael Eggman in Central Valley district Obama carried in 2012 election
CA-49: Republican Rep. Darrell Issa "finds himself suddenly in danger of defeat, a prognosis worsened by his decision to embrace" Trump, New York Times reported in story referring to Issa as "the House Mini-Trump"

Issa's bid for ninth term opposed by Democrat Doug Applegate, a retired Marine Corps colonel, in Republican-leaning district that includes parts of Orange and San Diego counties
Issa, a former Oversight and Government Reform Committee chairman who serves on the Judiciary Committee, said in statement he'll work to "ensure the FBI completes its investigation thoroughly and impartially this time around," referring to the FBI's reopening of inquiry into Clinton's use of private e-mail
CO-06: Republican Rep. Mike Coffman is "fighting on two fronts -- against an experienced Democratic opponent and keeping his distance from his own party's pick for president," Colorado Public Radio reported

Coffman, who has declined to support Trump, faces Democratic state Sen. Morgan Carroll in competitive district that includes suburbs of Denver
FL-07: DCCC released TV ad saying Republican Rep. John Mica has spent "30 years in Washington" and "enthusiastically endorses Donald Trump," while Democrat Stephanie Murphy would bring "a new approach"

Mica seeking 13th term in redrawn district in Orlando region that's about evenly divided between the two parties
MN-08: Vice President Joe Biden campaigned with Democratic Rep. Rick Nolan today at the University of Minnesota Duluth, Duluth News Tribune reported

Republican businessman Stewart Mills in statement denounced Affordable Care Act and said Biden event shows Nolan is "trying to jump-start his own stumbling campaign by rolling out the red carpet for one of the chief architects of ObamaCare"
DCCC released TV ad with audio of Mills saying "I'm for free trade, and we need a free trade agreement" and "need to be part of the Asian-Pacific Alliance"
Nolan, Mills in rematch of 2014 race that Nolan won by <2 ppts; district includes Duluth, Hibbing, Brainerd
NJ-05: In a district "filled with million-dollar homes and massive shopping malls," Democrat Josh Gottheimer is "waging a well-funded campaign" against Republican Rep. Scott Garrett, Associated Press reported

Garrett, Gottheimer seeking district that includes a large part of Bergen County near NYC that's politically competitive, and Republican-leaning parts of three other counties
Before it's here, it's on the Bloomberg Terminal.
LEARN MORE