This 56-Year-Old Sees Low Yields for the Rest of His Long Career
by
'And I am looking forward to having a long career,' he says

OppenheimerFunds's Memani says the world wants a good bond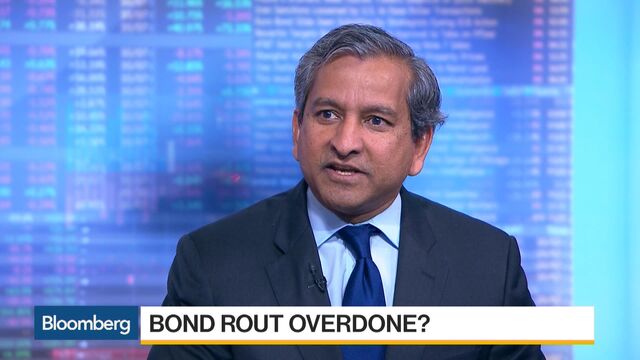 Krishna Memani, chief investment officer and head of fixed income at OppenheimerFunds Inc., said bondholders can feel comfortable that they won't have to worry any time soon about a sustained jump in yields.
"Rates are going to remain low for the rest of my career," Memani, 56, said Friday in an interview on Bloomberg Television. "And I am looking forward to having a long career."
Memani, whose firm oversees more than $200 billion, is among money managers predicting that bonds are poised to benefit from long-term demographic shifts, even after a slump this month fueled by traders betting that major central banks will shift away from unprecedented stimulus measures. Robert Leary, the chief executive officer of TIAA Global Asset Management, said Thursday on Bloomberg Television that investors should prepare for a sustained period of low yields on long-duration bonds, even if the Federal Reserve lifts its benchmark interest rate in December.
Population trends will help suppress yields because there is an ever-larger pool of savers counting on fixed income in aging societies, Memani said. Also, there is insufficient growth in emerging markets, he said.
The demand for bonds is not without risk, however.
"We are definitely levering ourselves, but the question is 'Have we levered ourselves enough -- and is the trend strong enough -- for us to blow up?' And the answer to that is 'Not yet,"' Memani said. "If this trend continues two, three, five years, we will certainly get there." 
Another challenge in fixed-income markets is that there are so many investors crowding into the same strategies.
What the World Wants
"The world wants a good bond," Memani said. "And because everyone wants one, you're not going to get one."
Still, he said investors should take comfort in the reason demand is so high.
"I believe in safety far more than anything else," he said. "And I think that is all pervasive, and that is why rates are low."
Before it's here, it's on the Bloomberg Terminal.
LEARN MORE