Social Media Ban for Sex Offenders Gets U.S. High Court Review
By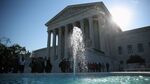 The U.S. Supreme Court agreed to decide whether North Carolina is violating the First Amendment by barring registered sex offenders from using Facebook, YouTube and Twitter.
The court said it will hear an appeal from Lester Gerard Packingham, who says he is one of more than 1,000 people prosecuted under the state's 2008 law. The North Carolina statute, one of the nation's strictest, bars registered sex offenders from using commercial social networking sites that let minors become members.
Packingham was convicted after setting up a Facebook account under a false name and posting a message that praised God for the dismissal of a traffic ticket.
In 2002, Packingham, then 21, was indicted on two counts of statutory rape of a 13-year-old. He pleaded guilty to taking indecent liberties with a child and was put on the state's sex-offender registry.
The case, which the court will resolve by June, is Packingham v. North Carolina, 15-1194.
Before it's here, it's on the Bloomberg Terminal.
LEARN MORE