markets
RBS Warns on Profit Outlook After Trading Unit Boosts Revenue
By
Bank's adjusted pretax profit tops analyst estimates

RBS says it won't meet deadline for shedding Williams & Glyn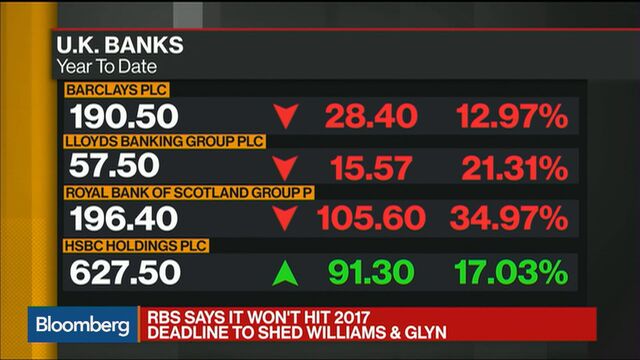 Royal Bank of Scotland Group Plc reported a surprise jump in pretax earnings on the highest revenue at its investment bank in two years, while pushing out profitability targets on a weaker outlook and looming charges for misconduct.
Pretax profit, excluding one-time costs, rose to 1.33 billion pounds ($1.6 billion), beating the 776 million-pound average estimate of seven analysts compiled by Bloomberg News. Including restructuring and litigation costs, the bank posted a loss for the quarter. RBS shares fell in London trading, after earlier climbing the most since July.
Although Chief Executive Officer Ross McEwan's effort to shrink the former global titan to focus on domestic markets showed some progress, his bank faces looming U.S. charges and will miss a regulatory deadline to dispose of its Williams & Glyn consumer unit. RBS said it won't hit its return-on-equity target until 2020 amid record-low interest rates from the Bank of England hurting loan income.
"The finishing post looks as remote as ever," said Eric Moore, who helps to oversee 2.5 billion pounds of assets at Miton Group Plc in London. "The first impressions from the third-quarter results were good, but then immediately people look beyond the short term and the longer-term prospects are still pretty bleak."
The stock dropped 1.9 percent to 192.7 pence at 10:30 a.m. in London.
Rates Trading
Including 894 million pounds in charges for restructuring and litigation, the bank posted a net loss of 469 million pounds compared with a profit of 940 million pounds a year earlier, the Edinburgh-based lender said in a statement on Friday. The lender also wrote down its deferred tax assets by 300 million pounds, citing new U.K. rules and a weaker outlook.
RBS's corporate and institutional banking division, which houses debt trading and bond underwriting, recorded a 71 percent increase in adjusted revenue to 526 million pounds, driven by rates trading. Revenue from the rates business more than doubled to 348 million pounds from the same period a year ago as the bank benefited from clients trading amid a spike in volatility following the U.K. vote to leave the European Union in June. Chief Financial Officer Ewen Stevenson said the bank picked up market share in that business.
"Despite this tougher operating environment, we have delivered from our core customer-facing businesses," McEwan said on a call with reporters. "We've said previously this is a noisy part of our business plan, and it continues to be so."
Capital Boost
The common Tier 1 equity capital ratio of financial strength rose to 15 percent from 14.5 percent at the end of June. Although McEwan has pledged to return excess cash above 13 percent to shareholders, potential past misconduct costs make it difficult to assess how much spare capital the bank will have. RBS won't pay a dividend until it's cleared the bulk of its restructuring, passed Bank of England stress tests due next month, settled the U.S. mortgage probes and made progress in divesting Williams & Glyn.
For Bloomberg Intelligence's take on the results, click here.
The bank's net interest margin, the difference between income from lending and the cost of funding, fell to 2.17 percent from 2.21 percent at the end of June. RBS said it wouldn't hit a cost-to-income ratio below 50 percent and a 12 percent return on tangible equity until 2020, a year later than planned. McEwan said the bank would provide further details about how he plans to hit the targets alongside full-year earnings.
RBS is the worst-performing large U.K. bank this year with the shares down about a third, trailing the 407 pence a share break-even price of the government's bailout during the financial crisis. While Chancellor of the Exchequer Philip Hammond restarted selling taxpayer-owned shares in Lloyds Banking Group Plc at a loss, he's said it's unlikely the country will sell its 72 percent stake in RBS any time soon.
Missing Deadline
The bank said it won't meet a EU deadline of the end of 2017 to complete the sale of its Williams & Glyn division. The 314-branch unit, which has to be divested as part of RBS's rescue, will probably be sold for less than its 1.3 billion pounds of equity, Stevenson has said.
Williams & Glyn has attracted bids from Banco Santander SA and CYBG Plc, the British lender spun out of National Australia Bank Ltd., people familiar with the matter have said. Although the Spanish bank has walked away from talks, it could return if RBS lowers its asking price, the people said.
RBS's conduct and litigation costs in the third quarter were 425 million pounds, largely for U.S. probes into the sale of mortgage-backed securities and a shareholder lawsuit over its 2008 rights issue. The charge was more than triple the 129 million pounds a year earlier.
'Yet Again'
"Regulatory issues that we keep being told we're nearer the end than the beginning, but yet again something pops up that challenges balance sheets and earnings potential," Ben Gutteridge, head of fund research at Brewin Dolphin Ltd., said on Bloomberg Television.
RBS agreed to pay $1.1 billion last month to settle the first of three major U.S. mortgage-backed securities probes. It's still awaiting settlements with the Federal Housing Finance Agency and the U.S. Department of Justice over the sale of toxic bonds that helped spark the 2008 financial crisis.
Looming settlements for European banks including Deutsche Bank AG and Barclays over the pre-crisis sale of mortgage bonds roiled markets last month and renewed concerns about the health of the region's lenders. Germany's biggest bank was asked to pay $14 billion to settle its probe by the DOJ.
— With assistance by Stephen Morris
Before it's here, it's on the Bloomberg Terminal.
LEARN MORE