Park's Rating Hits New Low as Korean Anger Swells Over Scandal
By
Weekly Gallup Korea support rate slides to 17 percent

Park apologized Tuesday and acknowledged consulting friend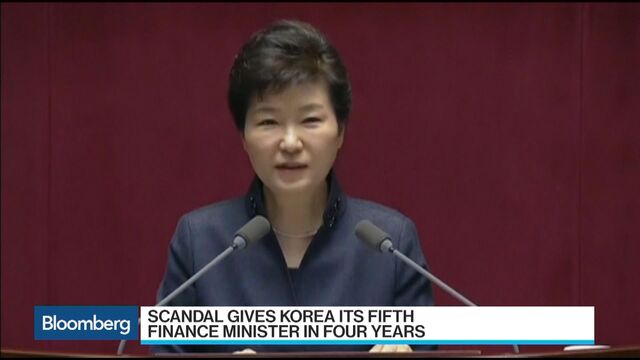 South Korean President Park Geun-hye's approval rating dipped to a new low Friday, showing the swelling public anger over an influence-peddling scandal and raising the odds that she'll fire some of her staff.
Support for Park slid to 17 percent from 25 percent a week earlier, according to a Gallup Korea poll released Friday. Her disapproval rating rose to 74 percent. The poll comes despite Park offering an apology for the public embarrassment caused by accusations that a friend used her relationship with the president to meddle in state affairs.
In the face of opposition calls for heads to roll, Park's top political adviser Kim Jae-won told parliament Thursday that the president may reorganize her staff. On Friday, Park canceled a meeting with members of a presidential committee tasked with preparing for a potential unification with North Korea.
"The political solution will be another public apology by Park, and a reshuffle of her Blue House staff," Victor Cha, a senior adviser at Washington-based Teneo Intelligence, wrote in an e-mailed note. "A variable to watch will be the scale of public demonstrations among students and NGOs. Should these grow to national proportions, they will put more pressure on Park to resign, but absent further revelations and given Park's well-known inner steeliness, this is an unlikely outcome."
The most probable scenario, Cha said, is the appointment of a special prosecutor to bring criminal proceedings against Park's friend, Choi Soon-sil.
For a Q&A on the latest scandal rocking South Korea, click here.
Park's support rating has been falling since late September, when opposition lawmakers claimed her office pressured a business lobby group into donating tens of millions of dollars to foundations controlled by Choi. Park's chief economic adviser denied this at a parliamentary hearing.
Park's apology on Tuesday came a day after a cable TV channel reported that Choi edited some of Park's speeches, including one made in Germany in 2014 to outline steps toward eventual unification. JTBC also said Choi had access to documents related to a cabinet meeting, citing files found in what it said was her friend's computer. Choi, speaking in Germany to South Korea's Segye Ilbo newspaper this week, denied it was her computer.
On Tuesday, Park acknowledged she consulted Choi on some documents for a certain period of time after she took office in 2013.
— With assistance by Hooyeon Kim
Before it's here, it's on the Bloomberg Terminal.
LEARN MORE