Hitachi's Utopian Future Includes Robot Butlers and Self-Driving Pods
The Japanese tech giant has invested millions of dollars inventing all manner of robots to help the nation's aging citizens in the years ahead.
Bloomberg News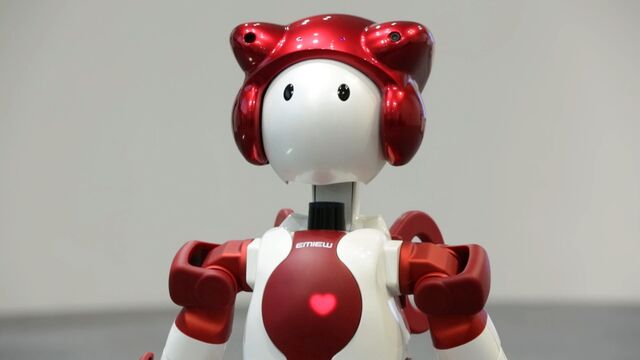 Dutiful tech conglomerate that it is, Hitachi has set to work building a host of technologies to help Japan's aging population. Two of its most compelling creations are EMIEW (sounds like emu, stands for Excellent Mobility and Interactive Existence as Workmate) and ROPITS, or the Robot for Personal Intelligent Transport. With Emiew, Hitachi has built a small, cute robot helper that works something like a concierge, guiding people through offices or helping them make their way around a city. Ropits is a new take on the autonomous vehicle, a personalized electric machine that travels down the sidewalk instead of the road. The idea is that older people can summon the vehicle to their house so it can ferry them around to run errands.
Hello World host Ashlee Vance traveled to Japan to visit Hitachi's famed research labs, where both of these machines are coming to life. He spent a day hanging out with Emiew—occasionally knocking the creature over to see how it would respond—and then hopped in a Ropits for a ride around the campus. While the machines performed well overall, there were some challenging moments, such as the time Ropits tried to drive Vance into a wall.
Have a look at the robot-infused utopian future Hitachi has planned for us all.
Before it's here, it's on the Bloomberg Terminal.
LEARN MORE