GE, Baker Hughes Partnership Would Raise Oilfield Clout for Both
By and
GE, Baker Hughes could contribute oil assets into new company

Many analysts see outright purchase of Baker Hughes unlikely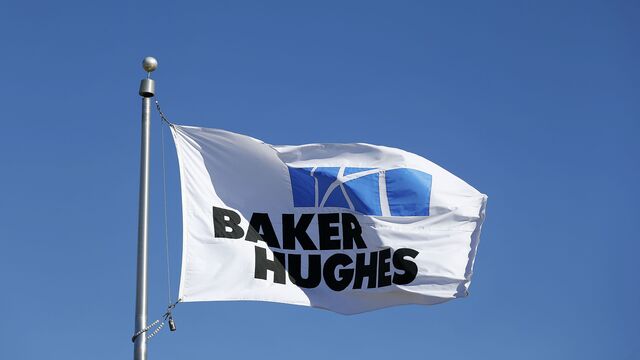 Combining General Electric Co. and Baker Hughes Inc.'s oil businesses into partnerships could create a player capable of competing with the industry's biggest -- and may not require a huge amount of money.
The industrial-equipment behemoth and the No. 3 oil services provider say that discussions are taking place for potential "partnerships," but wouldn't provide details except to say that a full acquisition isn't on the table. Whatever the outcome, the talks signal the companies are seeking ways to enhance cooperation and boost value, analysts say, mirroring efforts by companies across the industry to fortify their operations amid the oil-price slump.
Analysts outlined several possibilities for what form the "partnerships," as GE described them in a statement Thursday, might take.
A new company could be created that takes specific oil and gas business lines from GE and combines them with Baker Hughes, creating a larger distribution network for both with no added costs, analysts at Credit Suisse and Capital One Southcoast said.
"All of a sudden I'm a $40 billion oilfield service company with 11 lines of business," James Wicklund, an analyst at Credit Suisse in Dallas, said Friday in a phone interview. "Now I would be able to go to you, Mr. Exxon, and say, 'Here's my catalog. It's twice as thick as it was before, but I can supply you all of these things.'"
Tax Strategy
A transaction might be structured as a Reverse Morris Trust, a tax-efficient strategy involving an acquisition and simultaneous spin-out leaving Baker Hughes in control of a combined entity, according to Jeffrey Sprague, an analyst with Vertical Research Partners.
A partnership with Baker Hughes could resemble collaborations GE has entered into recently with Diamond Offshore Drilling Inc. and National Oilwell Varco Inc. to distribute risk, improve aftermarket sales and share technology, said Nicholas Heymann, an analyst at William Blair & Co.
"Partnering with Baker, vs. a clear-cut acquisition, would help preserve GE's asset-light model while simultaneously giving the company access to end-markets it doesn't serve," Andrew Cosgrove and Karen Ubelhart, analysts at Bloomberg Intelligence, wrote Friday in a report. Baker could leverage GE's big data capabilities to help it raise sales of its current platform, they wrote.
Halliburton Deal
Baker Hughes terminated plans to be acquired by Halliburton earlier this year after failing to win antitrust approval from regulators. GE acknowledged that it had held talks about possibly bidding for parts of Baker Hughes that Halliburton was seeking to unload for the deal.
A Baker Hughes-GE partnership would compete more effectively with the world's top oilfield-services provider, Schlumberger Ltd., Richard Spears, vice president at the Tulsa-based oilfield consultant Spears & Associates, said Thursday in a phone interview. Schlumberger recently bought equipment-maker Cameron International.
A collaboration between the companies might also center on technology, as GE looks to expand adoption of its Predix operating system, according to analysts from Cowen & Co. GE has made a major push to build out a digital division as the company looks to marry software with industrial equipment to improve efficiency and functionality.
Such a tie-up "may establish a competitive alternative to Schlumberger," which is trying to leverage its own technology capabilities across the industry, particularly through the recent acquisition of Cameron, Cowen's Gautam Khanna said in a note.
Competitive Advantage
While some analysts made the case against GE buying Baker Hughes outright, Scott Davis at Barclays said such a move could make sense.
"GE usually only remains in businesses where it has some sort of sustainable competitive advantage," Davis wrote Friday in a note to investors. "In that context, GE needs to either buy into a broader portfolio or monetize what it has."
Wicklund said Baker Hughes would not be interested in selling itself months after the worst oil-market crash in a generation hit bottom. Rather, creating a new company and dividing up the shares based on earnings contributions from both companies' assets would make the most sense, he said.
"There's no way Baker would sell to GE," Wicklund said. "Nobody has to buy anybody. Nobody has to pay any premiums."
Before it's here, it's on the Bloomberg Terminal.
LEARN MORE