Culture Caucus Podcast
The Hip-Hop View of the 2016 Election With Fab 5 Freddy
By and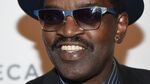 One of the more formative memories for any American hip-hop aficionado of a certain age is the emergence of Yo! MTV Raps. The show suddenly brought the streets to the suburbs and raised a social consciousness all around the U.S.
In the 17th episode of Bloomberg Politics' Culture Caucus podcast, we discuss the lack of protest music today—or at least the relative quiet in the face of Donald Trump—and whether it's simply a reaction to the fragmentation of culture over the last decade. Then, in the second half, we have our real fun: We get to talk to Fab 5 Freddy himself, who talks about his history in hip-hop, his early days as a graffiti artist, and his life as a New Yorker. He also has plenty to say about Trump, especially since he is a fellow New York icon. We even talk about Luke Cage.
It's a fun show and just the tonic you might need in the final days of this seemingly interminable election.
So, enjoy! You can e-mail us about it at politics@bloomberg.net. Come say howdy!
Before it's here, it's on the Bloomberg Terminal.
LEARN MORE