European Stocks Fall on Earnings While Banks Lose Laggards' Spot
By
Lenders in benchmark Stoxx 600 trade near five-month high

Novo Nordisk, AB InBev tumble after cutting forecasts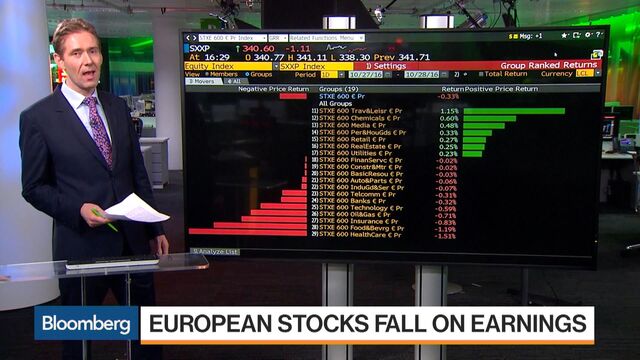 An avalanche of earnings announcements added to concerns about the health of European companies, with the region's shares slipping for five days straight. For banks, though, the week was good: They're no longer the year's worst-performing industry.
While results at companies from Novo Nordisk A/S to Anheuser-Busch InBev NV disappointed investors, UBS Group AG was among the lenders that reported better-than-projected earnings. The region's banks rallied more than any other industry group this week, losing their spot as biggest decliners of the year. A gauge tracking the industry moved in opposite directions to the benchmark Stoxx Europe 600 Index for a third week out of four.
Barclays Plc was among the firms that posted a jump in fixed-income trading revenue, sending its shares to the highest since January. Banco Bilbao Vizcaya Argentaria SA traded near its highest since April after reporting that profit beat estimates as trading income climbed. A rise in government-debt yields has also helped lenders in recent weeks, with those on benchmark 10-year German bonds reaching an almost six-month high on Friday.
"The rise in yields is paving a path for a more suitable interest-rate environment for banks, and we are seeing bond trading revenues have picked up," said Jasper Lawler, an analyst at CMC Markets in London. "For the rest of the equity market, there is a certain degree of hesitancy given that we are still in the earnings season and several central banks are meeting next week."

The better-than-expected earnings reports, combined with the fact that many European banks are cutting costs and restructuring, has helped restore some investor confidence in the sector, according to Lawler. Still, investors' concerns over the path of interest rates and their impact on equities has lingered, he said. The Federal Reserve will give its interest-rate decision on Nov. 2, though traders are pricing in a hike only in December, after the U.S. presidential election.
On Friday, the Stoxx 600 Banks Index hovered around a five-month high reached on Thursday. While UBS gained 2.4 percent, Royal Bank of Scotland Group Plc reversed an advance and traded 1.2 percent lower after pushing out profitability targets on a weaker outlook and looming charges. Danske Bank A/S lost 2.2 percent as some analysts said its jump in earnings didn't change fundamental views on the investment case.
The broader Stoxx 600 fell 0.3 percent, taking its weekly decline to 1 percent. Novo Nordisk sank 15 percent, the most since 2002, and AB InBev lost 4.3 percent after they cut their forecasts. Those sent Europe's benchmark gauge down as much as 1 percent before a report showed the U.S. economy expanded more than forecast in the third quarter.
As speculation increased about the path of European Central Bank stimulus, investors have remained skeptical about its ability to spur the economy. At the same time, analysts have been bearish on corporations, forecasting earnings at Stoxx 600 companies will fall more than 4 percent this year. The region's equity funds saw a 38th week of outflows, the longest streak on record, a Bank of America Corp. report showed, while European exchange-traded funds tracked by Bloomberg had the world's second-biggest withdrawals in the past week.
With a 0.6 percent decline in October, the Stoxx 600 is heading for its first back-to-back monthly declines since the start of the year. Travel and leisure shares are now the industry group down the most in 2016, with U.K. airlines suffering from weakening demand, a slumping pound and higher oil prices.
"There remains a lack of ability for companies to pass through price pressures," said Daniel Murray, head of research at EFG Asset Management in London. "Sentiment has been damaged by the fact that we are in the U.S. election period and the fact that expectations with respect to the European Central Bank are coalescing around the fact that it's going to be less expansive than it has been this year."
Among other stocks moving on Friday:
Fresenius SE lost 3.3 percent after its sales and earnings missed estimates.
Eni SpA dropped 1.8 percent after the Italian oil major posted a loss that was wider than analysts had projected.
Nokia Oyj fell 4 percent, extending its lowest price since 2013, as Exane BNP Paribas lowered its rating on the stock after the company reported a sales drop on Thursday.
British Airways owner IAG SA, which cut its earnings estimate amid sluggish demand and a weaker pound, climbed 5.9 percent as its profit was in line with projections.
Software company Gemalto NV tumbled 7.1 percent as its revenue missed projections
Sanofi advanced 3.7 percent after the drugmaker raised its profit projection. 
Eutelsat Communications SA jumped 7.3 percent as the French operator of communication satellites reported revenue beat estimates. 
German gas supplier Linde AG climbed 3.2 percent after announcing additional cost cuts and possibly asset sales to keep raising its dividend. 
Before it's here, it's on the Bloomberg Terminal.
LEARN MORE