Christie Aides Imperiled Thousands in Bridge Jams, U.S. Says
By and
Prosecutors accuse Kelly, Baroni of aiding in political plot

Kelly's attorney set Monday to make closing pitch to jury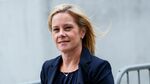 Closing arguments in the George Washington Bridge lane-closing trial began with a video image of a single, one-sentence e-mail that has come to define the scandal: "Time for some traffic problems in Fort Lee."
Those words, written by Bridget Anne Kelly, former deputy chief of staff for New Jersey Governor Chris Christie, set in motion a plan that closed down access lanes to the bridge a month later, in September 2013, to punish the mayor of nearby Fort Lee by creating gridlock in his borough, Assistant U.S. Attorney Lee Cortes told jurors Friday.
Kelly and other Christie aides had spent years wooing Democratic elected officials to endorse the 2013 re-election bid of Christie, a Republican, according to documents and testimony presented during the six-week trial. But when Kelly confirmed on August 12, 2013, that Fort Lee Mayor Mark Sokolich refused to support the governor, she sent the "traffic problems" e-mail the next day to David Wildstein, a Christie loyalist at Port Authority of New York & New Jersey, which runs the bridge, Cortes said.
Kelly and her co-defendant, Bill Baroni, a former deputy executive director at the agency, both testified that Wildstein tricked them into believing the lane closings were part of a legitimate traffic study. Cortes argued otherwise in a methodical summation that led jurors through a maze of testimony, e-mails and text messages.
"These two individuals conspired with David Wildstein to break the law," Cortes said in federal court in Newark on Friday. "They used their power as public servants to carry out a personal vendetta. They disrupted the lives of thousands of people who were trying to get to school, to work or to the hospital. Bill Baroni and Bridget Kelly chose personal political revenge over public safety. They chose punishment over public safety."
Traffic Study
Wildstein, Baroni's right-hand man, pleaded guilty and testified as a prosecution witness, saying he orchestrated the plot. Attacking Wildstein's credibility was central to closing arguments by Baroni's lawyer, Michael Baldassare.  
"The question in this case is: Do you trust David Wildstein to make an important decision in your life?," Baldassare said. "If you have reasonable doubt about David Wildstein, it is essentially game over for the prosecution. Here's why -- they built their case around him. If ever there was a witness you should view with care and caution, it's David Wildstein."
Wildstein's testimony was the only direct evidence that Baroni intended to punish the mayor, he said. Baldassare said his client believed in good faith that the lane closings were part of a traffic study -- a belief that means he must be acquitted.
"To decide this case, you don't even have to decide if it was real or not," Baldassare said. "Under the good-faith defense, it doesn't matter. All you to have to believe is: Did Bill have an honest belief? Even if it's wrong."
Christie Mistreatment
Baldassare said Wildstein was the hand-picked hatchet man of Christie, whom he described as a micromanager and bully who "mistreated Ms. Kelly in a way that disgusts me." The lawyer laid the plot directly at the feet of the governor, who appoints top New Jersey officials at the bi-state agency.
"You heard it 100 times," he said. "Chris Christie is the head of the Port Authority. He ordered it through David Wildstein."
Kelly testified that she told Christie in mid-August 2013 that Wildstein's plan to study bridge access in Fort Lee would create "tremendous traffic problems." Christie has denied that he knew anything about the lane closings until weeks after they occurred.
Cortes, the prosecutor, said that e-mails and texts corroborated Wildstein's testimony that Kelly and Baroni knowingly used Port Authority resources to reward the governor's political friends and punish elected officials, like Sokolich, who defied him.
"Spite is not a legitimate government purpose," Cortes told jurors. "Spite is not a legitimate reason to cause traffic problems and trap people in their own community."
Wildstein testified that Kelly ordered the plot, and Baroni blessed it. Cortes rebutted claims by Kelly and Baroni that Wildstein took orders directly from the governor while downplaying their own clout.
For more information about the bridge scandal, click here
Baroni was such a highly regarded Christie insider that he played the governor's opponent when preparing for campaign debates and asked to be appointed attorney general, Cortes said. Baroni and Wildstein had been friends for more than a decade, speaking by telephone several times a day and joking about Wildstein's reputation as an expert in political dirty tricks, the prosecutor said.
Kelly's office was next to Christie's, and Wildstein went through her to get the governor's approval for the lane closings, Cortes said. 
"They knew that David Wildstein was closing those lanes to send a message, and they were happy to do it with him," Cortes said.
Kelly's attorney will give his closing argument on Monday.
The case is U.S. v. Baroni, 15-cr-00193, U.S. District Court, District of New Jersey (Newark).
Before it's here, it's on the Bloomberg Terminal.
LEARN MORE