UOB Third-Quarter Profit Falls 7.8% as Soured Assets Rise
By
Higher provisions against struggling oil and gas sector

Shares fall 2 percent, further than broad Singapore market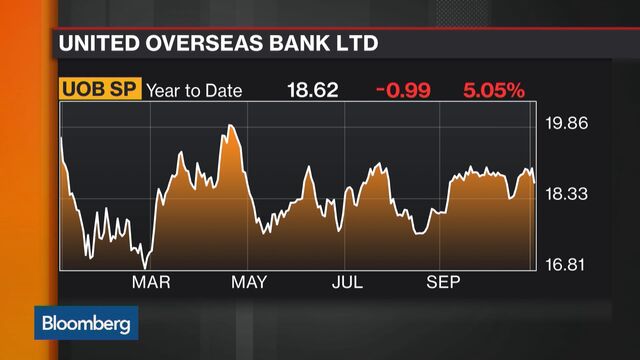 United Overseas Bank Ltd., Southeast Asia's third-largest lender, said third-quarter profit fell 7.8 percent from a year earlier, as the bank set aside higher provisions for soured loans to the struggling oil and gas industry. The shares fell.
Net income fell to S$791 million ($567 million) in the three months to September from S$858 million a year earlier, when the bank had a one-off gain from the sale of investment securities, Singapore-based UOB said Friday in a filing to the stock exchange. The result was slightly better than the S$771 million average forecast in a Bloomberg survey of five analysts. While net interest income was little changed, provisions for bad assets increased by almost 16 percent to S$185 million, UOB said.
Singapore bank profits have come under pressure this year from a weakening domestic economy and from increased charges for loan losses tied to the oil and gas services industry, which has been hurt by the slump in energy prices.
UOB's specific provisions for Singapore loans surged to S$217 million, from S$15 million a year ago, UOB said. "I am concerned that the bank's special allowance for loans jumped that much," said Jeremy Teong, an analyst at Phillip Securities Pte Ltd. "We expect to see a gradual increase in specific provision, but not a jump."
Shares Fall
UOB shares fell 2 percent to S$18.57 at 10:04 a.m. in Singapore, 5.3 percent lower than the start of the year. The benchmark Straits Times Index was down 0.5 percent.
Nonperforming assets rose 33 percent to S$3.6 billion as of end September, compared with a year earlier, mirroring a similar rise at its larger Singaporean competitor Oversea-Chinese Banking Corp., which reported earnings Thursday.
"We expect subdued global economic growth and volatile market conditions in the months ahead," Chief Executive Officer Wee Ee Cheong said in a statement accompanying the results. "But ASEAN's fundamentals remain sound, with fiscal flexibility to support domestic growth," he added.
Here are key figures from UOB's results:
Net interest income fell 0.4% to S$1.23 billion from year earlier
Fee and commission income rose 1.6% to S$492 million
Net customer loans rose 7% to S$213.5 billion
Net interest margin fell to 1.69% from 1.77% year earlier
Nonperforming loans ratio rose to 1.6% from 1.3%


The bank's profit of S$858 million in the third quarter of last year was bolstered by a sale of investment securities.
OCBC also reported higher-than-estimated profit, as wealth management and life-insurance revenue offset a decline in interest income and a 10 percent jump in provisions for soured assets. DBS Group Holdings Ltd., Southeast Asia's largest lender, is scheduled to post its results on Monday.

UOB's net interest margin, a measure of profitability based on interest income, shrank to 1.69 percent in the third quarter, from 1.77 percent a year earlier. Borrowing costs slumped as the local dollar strengthened, causing the three-month Singapore interbank offered rate to fall by 0.6 percentage point in the July-September period. Lenders price their domestic loans in part on interbank rates.
UOB is targeting "mid single-digit" loan growth for the full year, Chief Executive Wee said at a briefing for analysts on July 27.
Before it's here, it's on the Bloomberg Terminal.
LEARN MORE