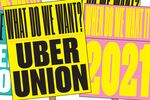 If your Uber driver ever seems excessively paranoid about not getting a five-star rating or outright begs you for one, there's a reason. Drivers who find their accounts deactivated by the company have long complained that the appeals process seems opaque and tough to resolve in their favor. That may be about to change: Uber says that by the end of the year, drivers in New York City will be able to appeal deactivations to panels of other drivers in meetings refereed by the American Arbitration Association. Professional labor representatives will argue their cases at no cost to the drivers.
"We don't have a successful business if we don't have enough happy, productive, motivated drivers," says David Plouffe, the Uber adviser who guided Barack Obama's 2008 presidential campaign. "We're listening."
There's more than one catch. The drivers' advocates will be provided by a quasi union called the Independent Drivers Guild, which Uber funds. Uber and the IDG will determine which drivers can sit on the panels.
Uber unveiled the IDG in New York this spring in partnership with the International Association of Machinists and Aerospace Workers (IAM), a union that has organized other black-car drivers. The machinists say the IDG represents all 40,000-plus Uber drivers in the city. Besides arbitration, it offers them such perks as discounted legal assistance and chances to air grievances at monthly meetings with Uber officials.
The IDG isn't a traditional union. Drivers didn't vote for it. It has no formal collective-bargaining rights. And its very existence helps the company resist formal unionization, says Arun Sundararajan, a business professor at New York University who researches the economics of the tech industry. "This is just them planting something in the ground that might deter more contentious forms of labor organizing," he says.
Uber says the guild boosts its efforts to attract and retain drivers. The IDG successfully advocated for the arbitration association's role in the New York deactivation hearings; in Seattle, only Uber oversees the hearings. James Conigliaro Jr., the IDG's founder and regional general counsel for the machinists' union, says the guild has won more concrete benefits for Uber drivers than any formal union. The guild has helped bring Uber management to the table, says driver and IDG organizer Muhammad Barlas. "When they are more comfortable, it's easier to try and negotiate with them," he says.
In return, the IDG won't instigate strikes or try to get the government to treat drivers as employees with the right to unionize. (Uber says they're independent contractors, with no such right.) If a government official grants the drivers those rights, the IDG can pull out of the agreement; otherwise, it has agreed it won't try to form a traditional union before the deal expires in 2021. Uber and the guild say they'll jointly lobby the state legislature for more favorable tax treatment for Uber rides. If the taxes fall, Uber says, it will return the savings to drivers, including by contributing to a new IDG-managed benefits fund.
Over the summer, the IDG joined Uber in opposing a 12-hour cap on drivers' shifts proposed at New York City's Taxi & Limousine Commission. The cap passed unanimously in July, but the TLC said in October that implementation has been delayed while it figures out enforcement. Rival labor groups, which have filed lawsuits and lobbied public officials to try to get Uber drivers collective-bargaining rights, say the IDG doesn't have drivers' best interests in mind. "Hire a union to negotiate on their behalf with the workers—it's supposed to be the other way around," says Larry Hanley, who heads the Amalgamated Transit Union, which represents about 200,000 workers in the U.S. and Canada.
In September, Hanley's union said it had collected thousands of signed cards from New York Uber drivers seeking its representation and would ask the taxi commission to force a union vote. The New York Taxi Workers Alliance, whose members include Uber drivers, is seeking class-action status for lawsuits brought by 10 Uber drivers who seek the rights of employees.
Conigliaro, the IDG head, says unionization advocates are making the perfect the enemy of the good, and that the IDG doesn't hesitate to advocate for changes that Uber has opposed, such as a tip feature on the Uber app. The agreement with Uber has put the machinists in touch with thousands of drivers, he says—a fresh avenue to build relationships that otherwise would take years to achieve. "It was just a total no-brainer for me," Conigliaro says, adding that traditional unionization can quickly become a higher priority if courts make that possible. "Let them figure that all out. It's not up to us."
The machinists' union was more confrontational earlier this year. A website the union launched in February specifically argues that Uber drivers are entitled to union representation rights that federal law provides employees and that management shouldn't "be involved within the union or other employee group, including giving money to support it." The site also reads, "Because unions get their funds only from their members, there are no divided loyalties." Conigliaro says the site was simply describing the federal law that covers employees, and that many drivers prefer to remain contractors.
The guild model is appealing to other startups that depend on workers being considered contractors. "We see multiple unions talking to us about how they can lean in, how they can start to engage with our pros, and I think that's a really, really positive thing," says Oisin Hanrahan, chief executive officer of the housekeeper-booking startup Handy.
The machinists' union is trying to expand the IDG into Pennsylvania, and Uber has been pursuing similar setups with other unions, say three people familiar with the discussions. In California, the Teamsters union says it's building a driver association that will eventually seek some form of recognition from Uber. "Unlike some other unions that have to continue putting up a fight just to look relevant to their members, we don't necessarily have to," says Rome Aloise, a Teamsters vice president. He says he'll secure broad support from drivers before making a deal.
Any group set up and funded by Uber would be illegitimate, says Edward Escobar, a driver in San Francisco. "We're drivers," he says. "We need to be in the driver's seat."
The bottom line: An Uber-subsidized guild for New York drivers has helped win benefits but has forsworn efforts to formally unionize.
Before it's here, it's on the Bloomberg Terminal.
LEARN MORE