U.S. ELECTION WRAP: Trump Needs More Than 'Angry Vote': Pollster
Donald Trump is narrowing the gap with Clinton in some polls, but are there enough "angry" undecided voters put him over the top on Election Day? One pollster says no.
By , , and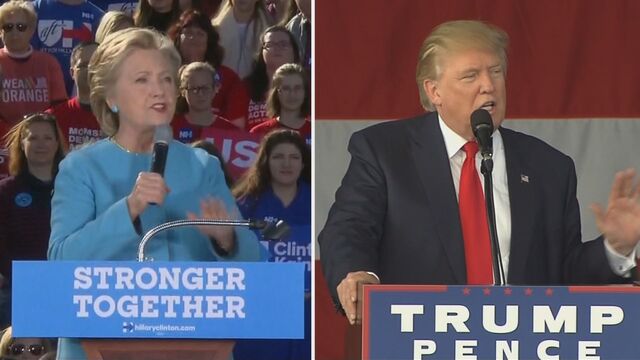 Donald Trump may be able to win over some undecided voters on Election Day, but it's highly unlikely he can draw enough such support to beat Hillary Clinton, according to one pollster.
"The angry vote overall isn't big enough for Trump to win the election," Jay Campbell, pollster with Hart Research, told Bloomberg
CNBC's "All-America Economic Survey" showed Clinton almost doubling her lead over Trump, 46%-37%, among registered voters in a two-way race. She led by 5 points in June

17% of respondents undecided; they lean a bit more Republican than Democratic and are slightly more dissatisfied with the political system than the overall electorate, factors that should work in Trump's favor, Campbell told CNBC
Public Opinion Strategies' Micah Roberts, the Republican pollster for the CNBC poll, said undecideds could help Trump "close the gap," though it's doubtful enough could break for him so he'll win
NOTE: Campbell's firm conducted the Democratic side of the survey

Notable shift: 34% of respondents in survey said Clinton has a better approach for improving stock market performance vs 33% who say Trump would be better for returns. In June, 42% said Trump would be the better choice for the market, well ahead of 26% who preferred Clinton

PREDICTION ODDS

TRUMP WAR ROOM
Win or lose, Trump and his inner circle have built a direct marketing operation that could power a TV network—or finish off the GOP. See Bloomberg Businessweek's Inside the Trump Bunker, With 12 Days to Go
Meanwhile, Trump's strongest supporters are finding solace in the Republican nominee's attacks on "rigged" polls; read Bloomberg story here
Trump on Thursday morning singled out Texas as an example of the election being fixed against him

"A lot of call-ins about vote flipping at the voting booths in Texas. People are not happy. BIG lines. What is going on?": Trump said via Twitter
Trump probably was referring to a claim from a woman who posted on Facebook this week that she voted for Republicans up and down the ballot, though the summary of her votes showed the Hillary Clinton-Tim Kaine ticket was checked, also, Politico reported
Conspiracy-debunking website Snopes: "Reports are not flooding in from across Texas about vote switching, and most anecdotes are identical with localities changed"

POLLS/FORECASTS

PUTIN ON TRUMP
Trump represents people tired of the elite, Russian President Vladimir Putin said at a forum in Sochi, Bloomberg reported

It's "complete rubbish" to say that Trump is Russia's favorite; Clinton backers invented idea of Russian support for Trump, Putin said
Russia has no favorites in U.S. election, will work with any newly elected U.S. leader who wants to cooperate: Putin

CLINTON FOUNDATION
Doug Band, a longtime aide to former President Bill Clinton, said in a 2011 document released by WikiLeaks that the high-powered consulting firm he co-founded helped raise money for the Clinton Foundation when its own efforts were flagging

The memo was written around the time Chelsea Clinton was questioning whether Band's role as an adviser to her father and the family foundation presented conflicts of interest as he courted clients for Teneo Holdings; see full Bloomberg story here

BALLOT 'SELFIES'
Singer Justin Timberlake prompted a minor legal stir on Wednesday when he took a "ballot selfie" as he took advantage of early voting and cast his vote in Tennessee, MSNBC reported

The photo, which Timberlake posted to Instagram, was technically illegal, as its a crime for Tennessee voters to take such a picture
NOTE: The local district attorney's office said it wouldn't waste resources on the case; Timberlake took down the photo

The unintended misstep prompted Time Out New York to inform readers that it's illegal to take an Election Day selfie with your marked ballot in NYC

ON THE TRAIL
At a rally in Springfield, Ohio, Trump—surrounded in the camera shot by attendees holding bright pink "Women for Trump" signs—repeated his call to "drain the swamp" in Washington; he also vowed to repeal Obamacare, renegotiate trade deals and keep Americans safe
Clinton and first lady Michelle Obama spoke in North Carolina on Thursday in their first joint campaign appearance

Obama sought to draw a stark contrast between Clinton and Trump's visions for the country
The GOP nominee's vision is grounded in "hopelessness," she said
NOTE: In a three-way race including Libertarian candidate Gary Johnson, Clinton is ahead in N.C. by 2.4 points, according to RealClearPolitics poll average

UTAH & NEBRASKA WATCH
Trump's running mate, Mike Pence, campaigned Wednesday in Utah, a state Republicans have carried in every presidential election since 1968

"There are only two names on that ballot that have a chance to be president of the United States of America," Pence told a crowd in Salt Lake City, an effort to stave off the threat of Evan McMullin, a conservative Mormon who will appear as an independent candidate on the ballot in Utah: NBC News
McMullin shot back on Twitter: "A vote for Pence is a vote for Trump, and a vote for Trump is a vote for religious bigotry, misogyny, and the expansion of government."

Pence on Thursday stumped in Nebraska, where he urged Republicans to rally behind Trump in the final days of the presidential campaign, Lincoln Journal Star reported

On the surface, a campaign trip to Nebraska so close to Election Day seems unusual. Trump has a 97% chance of winning the state, based on polling, according to FiveThirtyEight
While almost all of Nebraska is a GOP stronghold, the Omaha metropolitan area is a relative bastion of liberalism, earning it the nickname "Blue Dot"
Nebraska is allowed to to split its electoral votes and eight years ago, the Dot gave Obama one electoral vote while the rest of the state backed GOP nominee John McCain
In 2012, Republican Mitt Romney carried the Dot by 7 points, thanks in part to redistricting that shifted many black and Latino voters into the 1st Congressional District, Bloomberg's Jillian Goodman reported last month
Pence's visit underscores the Trump camp's push to go after even a single electoral vote

ADVERTISING
Adweek is pointing out a "googley-eyed" bus ad in Denmark that urges American expats to vote against Trump; the side of the bus depicts a "googley-eyed" Trump

The ad was made by creative agency Uncle Grey and paid for by the the Socialist People's Party (in Danish, the Socialistisk Folkeparti, or SF)
"The ad is obviously done with a sense of humor, but we actually do take the U.S. election very seriously. It has a huge impact on us all, even in tiny Denmark," SF leader Pia Olsen Dyhr told the magazine
"Mr. Trump's political views are very far from ours, and I find it rather scary to think of him sitting in the Oval Office"

The National Rifle Association launched a new 60-second ad that seeks to underscore the importance of the Second Amendment and the Supreme Court in the election

The ad, "Four Justices," will debut on Facebook this week, followed by multiple social media platforms, the gun lobby said

Los Angeles Times put together what it deemed the best political ads of the 2016 campaign

ETC.

CONGRESSIONAL ELECTIONS
FEC DEADLINE: House and Senate candidates have until midnight to submit campaign finance reports detailing donors and spending from Oct. 1-19

Most House candidates file their reports electronically to the Federal Election Commission; Senate candidates are exempt from electronic filing requirements and submit their reports on paper to the Senate public records office in Washington
SENATE RACES (Republicans hold 54-46 majority)
SUPER-PACS: Senate Majority PAC, the biggest super-PAC in the Democratic campaign to overturn the Republican majority, raised $19.3m in the first 19 days of Oct., Politico reported
AZ: Arizona Grassroots Action PAC, a super-PAC supporting Republican Sen. John McCain, raised $337.5k from Oct. 1-19 led by $250k from Phoenix-based Pinnacle West Capital Corp., according to FEC filing

Democratic Rep. Ann Kirkpatrick in TV ad said McCain "has changed" and "cares only about his re-election," invoking his choice of Sarah Palin as 2008 vice-presidential nominee and an endorsement of Trump that McCain has since rescinded
Republican Kelli Ward, a former state senator who lost Aug. primary to McCain 51%-40%, will oppose Republican Sen. Jeff Flake in 2018 primary, she said in statement

FL: Republican Sen. Marco Rubio and Democratic Rep. Patrick Murphy "clashed over Obamacare and each other's résumés" in a debate yesterday, according to PolitiFact Florida, which fact-checked some of the candidates' statements

Rubio Victory Committee raised $1.1m from Oct. 1-19 from donors including members of the Fanjul family that owns Florida Crystals Corporation
Rubio Victory Committee is a joint fundraising committee that raises money for Rubio's campaign committee, the National Republican Senatorial Committee, the Florida Republican Party, and Rubio's Reclaim America PAC

IL: Republican Sen. Mark Kirk and Democratic Rep. Tammy Duckworth will debate tonight in Springfield, Chicago Tribune reported

Debate begins at 8pm eastern time/7pm Illinois time and will be live-streamed here
Nonpartisan political analysts say Duckworth favored to unseat Kirk and claim Senate seat Obama once held

IN: Republican Rep. Todd Young, speaking to camera in TV ad, says Democratic ex-Sen. Evan Bayh "had his chance, but he put money ahead of us" in reference to Bayh making millions in private sector and living primarily in Washington after leaving Senate in 2011

"I'll keep raising my family here in Indiana, and on my honor as a Marine, I'll be your voice every day, standing up to the Washington insiders in both parties," Young said
Democratic Senatorial Campaign Committee released TV ad saying Young, a Ways and Means Committee member, "writes our tax laws" in Washington but "breaks them" in Indiana
DSCC ad refers to 2014 CNN report about Young wrongly claiming homestead deduction and making late payments on property taxes

NH: Granite State Solutions, a super-PAC aiding Republican Sen. Kelly Ayotte, raised $7.6m from Oct. 1-19, according to FEC report

Almost all of the total, $7.5m, came from Senate Leadership Fund, the main super-PAC defending the Republican majority
Ayotte and Democratic Gov. Maggie Hassan will debate tonight at 8 pm eastern time on NH1 and C-SPAN


HOUSE RACES (Republicans hold 246-186 majority)
RATINGS CHANGES: Sabato's Crystal Ball shifted ratings of three races, all in favor of Democrats

CA-21 shifted to Leans Republican from Likely Republican; Republican Rep. David Valadao opposed by Democratic lawyer Emilio Huerta in majority-Hispanic Central Valley district
IN-09 re-rated as Leans Republican vs. Likely Republican; Democrat Shelli Yoder now only slight underdog against Republican Trey Hollingsworth in race for Young's district in southern Indiana
NV-03 moved to Leans Democratic from Toss-up; Democrat Jacky Rosen faces Republican Danny Tarkanian for metropolitan Las Vegas district of Republican Rep. Joe Heck, who's running for Senate

KS-03: Democratic Congressional Campaign Committee released TV ad tying Republican Rep. Kevin Yoder to Trump and Republican Gov. Sam Brownback

Yoder seeking fourth term in metropolitan Kansas City district; Democratic nominee is Jay Sidie

MT-AL: Republican Rep. Ryan Zinke's campaign released TV ad saying he "stood up to the Obama-Juneau war on coal to save our jobs," in reference to Democratic opponent Denise Juneau, the state superintendent of public instruction

Ad says Zinke, who's seeking a second term, "also stood up to his own party leaders to protect Montana public lands"

TX-23: Republican Rep. Will Hurd and Democratic ex-Rep. Pete Gallego debated this morning on KSAT-TV in San Antonio

"I stood up to my own party when I thought they were wrong, and I think that's a huge difference between the two of us," said Gallego, who served one term and lost to Hurd in 2014
Hurd promoted his background as a former CIA officer and a "record of accomplishment" that included five bills signed into law; he also said he's only candidate "willing to stand up to Donald Trump and Hillary Clinton"
NOTE: Hurd and Gallego seeking Hispanic-majority district that runs from San Antonio to El Paso
Before it's here, it's on the Bloomberg Terminal.
LEARN MORE