Photographer: Rebecca McAlpin/Bloomberg News
These Are the Charts That Scare Wall Street
Charts that go bump in the night.
by , , , and
Forget scary clowns.
For finance professionals, Corporate America's credit cycle and the U.S. economic outlook — not to mention Brexit-induced stresses and debt dynamics in Asia — are all spookier than a deranged-looking Bozo.
With Halloween just around the corner, we asked top analysts around the world for charts about things that go bump in the night — and we're not just talking about the daily yuan fix. Here's what they said scares them.
Joseph LaVorgna, chief U.S. economist at Deutsche Bank AG.

"Wealth to income is near an all-time record high," LaVorgna points out. "When this has happened in the past — during the late 1990s NASDAQ and mid-2000s housing bubbles — it was an ominous sign for the economy and the asset markets."
David Schawel, portfolio manager at New River Investments.

"A rise in delinquency rates for commercial and industrial loans has previously preceded recessions," says Schawel. "Although the recent rise in delinquencies is coming from a historically low base, the credit quality of banks' loan books continues to bear watching."
Michael Feroli, chief U.S. economist at JPMorgan Chase & Co.

"We are investing less than four cents of every dollar we earn back into our nation's productive capacity," Feroli notes. "The economic possibilities for future generations will not be promising if we stay on this path."
Neil Dutta, head of U.S. economics at Renaissance Macro Research.

"With profit growth contracting over the last year, business cash flow concerns have increased," says Dutta. "This is largely the result of weak global growth, a strong U.S. dollar, and falling commodity prices. The good news is that the drag from these factors have ebbed, which should push profits up. However, should profits continue falling, we would be worried."
Lichoo Tay, head of credit sales in Asia at MUFG Securities. 


"Leverage in the Chinese economy in general is high — and might be higher than available statistics show," says Tay. "If some of this starts to unravel in the form of increased defaults, the impact on debt markets in general could be very negative and the impact wouldn't be limited to China or even just Asia."
David Doyle, economist at Macquarie Capital Markets Ltd.

"Here is one chart we find unsettling on the U.S. In the near-term it actually bodes well," Doyle caveats. "Wage growth accelerating in cyclical industries like construction and manufacturing are a positive development. The scary part relates to the potential for it to be suggesting we are nearing an overheating (and an unfriendly, more aggressive policy response). While not our base case, the latter development could result in the conclusion of this long durable U.S. expansion (and the associated market tumult) earlier than we are anticipating."
Torsten Slok, chief international economist at Deutsche Bank AG.

"Most conversations in financial markets at the moment are about what the Fed hiking in December will do to stocks and credit and financial stability more broadly," says Slok. "But the Fed doesn't seem particularly worried about financial stability at the moment. This disconnect between the narrative in the markets and the narrative from the Fed is worrying."
Conor Sen, portfolio manager at New River Investments.

Sen chooses "the CPI medical care index measures price growth in consumer out-of-pocket healthcare expenses. It's now growing at almost a 5 percent rate. Wage growth for workers is finally accelerating, but if that additional income all gets eaten up by healthcare costs it's going to hold back a more robust economic expansion."
Brian DePratto, economist at Toronto Dominion Bank.

"Canadians seem to love housing, with real estate near its highest-ever share of the economy (although the history is quite short)," notes DePratto. "With new measures to cool the housing market in play, it can be scary to think what might happen if Canada were to lose this driver of growth."
Peter Tchir, head of macro strategy at Brean Capital LLC.

"History may not repeat itself, but it is interesting that in May 2013 Treasury VIX was about where it is today and the 10-year yield was 1.76 percent — right around where it is today. I am not an alarmist on Treasury yields by any means, but this is a bit disturbing," says Tchir. "Going back all the way to 2003, the only other time Treasury VIX got this low in May 2007."
Nikolaos Panigirtzoglou, global market strategist at JP Morgan Chase & Co.

"Retail investors bought bond funds and sold equity funds over the past few weeks in continuation of a trend that characterized most of this year," begins Panigirtzoglou. "This strong preference for bond over equity funds is illustrated in the chart, which shows that the current pace of this trend line, at minus $10 billion per week, is very negative by historical standards and it matches levels previously seen in early 2009, during the depths of the Lehman crisis, or in 2012 during the depths of the euro debt crisis."
Kit Juckes, global strategist at Societe Generale SA.
Juckes puts it succinctly: "What the FX market thinks of the U.K. economy's prospects…" as shown by the Bank of England's calculated exchange rates for sterling.
Jordan Rochester, foreign-exchange strategist at Nomura.

"What's scary is that what we've seen strong signs in October of a fall in market confidence that makes trading sterling of late resemble that of an emerging market currency," says Rochester. "For the U.K., with its reserve currency, very rarely does the currency fall when yields in the U.K. are rising faster than its peers. Typically investors purchase the pound to benefit from the rising yields but as the chart above shows with the red line we are deeply in the negative territory of late. Going forward, either the U.K. has to have a large economic rebalancing or U.K. assets need to become more attractive to foreign investors via either higher yields or a continued fall in the currency."
Alberto Gallo, portfolio manager at Algebris Investments.

"Sterling's depreciation will push up inflation in the U.K., which imports nearly 50 percent of its food and energy," notes Gallo. "Yet [the] 10-year gilt yield remains around 1.1 percent, well below 10-year inflation expectations. In our view, gilts are the most overvalued bond market in the world and could be the next victim of a likely hard Brexit, following sterling. The 10-year gilt yield could rise towards 1.5 percent."
Barnaby Martin, European credit strategist at Bank of America Merrill Lynch.

"For us, the story of negative-yielding assets is not just about government debt," says Martin. "The phenomenon has taken over the European credit market. There is almost 400 billion euros of negative-yielding corporate debt now in Europe. Our fear is that this is far too tempting for companies not to take advantage of. If we are right, then the risk we think is a rise in 'bad' M&A, leverage buyouts, and – more generally – a misallocation of capital across European credit markets. Central bank quantitative-easing policies may ultimately be sowing the seeds of the next default cycle in Europe."
Fielding Chen and Tom Orlik, economists at Bloomberg Intelligence.

"Based on the official numbers, China's non-performing loan ratio is a very manageable 1.75 percent," begin Chen and Orlik. "The trouble is, with helter-skelter credit expansion in the last eight years, many analysts believe the official data understate the extent of the problem. A dive into the data for listed companies provides an alternative read. Looking at the entire universe of Chinese listed companies, based on the latest data for the first half of 2016, 8.4 percent of loans are to companies without enough earnings to cover interest payments. That methodology, also used by the IMF, provides a scarier, and more perhaps more realistic, read on the state of bad loans in China's banks."
Frederik Ducrozet, economist at Pictet Wealth Management.

"The euro-area credit impulse is weakening, this needs close monitoring," according to Ducrozet. "Bank lending remains key to the macro outlook, especially for investment in small-and-medium enterprises and hiring decisions. If credit flows fail to pick up more strongly in coming months, the risk is that the ECB needs to step in again, possibly expanding on previous measures, such as as targeted longer-term refinancing operations, to try and boost the credit cycle again." 
Richard Koo, chief economist at the Nomura Research Institute. 



"Governor Kuroda's quantitative easing has had zero impact on Japan's money supply and credit growth," says Koo.
George Pearkes, macro strategist at Bespoke Investment Group.

"Current 12-month forwards are pricing in a 2.13 percent depreciation to 6.9356 versus 6.7877 spot. If markets are going to get 'scared' by USDCNH (spot weakening much faster than forwards), depreciation will need to quicken further," writes Pearkes.
Watch Next: Why the Fed Should Pay Attention to Wage Inflation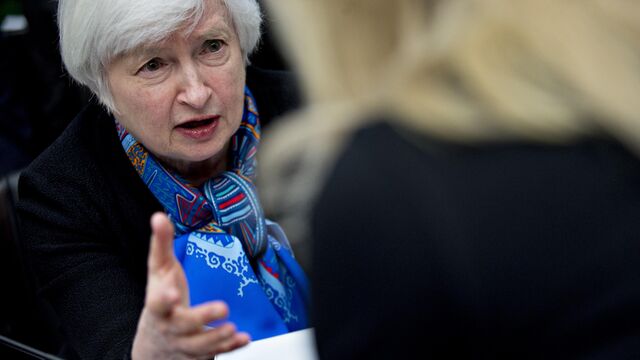 Before it's here, it's on the Bloomberg Terminal.
LEARN MORE