Qualcomm Must Woo EU Antitrust Foes to Win Blessing for NXP
by and
Company is being probed by EU in two monopoly abuse cases

Qualcomm is also set to ask EU to clear its bid for rival NXP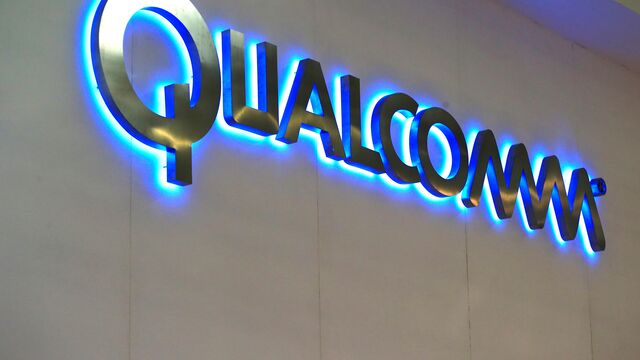 Qualcomm Inc., locked in a lengthy fight with the European Union over antitrust fines, must woo the same regulator to win clearance for its $47 billion-dollar takeover of NXP Semiconductors NV.
The bid for NXP is the largest transaction in the history of the semiconductor industry, requiring approval from the European Commission, the EU's competition watchdog, and other global merger authorities.
For Qualcomm, it will mean going cap in hand to Brussels to get its deal through just as it fights two EU antitrust cases that could lead to possible fines as soon as next year. NXP, the biggest supplier of chips used in the automotive industry, also had a history with the EU before it was dropped from a probe into a cartel for smart cards. But that doesn't mean regulators are likely to give the merger a hard time.
"The commission will use its knowledge of these companies and does take account, in merger-control reviews, of the past behavior of the firms in the market," said Matthew Hall, a lawyer at McGuireWoods LLP in Brussels. "That said, for these two companies, either nothing was proven or the investigation has not yet been concluded. So, the knowledge would probably only be used as background" to help frame questions or analysis.
Nine Jurisdictions
Qualcomm expects to close the bid for NXP late next year, Steve Mollenkopf, the company's chief executive officer, said on a conference call with analysts and investors. The timeline reflects a lengthy regulatory approval process as the companies seek clearance in nine jurisdictions.
The EU has shown that it doesn't bear a grudge. Intel Corp. got a quick clearance in 2011 for its acquisition of security firm McAfee despite taking investigators to court over a record 1.06 billion-euro ($1.16 billion) fine levied two years before. Microsoft Corp. won fast approval to buy both Skype and Nokia's handset business despite being probed for more than a decade and paying more than 2 billion euros in antitrust fines.
San Diego-based Qualcomm didn't respond to requests for comment. Eindhoven, Netherlands-based NXP and the commission declined to comment.
'Clear Ride'
"Qualcomm is going to have a reasonably clear ride because the product lines are relatively complementary," said Malcolm Penn, the chief executive officer of Future Horizons, a British semiconductor analyst firm. "It's very hard to see where the European Commission would find it unpalatable."
Penn sees only a limited overlap in the two companies' operations in near-field communications technology where NXP's business is "completely different to what Qualcomm does." The deal wouldn't distort the European competitive environment nor is it likely to harm customers who have other suppliers to choose from, he said.
In the meantime, Qualcomm will be battling the EU over formal complaints it received last year that target sales tactics that regulators say aimed to crush rivals. It will defend itself at a hearing next month over alleged below-cost pricing of chips for mobile Internet dongles and is also fighting a parallel case over exclusivity payments to an unidentified manufacturer of phones and tablets.
Qualcomm has previously faced off with the EU and come out smiling. The EU closed a four-year probe in 2009 that focused on royalties the company charged for technology used in the 3G mobile-phone standard. Regulators said at the time that they were abandoning the probe after companies withdrew their complaints.
Before it's here, it's on the Bloomberg Terminal.
LEARN MORE