business
Nissan Got No Special Favors From U.K. to Secure New Production
By and
Labour's Umunna questions whether 'relief' offered to carmaker

Japanese auto giant to make X-Trail, Qashqai in Sunderland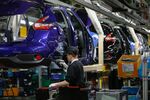 The U.K. government gave no special favors to Nissan Motor Co. to secure production at its factory in Sunderland after Britain leaves the European Union, Prime Minister Theresa May's spokesman said, as opposition lawmakers questioned what assistance was offered.
Nissan, the biggest auto producer in the U.K., promised on Thursday to start manufacturing the X-Trail sport utility vehicle, as well as the the next-generation Qashqai, at the plant in northeast England. The move came a month after Chief Executive Officer Carlos Ghosn said the automaker might ask the U.K. to compensate it for any negative consequences resulting from Brexit as a condition for making new investments.
"There's no special deal for Nissan" or for the automotive industry as a whole, May's spokesman, Greg Swift, told reporters in London. "We've reassured Nissan and others in the industry that as we go through the next couple of years of negotiations for exiting the European Union that we will get the best deal for the U.K. and industries working in the U.K."
Nissan's decision is a vote of confidence in the British economy as May prepares to officially trigger the EU exit process by the end of March. Coupled with better-than-expected economic output data released on Thursday, it's the latest piece of evidence to counter pre-referendum warnings from the Treasury and most economists that choosing Brexit would cast the economy into recession and repel foreign investment. At the same time, the decision sparked concerns from opposition parties, which questioned whether Nissan was given any sweeteners.
'Prized Sectors'
"If specific relief was offered, this would be a tacit acknowledgment that some of our prized sectors could be affected by new trade barriers when we leave the EU," Labour lawmaker Chuka Umunna, the party's former business spokesman, said in a statement e-mailed by Open Britain, a pro-EU campaign group. "If particular compensatory measures were discussed or proposed, we should be told what they were and whether they will be offered to other manufacturers or other sectors."
Ghosn said in a statement that "support and assurances" from the U.K. government persuaded Nissan to continue investing in the site, which employs more than 7,000 people and supports another 28,000 supplier jobs. Swift declined to provide "details of private discussions" between the government and Nissan.
"It is utterly ridiculous that Theresa May is having to give special assurances to key manufacturers in order to deal with the Brexit fallout her government is creating," Liberal Democrat leader Tim Farron said in a statement. "What happens when other car companies come asking for special treatment? What about our other major industries -- will they also be given protection? And what about the millions of small businesses who are being hit by a collapsing pound and severe economic uncertainty?"
Before it's here, it's on the Bloomberg Terminal.
LEARN MORE