Next U.S. President's Toughest Assignment Will Be Putin
by
Russia leader discusses foreign policy for more than 3 hours

'There is no dialogue' with U.S., Putin says at Valdai Club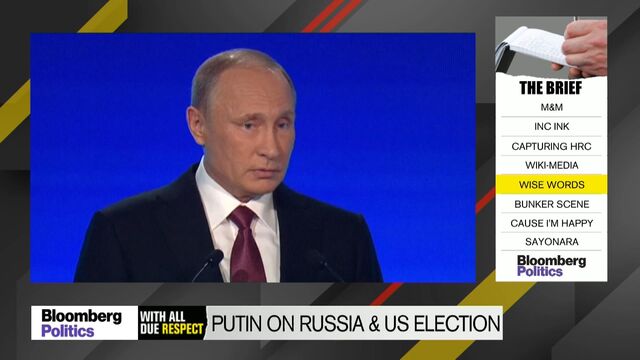 Whoever wins the U.S. election less than two weeks away is going have a rough time managing the relationship with Russia.
At an annual gathering of Russia specialists, President Vladimir Putin didn't just deliver his by now familiar tirade against perceived U.S. wrongdoings on the global stage, he also detailed why he feels it is no longer worth trying to work with Washington.
"It is impossible to agree with you. What is agreed is not implemented," Putin said of the U.S., speaking through a simultaneous translator during a panel and question-and-answer session that lasted three hours.
Looking more relaxed and confident than in recent years, Putin cited examples going back to an alleged verbal agreement by the U.S. not to enlarge the North Atlantic Treaty Organization. He also dwelled on a recent and short-lived truce in Syria. That cease-fire, he said, collapsed when the U.S. promised and failed to separate moderate Syrian rebels from terrorist groups in Aleppo and instead bombed a Syrian army base that killed more than 60 soldiers.
The U.S. has said that attack was an error, and that Russia should have given the peace effort more time before resuming hostilities. Secretary of State John Kerry has said the bombing of Aleppo could amount to war crimes.
For a QuickTake Explainer on U.S.-Russia tensions, click here.
The attacks on U.S. administrations past and present did not stop there. Putin went on to say Russia was sick of the high-handed treatment by Americans over the past quarter of a century: Instead of being consulted as an equal partner, Russia would be presented with decisions as faits accomplis.
What Dialogue?
"There is no dialogue, that is the problem," Putin told this year's Valdai Club meeting of foreign and Russian analysts, held near the Russian Black Sea resort of Sochi. "A decision is made and we are told that it is the right one."
At the same time, Putin repeated a stock phrase in diplomacy: that he would engage with the next U.S. commander-in-chief, whoever that might be.
He also appeared to downplay conditions he recently set in order for Russia to return to a 2000 agreement with the U.S. to dispose of surplus weapons-grade plutonium. Among his demands had been the withdrawal of NATO forces to pre-2000 positions and the repeal and compensation for Ukraine-related sanctions. He now called those just "a piece of paper."
In any case, few of those conditions are in the power of a U.S. President to deliver, and the ultimatum was interpreted by some as a gauntlet thrown down to establish the price of any rapprochement.


At one point, Putin was challenged that if he wants to improve Russia's economy he should pursue a less aggressive foreign policy. Showing some sign of irritation, he replied: "We all want to defuse geopolitical tensions, but not through a funeral. If to defuse geopolitical tensions we need to bury ourselves, no-one would be satisfied by this."
His words were interpreted by Andrey Kortunov, director general of the Russian International Affairs Council, to mean that capitulation to Western demands over Syria or Ukraine "is not only a zero-sum game, but also one that would lead to the collapse of the country."
Given the strategic importance of the U.S.-Russia relationship, it would be wise for the next U.S. leader to try and start afresh with Putin, Kortunov said. He admitted, though, that "it will be difficult." One has only to look at the 2009 attempt by the Obama administration, known as the Russia reset.
Should Hillary Clinton win on Nov. 8, accusations that Russian hackers were responsible for leaking e-mails from the server of the Democratic National Committee could make any rapprochement even harder. Putin on Thursday dismissed the idea Russia had tried to influence the election as absurd, arguing the U.S. was not a Banana Republic.
The most fruitful area for the two former foes to collaborate on has traditionally been arms control. But judging by Putin's performance on Thursday, he appears to have little interest.
Cold Shower
Plutonium aside, Putin was also critical of the 1987 Intermediate Nuclear Forces Treaty. He complained that it forced the former Soviet Union to eliminate its land-based intermediate nuclear missiles while leaving U.S. air and sea launched missiles in place and countries such as Iran free to develop their own land-based missiles.
When asked about recent Russian nuclear saber-rattling, including the deployment of nuclear missiles on Poland's border, Putin coolly said nuclear deterrence had ensured peace during the Cold War. He recalled that he warned George W. Bush that unless NATO abandoned plans to deploy an anti-ballistic missile system in Europe, Russia would have to elevate its own attack posture. The former president, he said, told him to do whatever he felt necessary.
He took those words to heart.
Before it's here, it's on the Bloomberg Terminal.
LEARN MORE