Park faces public pressure to resign after televised apology

President's friend at center of influence-peddling allegations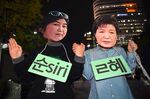 South Korean President Park Geun-hye is facing her biggest political crisis since coming to power in 2013. Allegations that her old friend, Choi Soon-sil, peddled influence through their relationship have added to public disenchantment with the nation's first female president, sinking Park's approval rating to an all-time low. More than 40 percent of respondents to a poll this week said she should step down or be impeached.
What are the allegations?
JTBC cable TV has reported that Choi had access to documents related to a cabinet meeting and edited some of Park's presidential speeches. Park made an unusual apology Tuesday in a nationally televised address in which she said she consulted Choi on "certain documents." Opposition lawmakers claim that the private citizen used her relationship with Park to raise funds from a business lobby group for two foundations she controls.
Who is Choi?
Choi is the daughter of a man that founded a volunteer group that Park helped run. They formed a friendship when Park became acting first lady for her father, Park Chung-hee, after her mother died during an assassination attempt on the dictator in 1974. Park has long been hounded by allegations that she allowed the Chois to take advantage of her high profile to extract money from businesses -- claims she denied in her media address. In an interview in Germany, Choi told South Korea's Segye Ilbo on Wednesday that she wanted to help Park "out of faith" and was sorry for causing the president harm. She told the newspaper she didn't know the documents were classified when she received them.
Why is this shaking South Korea?
Park's hastily arranged address fanned suspicions that Choi may have meddled more extensively in government affairs, as well as peddling influence over businesses. Students and civic groups are protesting, demanding a full investigation and response from Park over the allegations.
What does this mean for Park?
The public may lose faith in Park and her policies as she said she consulted Choi after weeks of denial from her office. Opposition lawmakers are questioning some of Park's moves, including asking whether Choi was behind the decision to shut down a jointly-run industrial complex in North Korea earlier this year. The Unification Ministry denied this Thursday. The scandal emboldens her critics to bolster their resistance to her efforts to leave a legacy during the remainder of her single, five-year term.
Where is this heading?
It took weeks of media allegations before South Korean prosecutors opened a probe into the scandal, with the justice minister saying Wednesday that investigators are looking for ways to bring Choi back from Germany for questioning. The opposition Democratic Party of Korea is calling for a special prosecutor to lead the investigation, but is wary about trying to impeach Park as such a move may be rejected by the constitutional court. The Blue House has given no sign that Park is considering resignation. If she did, Prime Minister Hwang Kyo-ahn would take over as interim leader until the country holds a mandatory election within 60 days.
Why should markets care?
Asia's fourth-largest economy already faces questions about its ability to maintain economic growth. Its shipbuilding and steel industries are faltering while electronic giants like Samsung Electronics Co. face stiff competition from Chinese manufacturers. The political instability may add to what Bank of Korea Governor Lee Ju-yeol on Wednesday called uncertainties. It may also deepen worries about long-term growth prospects and the country's competitiveness.
The Reference Shelf
Before it's here, it's on the Bloomberg Terminal.
LEARN MORE