India Accuses Pakistan High Commission Official of Espionage
By
Foreign ministry declares Pakistan staffer 'persona non grata'

Move comes as nuclear-armed rivals clash over disputed Kashmir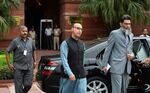 India's foreign ministry summoned Pakistan's envoy in New Delhi over the "espionage activities" of a high commission official in India, as tensions continued to simmer between the two nuclear-armed South Asian rivals.
India said its foreign secretary told Pakistani high commissioner Abdul Basit that one of Pakistan's diplomats in India has been declared "persona non grata" for espionage, foreign ministry spokesman Vikas Swarup wrote in a Twitter post on Thursday.
The staffer was detained along with two other people as they were exchanging documents detailing the deployment of Indian forces along the border with Pakistan, Joint Commissioner of Delhi Police Ravindra Yadav said in a press conference. 
The official, who Yadav said worked for Pakistan's Inter-Services Intelligence, was handed over to the Pakistan High Commission after he invoked diplomatic immunity during interrogation.
Pakistan's foreign ministry rejected India's allegations and objected to the "detention and manhandling" of its diplomat. The diplomat was picked up by Indian authorities on Oct. 26 and released after three hours, the ministry said in a statement. "This act clearly reflects Indian actions to shrink diplomatic space for the working of Pakistan High Commission," the foreign ministry said.
The move follows repeated diplomatic scuffles in recent months and is likely to deepen distrust between New Delhi and Islamabad. Tensions have increased sharply between India and Pakistan in recent months over the disputed region of Kashmir, which is claimed in full and ruled in part by both countries. 
Brahma Chellaney, professor of strategic studies at New Delhi's Centre for Policy Research, said the move is unlikely to dramatically alter strategic dynamics in the region. 
"The Pakistan high commission staff size is pretty large, and quite a number of them are known to be engaged in intelligence gathering activities," Chellaney said. "And once in a while, one or two of them gets caught and expelled. I don't think it signifies anything significant."
In mid-September, militants struck an Indian army camp in the Kashmiri town of Uri, killing 19 soldiers in an attack New Delhi blamed on cross-border terrorists infiltrating across the so-called Line of Control that divides Indian- and Pakistani-administered parts of Kashmir. Pakistan has denied any involvement.
On Sept. 29, Indian forces struck back across the Line of Control, launching "surgical strikes" against militants amassed at so-called terrorist "launchpads" in Pakistan-administered Kashmir.
Before it's here, it's on the Bloomberg Terminal.
LEARN MORE