Lagarde Hopes IMF Board Will Approve Egypt Loan in Few Weeks
By and
Local circumstances will determine how to deal with FX crisis

IMF ready to provide help if Egypt moves forward with reform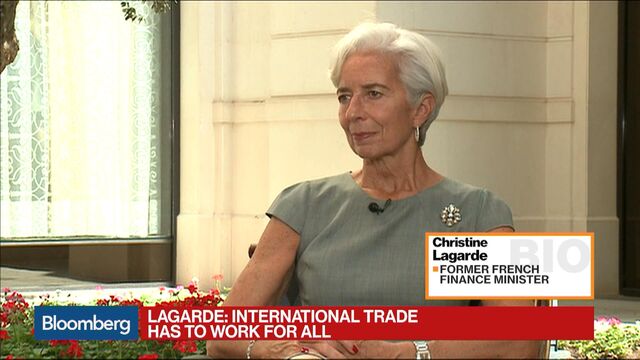 IMF Managing Director Christine Lagarde said Egypt is "very close" to securing the necessary financing required to seal a $12 billion loan, adding that she hopes the fund's board would approve the Arab country's request in a few weeks.
Lagarde, speaking in an interview with Bloomberg Television in Riyadh, said "local circumstances" will determine the best way for Egypt to deal with its exchange-rate crisis.
"In terms of exchange rates, there is currently a crisis, because if you look at the official price, and you look at the gray market price there is a 100 percent difference, and that needs to be addressed," Lagarde said. "Historically, we have seen rapid transitions being most efficient, but it's really a matter of circumstances."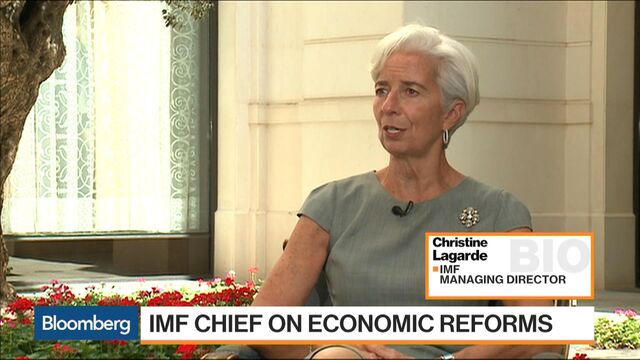 The comments come as Egyptian officials grapple with a foreign-currency crunch that has battered business activity and raised fears of spiraling inflation in the Arab world's most populous country. Price increases risk stoking public dissatisfaction with the government, which has already imposed a new value-added tax and raised electricity prices.
There's a broad and shared concern that maintaining stability in Egypt is important, according to a U.S. Treasury official in Riyadh, who spoke on condition of anonymity.
For a Quicktake explainer on Egypt's revolution, click here.
Lagarde said this month that Egypt needs to address exchange-rate and subsidy policies, fueling speculation that policy makers will devalue the currency and raise energy prices before securing International Monetary Fund support.
IMF Communications Director Gerry Rice told reporters in Washington on Thursday that liberalization of the exchange rate is important, as currency shortages are leading to a scarcity of some goods.

Egypt's "parliament already passed the budget, they recently approved the VAT, the government has a plan on energy subsidies, the central bank is committed to move more gradually to a flexible exchange rate, so these are the key elements of the program," said Rice.
Watch Next: IMF's Lagarde Weighs Economic Reform, Global Growth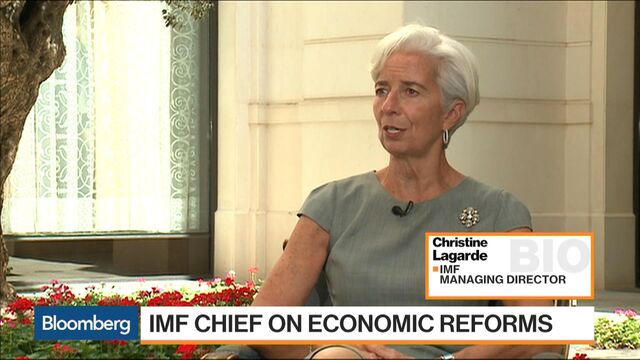 The government has also been working on raising $6 billion in bilateral financing needed before the IMF board considers the request. Rice said Egypt has made "good progress" on securing the financing, which includes contributions from China, Saudi Arabia and Group of Seven nations.
"We really strongly welcome the fact that the Egyptian authorities are deciding to address" issues, Lagarde said. "If they decide to move forward, we will certainly support that move, we will certainly accompany it and we will put money on the table to help them along the way."
— With assistance by Vivian Nereim, Sarah Ponczek, and Tarek El-Tablawy
Before it's here, it's on the Bloomberg Terminal.
LEARN MORE