Gannett-Tronc Deal in Doubt as Banks Pull Financing
By and
Lenders said concerned deal would affect financial health

Talks between newspaper companies said to be ongoing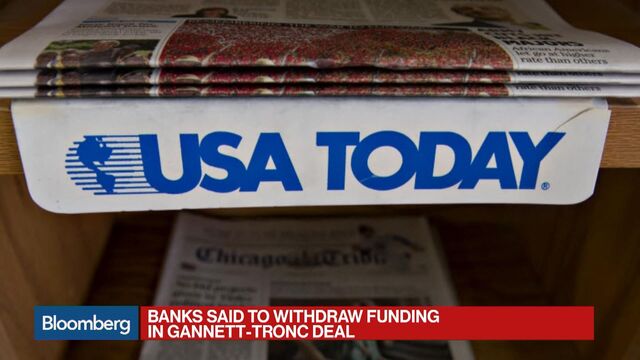 Banks financing Gannett Co.'s potential takeover of Tronc Inc. have backed out, according to people familiar with the matter, putting a merger of the newspaper companies in doubt.
Gannett and Tronc had agreed to a deal price of about $18.75 a share, but several lenders withdrew over concerns about the health of the two companies' businesses at that valuation, said the people, who asked not to be identified because the discussions are private. Talks between Gannett and Tronc continue in the hopes of salvaging their effort to merge, the people said.
Shares of Tronc plunged 28 percent to $12.27 at the close Thursday in New York, their biggest drop in more than two years. Gannett fell 17 percent to $8.21, the most since June 2015.
"It appears that the banks are the only rational players in this dance," said Paul Sweeney, an analyst at Bloomberg Intelligence.
Gannett, the owner of USA Today, has been trying to buy Tronc for months to create a company with the scale to compete more aggressively with online news sites for national readers and advertisers. A deal would marry Gannett's portfolio of more than 100 dailies and 1,000 weeklies with Tronc's Los Angeles Times, Chicago Tribune, San Diego Union-Tribune, Baltimore Sun, Orlando Sentinel and other publications.
Though Gannett is already the largest newspaper publisher in the U.S. by daily circulation, Tronc offers something Gannett lacks: big-city newspaper brands with national reach. After USA Today, Gannett's most widely circulated paper is the Arizona Republic.
Gannett had made two previous offers for Tronc -- one in April for $12.25 a share and a second in May for $15 a share. Tronc's board rejected both as too low and not in shareholders' best interests. Chairman Michael Ferro initially rebuffed Gannett's overtures in favor of a plan to produce more video and distribute stories to more readers as he renamed the Chicago-based newspaper chain Tronc to denote "Tribune online content."
On an earnings call this morning, Gannett CEO Bob Dickey declined to comment specifically on the deal talks with Tronc but said the company's plans for acquisitions are made with shareholders in mind.
"It all comes down to making sure that these are accretive for our shareholders and add value and that the financing terms make sense for the company," Gannett CEO Bob Dickey said. "We're not going to add properties for the sake of adding properties."
Gannett and Tronc declined to comment. Representatives from Jefferies LLC and SunTrust Banks Inc., two banks said to be financing a potential deal according to one of the people, also declined to comment.
Before it's here, it's on the Bloomberg Terminal.
LEARN MORE