Photographer: Ian Hitchcock/Getty Images
Fatal Crash of U.S. Military's Biggest Copter Blamed on Training
More fallout from the government sequester.
By
A U.S. Marine Corps investigation of a fatal crash off Hawaii confirmed the deeply ingrained problems afflicting heavy-lift helicopters used by the Marines and Navy. Lack of training and pilot error were among the reasons blamed for an accident that killed 12 Marines after two enormous CH-53E helicopters collided in January during a nighttime practice flight.
The findings were part of a Marine Corps probe obtained by the Investigative Reporting Program at the University of California, Berkeley, which described the military report in an article in the Huffington Post. "The investigation into the Hawaii crash found no evidence suggesting that either aircraft suffered a mechanical failure. But the report highlights a squadron with significant problems including low morale and complacency," the HuffPo article said.
A Marine Corps public affairs officer didn't respond to an e-mail request for comment.
The Marine investigative findings about the Hawaii crash were consistent with those of an in-depth feature article published in September in Bloomberg Businessweek. The article cited a June 2015 internal review by the Marine Corps that found the inventory of CH-53Es, also known as Super Stallions, was "astonishingly depleted" in numerical terms and in an "appalling state of readiness" and that training was largely insufficient.
On Jan. 11, three days before the Hawaii crash, the officer in charge of the 53E squadron based there was relieved of his command, in part because mechanical problems were limiting flight hours. Drastically limited flight hours for the month before the crash contributed to the mishap, according to the Marine Corps investigation. 
Lieutenant General Jon Davis, the Marine Corps deputy commandant for aviation, described the Hawaii squadron as "not flying the hours it should have been leading up to that mishap." Davis told Bloomberg Businessweek: "They had challenges in the maintenance department." Pressed on the matter, he said, "That squadron was underperforming compared to other squadrons that were all underperforming."
The Bloomberg Businessweek article elaborated:
One reason the 53Es are in such bad shape, Davis says, is that the Marines tried to repair their largest helicopters in Iraq and Afghanistan, rather than bringing them home for more thorough attention. Another reason is that the Corps responded to the 2013 "sequester," which entailed $1 trillion in governmentwide spending cuts, by almost halving its budget for aviation maintenance and spare parts. "That was a Marine Corps decision as to how to respond to the sequester," he says, "and we're paying the price now." 

Watch Next: Why U.S. Military Copters Keep Crashing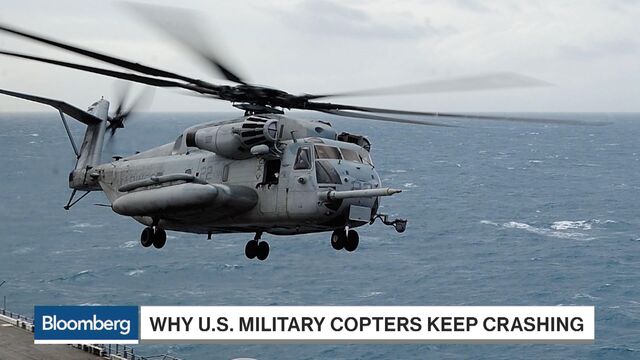 Before it's here, it's on the Bloomberg Terminal.
LEARN MORE